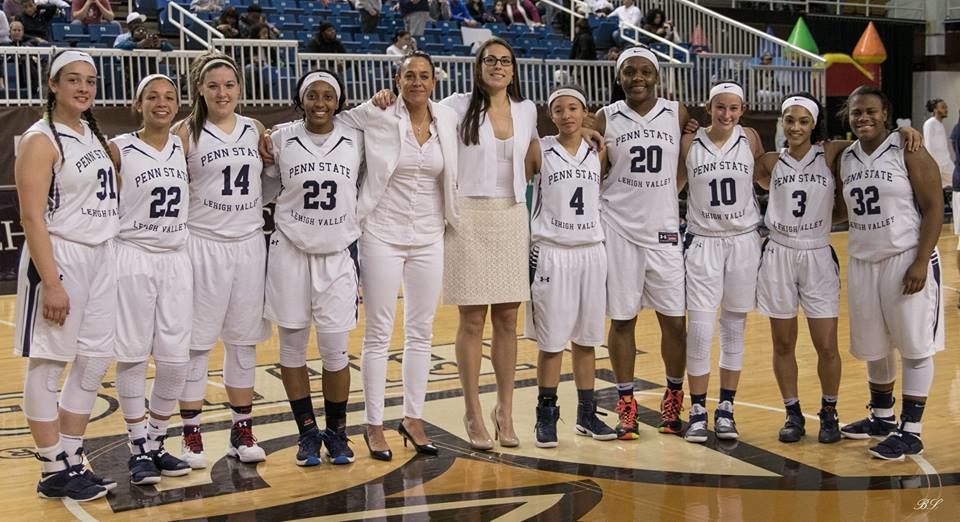 CENTER VALLEY, Pa. — The Penn State Lehigh Valley women's basketball team improved to 10-2 overall and 5-0 in Penn State University Athletic Conference (PSUAC) play with a 83-58 victory over visiting Penn State DuBois on Jan. 14 at Stabler Arena in Bethlehem. The game was part of a Winter White Out promotional event hosted by Penn State Lehigh Valley. 
The team jumped out to a 19-14 first-quarter lead, but DuBois kept it close, trailing 32-27 at the half. Lehigh Valley came out on fire in the third quarter, outscoring DuBois 31-16 to take a 63-43 lead going into the fourth quarter. The hot shooting of Hannah Bankes, inside play of Kereece Seuren, and driving of Andrea Watkins, however, kept DuBois at bay.
Watkins led all scorers with 21 points. Seuren came off the bench to contribute a season-high 20 points. Bankes recorded 16 points and Gia Erie chipped in with 12 points.
In between the games, Penn State alumni and friends enjoyed a special courtside tailgate featuring a dinner buffet, visit from the Nittany Lion, inflatable moon bounce and basketball hoop for the kids, and Penn State prizes.
After the women's game, the Penn State Lehigh Valley men's basketball team won its fourth straight game with a 90-72 victory over visiting Penn State DuBois. With the win, Lehigh Valley improves to 9-5 overall and 4-2 in PSUAC play. 
DuBois held a 36-35 lead at halftime, but Lehigh Valley scored 55 second-half points to take the crucial conference win. Four players scored in double figures, led by Tarvis Gilbert with 20 points. Junior Jonathan Buie recorded a double-double with 17 points and 10 rebounds. Jordan Young contributed 17 points, and Zach Thomas chipped in with 13 points.
The men's and women's basketball teams play next at 6 p.m. on Jan. 20 at Penn State Greater Allegheny in McKeesport.
Follow Penn State Lehigh Valley Athletics on Instagram @PennStateLVAthletics and Twitter @PennStateLVAthl.
Contact
Dennille Schuler
Public Relations Specialist
Penn State Lehigh Valley