Community members invited to fun, family-friendly courtside tailgate at Stabler Arena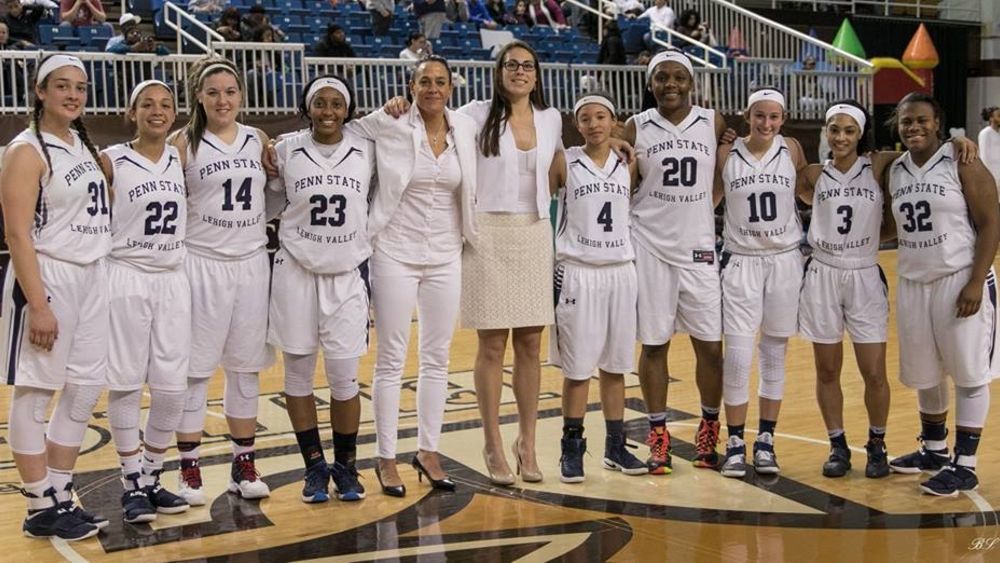 CENTER VALLEY, Pa. — Local community members, including Penn State alumni and friends, are invited to be courtside for a special Winter White Out event between the Penn State Lehigh Valley (PSU-LV) women's and men's basketball games at 6 p.m. on Saturday, Feb. 3, at Stabler Arena in Bethlehem, Pennsylvania. The fun starts with the women's game at 5 p.m. and continues with the men's game starting at 7 p.m. Both teams are playing Penn State Hazleton.
"This is a great opportunity for community members and families to come out to support our basketball teams and show their Penn State pride while enjoying a unique family friendly courtside experience between the games," said Rich Fatzinger, athletic director at Penn State Lehigh Valley. "Something new we will have this year is at the halftimes of each game the Emmaus Youth Association third and fourth grade basketball teams will play a mini game. This is a chance for young players to experience playing in a big arena."
The courtside tailgate, hosted by Penn State Lehigh Valley, will feature a dinner buffet, multiple chances to win Penn State prizes, an inflatable moon bounce, basketball hoop for kids to enjoy during breaks and at halftime, and photos with the Nittany Lion mascot. The PSU-LV women's team is coached by the 2017 PSUAC Coach of the Year Lorie Khalil, head coach, and Sarah Pasetsky, assistant coach. The PSU-LV men's team is coached by Mike DeCarolis, head coach; Mike DeCarolis Sr., assistant coach; Robert Lee, assistant coach; and Chris Moran, assistant coach.
Admission to the games is free. Tickets for the catered courtside event cost $20 for adults, $10 for children ages 2 to 12, and $10 for Penn State Lehigh Valley students. Space is limited; everyone who registers and submits payment will receive a free Winter White Out T-shirt, sponsored by Penn State Lehigh Valley Athletics.
For more information or to purchase tickets, visit the registration website or contact Joy Reed, campus events coordinator, at 610-285-5082 or [email protected]. PSU-LV students can purchase tickets by visiting Student Affairs in Room 214.
Contact
Dennille Schuler
Public Relations Specialist
Penn State Lehigh Valley