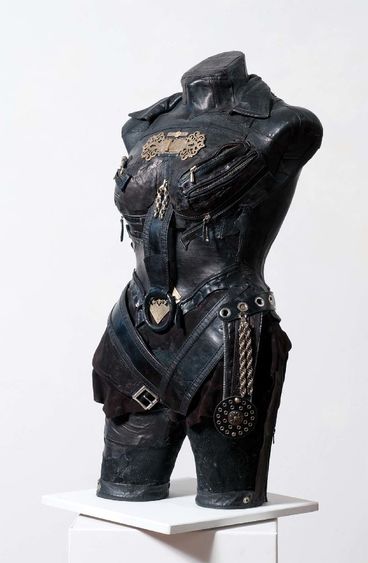 CENTER VALLEY, Pa. – Penn State Lehigh Valley's Ronald K. De Long Gallery will bring renowned artist Linda Stein's thought-provoking exhibit, "Fluidity of Gender," to the region this fall.
The exhibit will run Aug. 29 to Dec. 3 in the gallery. On Thursday, Oct. 13, the gallery will host an artist webinar by Stein and virtual gallery tour from 12:15 to 1:15 p.m. Both events are free and open to the public.
Part of the New York City-based HAWT (Have Art: Will Travel!) collection, the multimedia "Fluidity of Gender" exhibition consists of sculpture, collage, prints and video created by Stein, who through her art strives to broaden awareness and inspire empathy by presenting gender multiplicities and diversities in her work.
By addressing body image, Stein said she wants the viewer to become more familiar with — and even self-conscious about — society's destructive focus on oversimplified gender boxes for human expression and identity. To that end, she melds and scrambles the continuum between "masculinity" and "femininity" to help collapse these gender binaries.
It all fits the overall mission of HAWT, which Stein founded in 1972 as a means of inspiring social change, equality and diversity efforts via its exhibitions, lectures, performances and educational programs.
PSU-LV Gallery Director and Arts Coordinator Ann Lalik said she is excited to bring such a provocative and important exhibit to the campus and the local community.
"We are honored to exhibit Linda's work this semester," Lalik said. "Her message, and the way she communicates it, offer wonderful opportunities for conversation and dialogue that will be invaluable for our students and the greater Lehigh Valley community."
For more information on the exhibit, including gallery hours, call 610-285-5261 or visit the gallery webpage.
For more information on Stein's art and HAWT, visit www.haveartwilltravel.org.