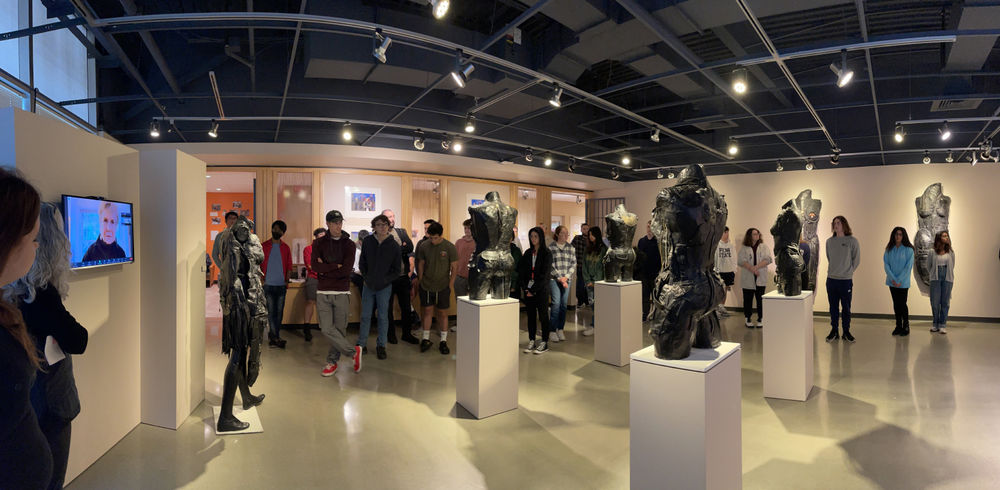 CENTER VALLEY, Pa. — Art has long since been viewed as a way to explore and express our authentic selves. Most especially, it can provide a pathway to start a dialogue about topics that are difficult to discuss.
In her work as a feminist artist, activist, and author, Linda Stein regularly touches on topics that are typically difficult, even taboo, for many. Her latest exhibit, "Fluidity of Gender," explores the often-blurred line between masculine and feminine traits, personas, and physical bodies. The exhibit is managed by Stein's nonprofit, Have Art, Will Travel! (HAWT) for Courageous Kindness, which addresses bulling and diversity. The exhibit is on display in the Ronald K. DeLong Gallery at Penn State Lehigh Valley (PSU-LV) until Dec. 3.
Stein recently shared the influence behind her work and stories from her 50-year career in an Arts Project ONLINE talk with the Penn State community and participants from around the country. Together with the interested community, she discussed how agency, mobility, and power envy are recurring themes in her art. Afterwards, Stein participated in a unique virtual question and answer session and tour of the exhibit, coordinated by PSU-LV student Allyshia Mohr. 
Stein struggled with the idea of gender throughout most of her life, and it, too, continues to appear in her work. "So much of my personal history can be seen through the lens of gender," she said. "Inner conflict played out in my art."
Growing up in the 1950s and 60s, icons like Marilyn Monroe were the feminist ideal. Tomboys, as Stein describes herself, had a difficult time fitting in with either the girls or boys. Later, Stein began incorporating Wonder Woman into her art using different media and formats to show women's unique strengths. "I felt the need to unhinge, break up, overturn, alter stereotypes," she said. "Through risk taking and experimentation, I felt this yearning hang out."
Sept. 11, 2001, proved to be a turning point in Stein's work. Stein and her staff were evacuated from Stein's Lower Manhattan art studio; most of Stein's personal belongings in her apartment had to be thrown out due to fears of contamination. "I was afraid to go to my studio. I couldn't work on my sculpture for almost a year," she said. When she did get back to work, her form changed. "My art had been almost entirely abstract. It became vertical after 9/11. As I worked on these sculptures, I was startled to see an almost 'femaleness' about them…from the trenches of my studio, I began to build my arsenal of androgyny. I was building warrior types," she said.
Today, Stein's work continues to blur the lines between male and female. Many of the forms in the "Fluidity of Gender" exhibit do just that — bring a fluidity to the human form, allowing the viewer to draw their own interpretation about gender. "Gender identity is a social and psychological construct," Stein said. "Most people don't think of themselves as either/or. In my world in the 1950s, words like 'nonbinary' and 'trans' were not discussed. Now it's hard to speak about one category without bringing in others."
Stein also hopes her work inspires her audiences to be brave, bold, authentic, and upstanders for those who may not have the voice to speak for themselves. "Be daring. Dare to create what you want, what you feel. Bravery occurs for me when I go against the tide in the art world, or anytime.  When I go against the crowd, when I go out on a limb and experiment with new materials…[I try to] be as authentic as I possibly can." Stein said the goal of HAWT, her nonprofit, is to "find tomorrow's upstanders. [Give] protection and respect for those around us. Bravery is not just for earth-shattering events, but everyday bravery."
Ann Lalik, gallery coordinator and arts director at PSU-LV, said it was a great opportunity for students and art lovers to have such an interactive presentation with a renowned artist.  "Linda has such an interesting story to tell, and we received so much positive feedback after her presentation. I especially loved her Zoom visit in the art gallery with our students afterwards, which allowed for more informal interaction.  This was exciting for us because Linda truly has an international following."
For more information on Stein's traveling exhibit, visit haveartwilltravel.org.