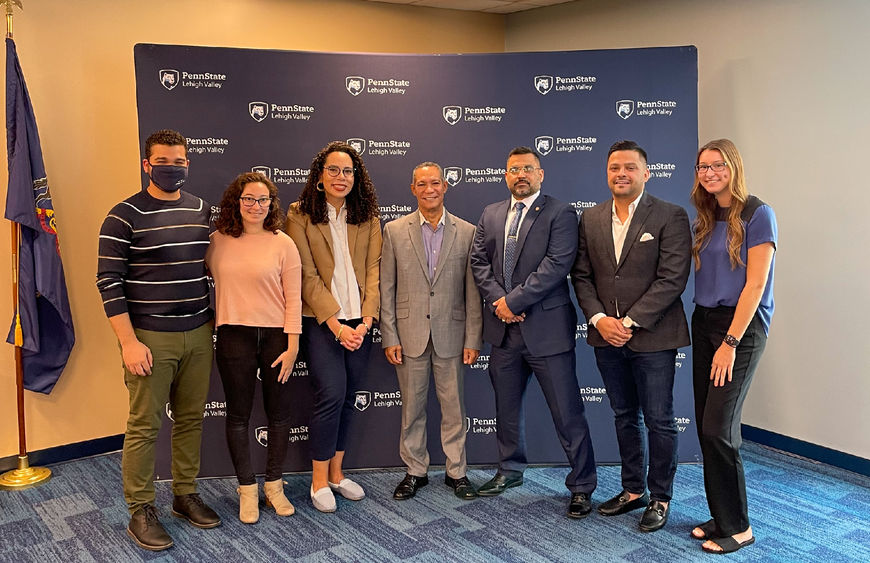 CENTER VALLEY, Pa. — Stories of determination. That's what four local Hispanic leader panelists shared with a packed house of students, faculty and staff at Penn State Lehigh Valley's Hispanic Heritage Month Business Panel discussion in early October. Each offered very real examples of the persistence, dedication and resolve that framed their impressive life stories.
As the first Latin and 20+-year member of Allentown City Council, panelist Julio Guridy spoke of his more than 30 years of management experience in business, government, banking, community service, including his current role as director of the Contract Compliance Department of the Delaware River Joint Toll Bridge Commission.
Panelist Dr. Gisela Vargas was introduced as the assistant program director for Lehigh Valley Health Network's internal medicine residency program. She is also a graduate of Johns Hopkins University and received her medical degree from Drexel University College of Medicine/Hahnemann University.
Panelist and special Agent Eddie Garcia II is currently assigned to the Federal Bureau of Investigation Philadelphia Division, Allentown Resident Agency. Garcia was previously an infantry sergeant in the United States Marine Corp. In 2004, he was wounded in combat during the battle of Fallujah and received a Purple Heart as a result of his injuries. He went on to join the Department of Homeland Security where he served for over nine years as both an immigration enforcement agent and deportation officer.
The final panelist, local entrepreneur Manny Rodriguez, transitioned from a 10-year career at Lutron Electronics to launch his own handcrafted ice cream company, Batch Microcreamery. Rodriguez and his business partner have grown the company from a single location to three retail locations and a thriving local wholesale business.
In addition to their significant accomplishments, all four of the panelists admitted to episodes of personal failure and echoed each other's emphasis on the value of taking responsibility for those mistakes.
"Be resilient. Be relentless. There's no limit to what you can do — Hispanic or otherwise," Rodriguez told the audience. "Take a leap of faith. The world is looking for minority leaders — make the life you want for yourself."
"Own your mistakes," Vargas said. She, like others on the panel, gave very down-to-earth examples of their "failures" along the way — some impacting their long-term progress, some a short-term but memorable event.
"I had an exam in med school where I just panicked," said Vargas. "I got myself so worked up that I just didn't take the test. But I owned it. It was my fault. Finding your path takes hard work because there are plenty of moments when life gets tough." Vargas continued to encourage the audience to persist and not give up. "It doesn't have to be the end of the road, even though the 'imposter syndrome' can feel very real when you look around and no one looks like you," she said.
Guridy talked about his poverty-stricken childhood spent in a rural Dominican Republic farm with no running water, just an outhouse. He came to the Lehigh Valley not knowing what a government is or what role officials play. He went on to serve as the first Hispanic member of the Allentown City Council and eventually council president while working a full-time career in banking. His dedication resulted in his promotion to a vice president position, but his career as an official didn't come easy, said Guridy. The former councilman shared how he lost his first election but went on to beat his opponent the second time around.
"I want to leave America better than I found it," Guridy said of his motivation for office. He also shared, "What helped me the most was my belief in God, the profound being that made this world beautiful. "
Determination and persistence were the common theme in Garcia's life story, as well. His father had only a seventh-grade education, yet Garcia was reading before kindergarten. He said he was thrilled to be accepted at the elite University of Rochester in New York State, where he started as one of the highest-performing students.
"I was great in school but didn't know how to handle money," he said. "I screwed up my student loans and went into debt. So, I went into the Marines to earn the money to pay for my mistakes. But it was my mistake — my inability to manage money. You have to own your mistakes."
The FBI agent also encouraged the students to persist through life's inevitable dull days. "This sentiment that every day is going to be fantastic — and don't work at something if it's not what you love every day — is not realistic. Being in the FBI — there are a lot of exciting things — but in between, there are a lot of long, boring days."
Rodriguez told students they must understand that failure is part of the process and that entrepreneurship, his choice career path, is not for everyone. "Go out into the workforce and learn. I started at Lutron [Electronics Company] before starting my business. And that's where I earned most of my business acumen," said Rodriguez.
Rodriguez left the audience with a final bit of professional career advice: what you put on social media matters — a lot.  "Protect your personal brand," he said. "You are your own brand. You must represent yourself and your family well on social media if you want to have a successful career."
The program was initiated and hosted by the PSU-LV Heritage Club, the Business Society and Student Affairs. Student club leaders, including Miyeli Vasquez, John Alvarado and Jenna Kurtz, introduced the panel members and served up questions throughout the spirited event. The Heritage Club adviser is Ana Serrano Martinez and business society adviser is Dr. Denise Ogden.