College students partner with local high schoolers on project that received top United Way award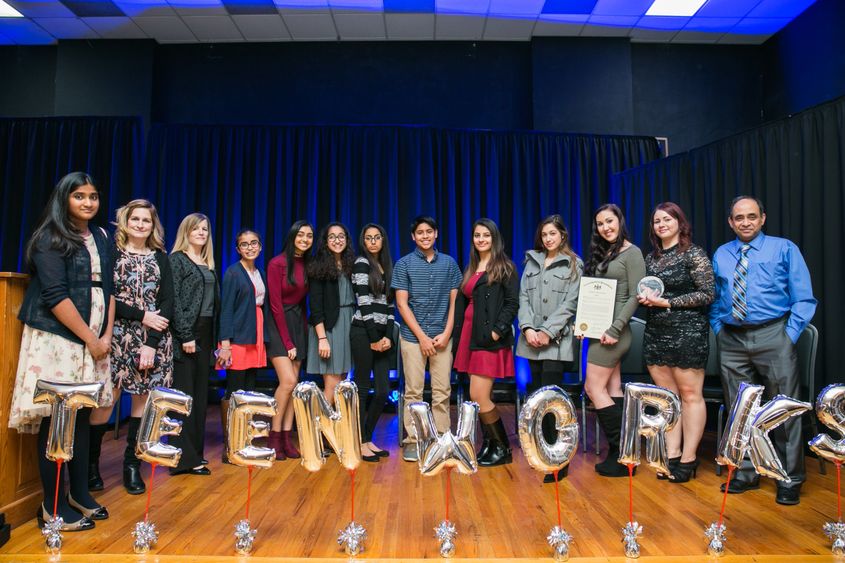 CENTER VALLEY, Pa. — Penn State Lehigh Valley students had another opportunity to change lives by participating in the Adopt an Apartment program for the third year in a row. This year they were awarded a grant by TeenWorks of the United Way and spent six weeks on the project rather than one. Students painted, cleaned and made some major renovations to an apartment provided by the Sixth Street Shelter in Allentown.
The Adopt an Apartment program serves families that are homeless or living below the poverty line who have at least one child under the age of 18. This program allows the families to have a comfortable, safe home for 60 days to get back on their feet. There are more than 100 families on the waiting list for this program at the Sixth Street Shelter.
Jennifer Parker, associate professor of sociology at Penn State Lehigh Valley, was the lead volunteer coordinator on the Adopt an Apartment program this year. Penn State Lehigh Valley students from Parker's introductory sociology class and students from the campus' rehabilitation and human services degree program volunteered their time to prepare the apartment for its new family. Faculty, staff and other Penn State Lehigh Valley students also assisted by donating items to the project, such as shower linens and curtains, bath soap, dish soap, sponges, utensils, pots and pans, and nonperishable food items.
"I am very proud of the work these students did and the studies and discussions it provoked on causes of and solutions to homelessness. It is not easy to find spare time these days, but these students went the extra mile because they wanted to make a difference. They are remarkable people and our future change agents," said Parker.  
"Many of the shelter's residents work full time, such as the night shift at places like the Wal-Mart warehouse and arrive home just in time to get their children off to school," Parker added. "They are part of America's growing working poor and struggle to make ends meet in a restructuring labor market. I think it is important for students to see this firsthand so they can take part in creating solutions."      
Parker paired the Penn State Lehigh Valley students with high school students. She reached out to Nitin Laud, who is the adviser of the Indian American Association of the Lehigh Valley (IAALV) youth group, to be involved. About 12 members of his group wanted to participate and wound up volunteering every day from 4 to 7 p.m. for one week, making the total amount of volunteers who worked on this project 50 people. 
"It was an honor to be asked to participate in the Adopt an Apartment project in partnership with Penn State Lehigh Valley. The IAALV's slogan is 'We care for the community we live in.' I believe these children from the organization's youth group exemplified it," said Laud. "They felt satisfied that they were helping improve people's lives and look forward to participating again."
During the renovation, the students realized the 700-square-foot apartment needed more than a fresh coat of paint. The floor desperately needed to be redone. Parker was in contact with the president of the Lehigh Valley Labor Council, Gregg Potter, which funds projects that teens are involved in. Students applied for the TeenWorks grant sponsored by Lehigh Valley Labor Unions, and received $1,300 for the materials to redo the flooring. The grant is part of the United Way project.
"I gained the opportunity to help someone in need and it provided a sense of fulfillment for me," said Reema Kaskas, a sophomore rehabilitation and human services major at Penn State Lehigh Valley. "It was a great experience to be a part of something bigger. It's important for students to take part in projects like this because they are meaningful causes that can change people's lives in a positive way."
Kristine Blasco, director of the Sixth Street Shelter, was once a student at Penn State Lehigh Valley. She was introduced to the shelter through Parker's class and was an intern at the shelter before being hired in the Family Resource Center. Last year, she became the shelter's director. Blasco graduated from Penn State Lehigh Valley in 2012 with a bachelor's of science in psychology.
"Penn State Lehigh Valley has adopted apartments in the past, but the amount of work they ended up doing this year was astounding. Many of our apartments have old flooring, and when Dr. Parker suggested redoing the floors and furniture, I was very excited," said Blasco. "When the family moved into the apartment they were relieved to find items like toiletries, sheets and pillows, and proud that they were chosen for this new apartment. Our resident recently told me that the floors were very easy to keep clean."
Parker attributes the success of this project to the participation from the 11 rehabilitation and human services (RHS) students; 15 introductory to sociology students; 15 members and advisers of the Youth Group of the IAALV; RHS advisers and program coordinator Leigh Cundari and Teresa Kistler; and Blasco and Johnathan Copeland from the Sixth Street Shelter. 
The Adopt an Apartment project was the 2016 recipient of United Way's TeenWorks top "Making a Difference Award." The program and the students involved were recognized at United Way's annual dinner on Jan. 28.
Contact
Dennille Schuler
Public Relations Specialist
Penn State Lehigh Valley