From Spain to Ontario, faculty share their research and talents around the world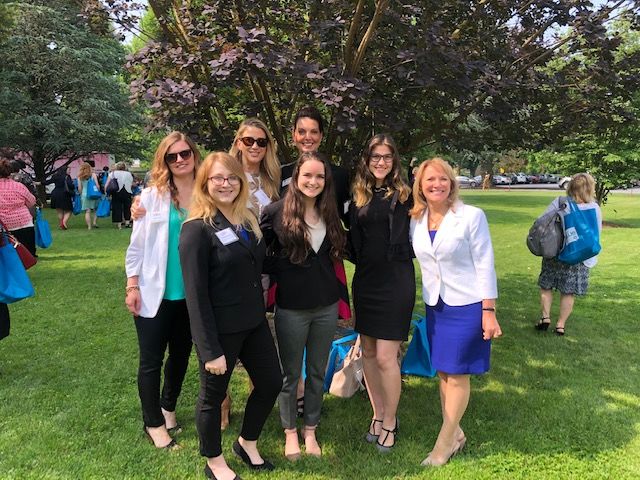 CENTER VALLEY, Pa. — Penn State's mission includes helping to improve the well-being and health of individuals and communities through teaching, research and service. Penn State Lehigh Valley faculty regularly present, serve on panels and share their research with people and institutions outside of the University.
Over the last few months, Penn State Lehigh Valley faculty's off-campus engagement included the following:
Barbara Cantalupo, professor of English, presented at the American Literature Association Conference in Boston in May. Cantalupo's presentation was titled, "Emma Wolf's Lost Manuscripts: The Jewish Publication Society and the Politics of the Progressive Era."
Eileen Grodziak, instructional designer, and Kate Morgan, director of virtual education, delivered two presentations at the Realities 360˚ Conference in San Jose, California from June 24 to 28. They presented on the research being done at Penn State Lehigh Valley using XR (VR, AR, MR, 360 Video) in the classroom and developing students' digital fluency. They also ran a workshop about how to create and lead a Google Expedition. Due to an interest survey that conference participants filled out, they were asked to run the workshop twice.
Eileen Grodziak, instructional designer, and Sandy Kile, lecturer in communication arts and sciences, presented a concurrent session at the Teaching Professor Annual Conference on June 8 in New Orleans, Louisiana. Their presentation was titled "A mobile technology tool to foster interpersonal communication skill development."
Eileen Grodziak, instructional designer; Kate Morgan, director of virtual education; Amy Kuntz, immersive experience instructional designer, Teaching and Learning with Technology, University Park; and Karen Kackley, associate teaching professor of biology, presented at the eLearning 3.0 conference on May 14 held at the University of the Sciences in Philadelphia. The title of the presentation was "Traveling to Inexperienced Realms Immersive Reality (XR) for Classroom Learning." The presenters discussed the development and use of XR for students and classroom use including an Open Educational Resource initiative, started by Penn State Lehigh Valley, called Biome in a Box. This program leverages scientists, researchers, and faculty around the world to create interactive 360-degree videos of the various biomes on earth to be used for exploration and university study.
Nichola Gutgold, professor of communication arts and sciences:
served as emcee for The Literacy Center's graduation ceremony held June 11 at the Jewish Community Center in Allentown. Gutgold is vice-president of The Literacy Center's board of directors.
served as a Women Rising Mentor in partnership with The Literacy Center and The United Way for a student, Razan Abdouche, from Syria, who earned her certificate is administrative professional excellence and is seeking a position in higher education.
served as a professor in residence at China University of Political Science and Law from July 1 to 12 in Beijing, China where she shared her research on women and the American Presidency. Gutgold was appointed to serve on the graduate school review committee for doctoral students earning their degrees in political communication.
Tai-Yin Huang, professor of physics:
was a visiting scholar at the Polar Research Institute of China from July 3 to July 11 and gave an invited talk titled, "Gravity Waves-Airglow Interactions in the MLT Region" on July 4.
presented a poster at Energy Days at Penn State University Park on May 29. The poster was titled, "An Energy Storage Device for Harvesting and Storing Electrical Energy of Lightning."
delivered a talk with co-presenters at the European Geophysical Union General Assembly on April 11 in Vienna, Austria. The talk was titled, "On Oxygen Airglow Chemistry – Empirical Values of Branching Ratios in the Three-Body Recombination Reaction."
received a travel grant from the American Association for the Advancement of Science (AAAS) and the National Science Foundation in May 2019 to attend the 2019 S-STEM Symposium in Washington, D.C., in September. She received a grant of $180 from the Voices for Science Program of the American Geophysical Union in June 2019 to host a networking event and received $1200 in July 2019 to organize a "Meet Your Legislator" event.
served as a special member on a doctoral thesis defense committee for the School of Electrical Engineering and Computer Science, Penn State, in June 2019. 
served on the Flinn Award Committee for the American Geophysical Union from May to December 2019. 
served as co-convener for the AS47 Session titled, "Storms, Lightning, and Their Effects on Human Society," and was invited to serve as a coordinator for a "Meet The Experts" program for the AS Section at the 16th Annual Meeting of the Asia Oceanic Geosciences Society in Singapore from June 2019 to August 2019.
Jen Jarson, head librarian:
presented at the Association of College and Research Libraries Conference on April 11 in Cleveland, Ohio. Jarson's presentation was titled, "Valuing our expertise: Asserting teaching librarians' roles in campus conversations." Jarson presented with collaborators. Together, the presenters' experiences illustrated various ways teaching librarians develop unique areas of expertise, and advocate for and embed their positions in the fabric of their campuses.
developed and facilitated a roundtable discussion with collaborators at the Association of College and Research Libraries Conference on April 12 in Cleveland, Ohio. The roundtable discussion was titled, "Reframing student work: Building meaningful peer-to-peer learning programs."
Jacqueline S. McLaughlin, associate professor of biology and appointed Jefferson Science Fellow serving the Office of Science and Technology Cooperation in the Bureau of Oceans and International Environmental and Scientific Affairs at the U.S. Department of State:
participated in an International Visitors Leadership Panel on July 17, to Canadian diplomats in Washington, D.C. The panel was entitled "Providing STEM Education to Underserved and Vulnerable Groups." McLaughlin spoke about the Embassy Science Fellows Program that she now directs, the NASA/NSF/NOAA/State Department GLOBE Program, and several other international mechanisms the U.S. higher education system is providing to support STEM programming to communities worldwide like Penn State CHANCE.
presented, along with student intern Sean Hogan, a master's degree candidate in environmental policy at Tuft's University, on the positive impact of the U.S. Department of State's Embassy Science Fellow Program on international science diplomacy at U.S. Department of Energy's Overseas Corp Training Program on June 25 in Washington, D.C.
presented pedagogical research findings along with her faculty mentee, Josh Slee, assistant professor of biology from DeSales University, at the 2019 Undergraduate Research Programs Division Conference, hosted by the Council for Undergraduate Research at Ohio State University on June 29 in Columbus, Ohio. Their presentation was titled, "A CURE Centered on the Host Response to Foreign Materials and Cell Culture Research."
Maung K. Min, assistant teaching professor and director of business programs, presented at the Business Research Consortium Conference on May 21 in York, Ontario, Canada. Min's presentation was titled, "An Analysis of Corporate Reporting on Human Rights: A Materiality Perspective." Motivated by the ongoing debate on materiality in environmental, social and governance (ESG) reporting worldwide and the limited attention in the academic literature, Min's study conducted a comprehensive analysis of 1341 ESG reports published by companies across 35 sectors, with a particular lens on the commonalities and discrepancies in the choice of material topics on human rights disclosures.
Jennifer Parker, associate professor of sociology, presented at the XIII Congreso Espanol de Sociologia de la Federacion Espanola de Sociologia on July 3-6 in Valencia, Spain. Her presentation was titled, "Immigrant Settlement, Children's Education, and Social Mobility: Race and Ethnic Patterns of Segregation in the Host Society."
Jeffrey A. Stone, assistant professor of information sciences and technology, presented a poster at the Lilly Conference on Designing Effective Teaching, on May 31 in Bethesda, Maryland. Stone's poster was titled, "Using Reflective Writing to Assess Integrative Learning in Programming Courses." The poster described his work with embedding sustainability education into introductory information sciences and technology and computer science courses. 
Contact
Dennille Schuler
Public Relations Specialist
Penn State Lehigh Valley