From D.C. to Croatia, faculty share their research and talents around the world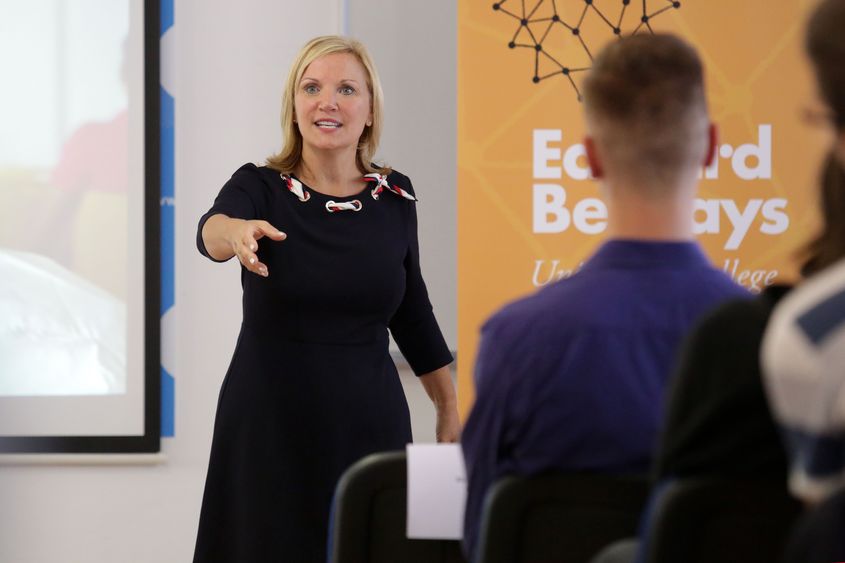 CENTER VALLEY, Pa. — Penn State's mission includes helping to improve the well-being and health of individuals and communities through teaching, research and service. Penn State Lehigh Valley (PSU-LV) faculty regularly present, serve on panels and share their research with people and institutions outside of Penn State.
Over the last few months, PSU-LV faculty's off-campus engagement included:
Nichola Gutgold, professor of communication arts and sciences:
delivered a paper at the Fourth International Conference on Communication & Media Studies on Sept. 26 in Bonn, Germany. Her paper was about the rhetorical styles of women world leaders.
spoke to the Women's Community Group in Pula, Croatia, on Sept. 28, on the obstacles women political candidates face.
presented a master class in public speaking to the incoming freshman class at the Edward Bernay's University on Sept. 30 in Zagreb, Croatia.
served on a book-launch panel for Michelle Obama's book "Becoming" on Oct. 1 in Croatia.
Tai-Yin Huang, professor of physics and a travel grant recipient:
attended the NSF-sponsored S-STEM Symposium organized by the American Association for the Advancement of Science, from Sept. 12-14 in Washington, D.C.
delivered a presentation at the University College Physics Faculty Fall Meeting held on Oct. 19 at Penn State Harrisburg. Her presentation was titled "Research Funding at Branch Campuses – Challenges and Opportunities." Huang also led a roundtable discussion on "One Penn State 2025 & Separating lab from lecture."
Jen Jarson, head librarian, presented at the Kathleen A. Zar Symposium on the theme "High-Impact Collaboration: Libraries and Undergraduate Research Partnerships" on Sept. 6 at the University of Chicago in Chicago, Illinois. Jarson's presentation was titled, "Empowering & Rewarding Achievement in Undergraduate Research at Penn State: A Strategic and Flexible Approach." Jarson presented with co-authors, Christina Riehman-Murphy from Penn State Abington, and Hailley Fargo and Rebecca Miller Waltz from Penn State University Park. They presented on the collective work of their many University Libraries colleagues across Penn State's 19 campuses at that celebrate undergraduate research through an information literacy award. In their presentation, they highlighted how the centrally funded and organized "University Libraries Undergraduate Research Award: Excellence in Information Literacy" has transformed how Penn State Librarians collaborate around undergraduate research.
Jacqueline S. McLaughlin, associate professor of biology and National Academies of Science, Engineering and Mathematics Jefferson Science Fellow who is currently serving as a Senior Science Advisor to the Office of Science and Technology Cooperation in the Bureau of Oceans and International Environmental and Scientific Affairs (OES/STC) at the U.S. Department of State:
presented at the Global Realities of Conservation and the Need for Systemic Advocacy on Oct. 23 at Moravian College in Bethlehem, Pennsylvania, as part of an invited lecture series sponsored by Moravian's spring 2019 "Psychology of Activism" class.
participated in a roundtable titled "A Think Tank on Mentoring Undergraduate Research in Global (Local and International) Contexts," sponsored by the Association of American Colleges & Universities (AAC&U), Elon University – Center for Global Engagement, and the Forum on Education Abroad on Oct. 17 at the Hyatt Regency in San Antonio, Texas.
received an Embassy Science Fellowship to the U.S. Embassy in La Paz, Bolivia. The prestigious Embassy Science Fellows Program, founded in 2001, provides U.S. embassies around the world with access to the expertise of U.S. government officers in science and technology fields. McLaughlin has been requested to work with select Bolivian universities, the Bolivian Ministry of Education, and private sector entities throughout four cities to enhance the undergraduate teaching and learning of science, technology, engineering and mathematics (STEM), and faculty development in this area in order to address the their nation's need to better prepare a highly skilled workforce in STEM fields.
was invited to serve as a member of the Council on Undergraduate Research (CUR)'s Task Force on Internationalization. The goal of this task force is to "expand opportunities for research exchanges, research collaboration, and field research in international settings" and to organize the 2022 World Congress on Undergraduate Research.
organized the Embassy Science Fellows (ESF) Reception held on Sept. 19 in the Harry S. Truman Building, Burns Auditorium, U.S. Department of State, in Washington D.C. The reception marked the 18th anniversary of the ESF program and highlighted its impact while raising interagency awareness of, and support for the program. More than 125 guests attended the event including: DC-based foreign diplomatic officials; current, past and prospective ESFs; and other partners.  
Presented at the 29th International Congress for Conservation Biology held July 24 in Kaula Lumpur, Malaysia. The presentation was titled "Undergraduate Students' Environmental Policy Research in Cuba: Outcomes and Opportunities."
presently serves on the Rigor and Integrity in Research Subcommittee of the White House's National Science and Technology Council (NSTC) Joint Committee on Research Environments (JCORE). This JCORE Subcommittee recognizes that trustworthy research, with findings that are replicable and reproducible, maximizes the return on federally-funded R&D investments.
Maung K. Min, assistant teaching professor and director of business programs:
co-presented a paper at the Lilly Conference on Aug. 6 in Ashville, North Carolina. The paper, "The New Matrix: Integrating Sustainability into How Business Students Make Decisions" evaluated the effectiveness of case-based pedagogical strategies intended to integrate a sustainability decision-making mindset for business students (and future business leaders). Min presented with co-author Laura Cruz from the Schreyer Institute for Teaching Excellence.
chaired a session at the Engaged Management Scholarship (EMS) 2019 on Sept. 7 in Antwerp, Belgium. The conference was hosted by Antwerp Business School. The session was titled "Research on U.N. Sustainable Development Goals – EMS Opportunity?" The objective of the panel discussion was to share and discuss opportunities for Sustainable Business research with applicability for scholars and practitioners.
presented a paper at the Corporate Responsibility Research Conference (CRRC) on Sept. 13 in Tampere, Finland. The paper was titled "Discrepancies in Reporting on Human Rights: A Materiality Perspective." The conference was organized and hosted by Tampere University in Finland in association with the Sustainability Research Institute at the University of Leeds in the United Kingdom and Kedge Business School in France. This study conducted a comprehensive analysis of 1341 environmental, social, and governance (ESG) reports published by companies across 35 sectors with a particular lens on the commonalities and discrepancies in the choice of material topics on human rights disclosures.
Jeffrey A. Stone, assistant professor of information sciences and technology, delivered a talk entitled, "Sustained: Developing Integrative Learning Skills in Introductory Programming Courses" at the International Society for the Scholarship of Teaching and Learning (ISSOTL) 2019 Conference on Oct. 10 in Atlanta, Georgia. The talk covered Stone's work on building integrative learning assignments into his introductory computer programming courses. This work involves the use of sustainability-themed projects designed to allow students to draw integrative connections between sustainability, the practice of programming and their own communities and behaviors.
Contact
Dennille Schuler
Public Relations Specialist
Penn State Lehigh Valley