From a mural installation to a book signing, faculty share their research and talents in a variety of ways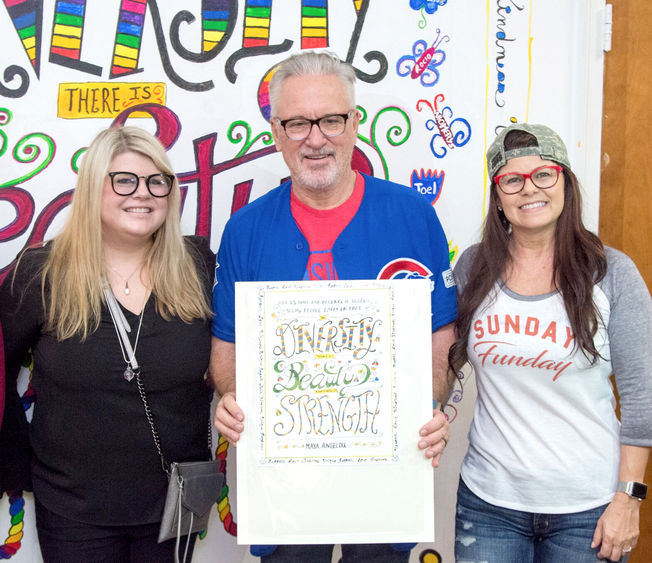 CENTER VALLEY, Pa. — Penn State's mission includes improving the well-being and health of individuals and communities through teaching, research and service. Penn State Lehigh Valley faculty regularly present, serve on panels and share their research with people and institutions outside of Penn State.
Over the last few months, PSU-LV faculty's off-campus engagement included:
Nichola Gutgold, professor of communication arts and sciences:
was featured on WLVT Channel 39 on Jan. 3 offering political commentary as a record-breaking number of women were sworn into Congress.
delivered a speech titled "Speak Your Truth" on Jan. 4 at Muhlenberg College's Institute for Jewish-Christian Understanding on the importance of the rhetorical situation.
held a book signing on Feb. 5 at Parkland High School for her fiction book "JUST LIKE YOU" and a gave a talk about her writing process. 
delivered a talk about effective public speech on Feb. 8 at the Greater Lehigh Valley Chamber of Commerce's Own Your Audience program held at Penn State Lehigh Valley.
Jen Jarson, head librarian, presented a poster titled "Over the threshold? Analyzing students' reflections on their information literacy growth through the lens of the Standards versus the Framework" on Dec. 5, 2018, at the Library Assessment Conference (sponsored by the Association of Research Libraries) in Houston, Texas. Jarson's research project explores how students describe their engagement with information and their research processes, as well as how they interpret and use the Framework for Information Literacy for Higher Education, a guiding document in librarianship and higher education. 
Jacqueline S. McLaughlin, associate professor of biology and director of Penn State CHANCE:
gave a research presentation entitled, "Learning Outcomes of a Short-term Study Abroad Program in Cuba that Offers Research Experience in Environmental Policy and Structured Conservation Activities," on Jan. 5 at the Hawaii International Conference on Education in Honolulu, Hawaii. Following a review of the development and implementation of this unique high impact learning strategy, qualitative and quantitative assessment data of student research presentations, artifacts, and interviews were presented showcasing participates improvements in skills, intercultural knowledge and competence, global citizenship, and career augmentation.
has accepted an invitation to serve on the Editorial Board of Frontiers: The Interdisciplinary Journal of Study Abroad as a member of the 2019-21 cohort. Frontiers is the only open-access, peer-reviewed journal that publishes interdisciplinary research focused exclusively on education abroad in higher education.
Meteorologist Drew Anderson, lecturer in meteorology and geography:
spent an evening on Oct. 10 with the York White Rose Lions Club to explain how forecasting works and how the track of a snowstorm affects the amount of snow a location gets.
taught 30 local Boy Scouts and their families about weather at Lake Nockamixon State Park on Oct. 13 in Quakertown, Pennsylvania. His weather talk, demonstrations and assistance to scout leaders having hands-on weather workshops helped the scouts earn their weather merit badge.
joined a 6-member panel on climate change on Feb. 9 at the West Chester University's annual Sustainability Film Festival. Under the theme of "From Angst to Ethos," Anderson discussed how climate change has a branding crisis and the communication of science. The talk was the only live event of a day filled with documentary and Hollywood films that have a sustainability or climate change theme.
Suzette Benedick, part-time lecturer in health policy and administration (HPA), was named the national Manager of the Year for the Professional Association of Health Care Office Management (PAHCOM). Benedick has been a PAHCOM member for 11 years and is the current president of the Lehigh Valley Chapter. She led the way for PSU-LV's HPA program to have a partnership with the local chapter of the PAHCOM Association. The partnership resulted in many student internships and positions for HPA graduates. The organization also focused on mentorship and development of HPA students.
Christina Galbiati, part-time lecturer in graphic design, completed a community services initiative for the Hazleton Integration Project, which is a community-based effort founded by Chicago Cubs Manager and Hazleton native Joe Maddon. The first component was a diversity mural featuring a Maya Angelou quote representing the center's mission. The second component was a poster fundraiser. The third component was the poster launch at their winter fundraiser; Joe Maddon and Joe Namath signed the first print, which was auctioned off that evening for $1200. The final component was the mural dedication, where Maddon and his wife, Jaye, signed and dedicated the mural at their annual "Thanksmas" event.
Contact
Dennille Schuler
Public Relations Specialist
Penn State Lehigh Valley