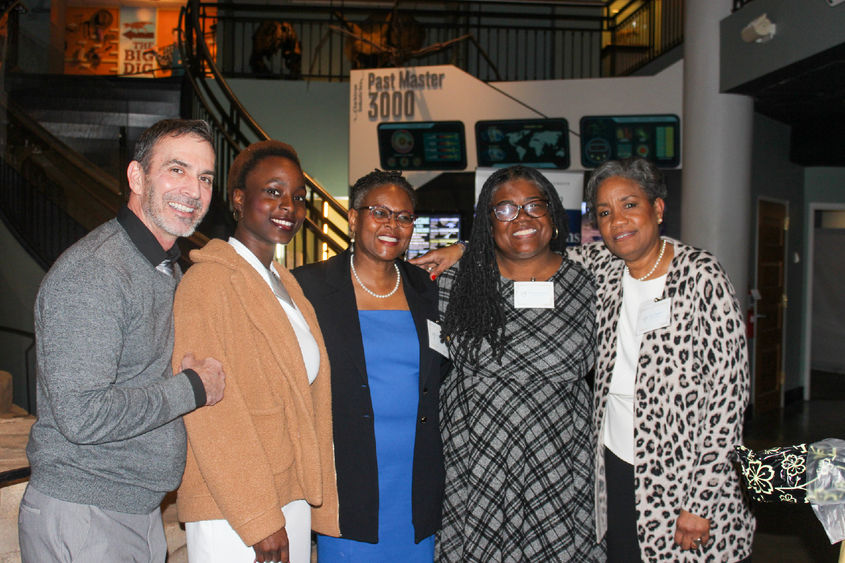 CENTER VALLEY, Pa. — The topic of social justice — and the stark realities of how its issues manifest in our neighborhoods, schools and workplace — has moved again to the forefront of our nation's most critical narratives. But Penn State Lehigh Valley Chancellor Tina Q. Richardson's efforts to understand and bring bold solutions to the table are lifelong — starting formally with her intensive research and doctoral thesis on the subject.
Her commitment to weave these insights and efforts into her professional pursuits continued as a Fulbright Scholar in Ghana, at the United Nations, and as a leader of an initiative with the Black and Brown Founders, an organization that seeks to connect entrepreneurial resources for minorities in the commonwealth. At Penn State Lehigh Valley, she's driven countless initiatives to encourage diverse, inclusive and equitable programming and entrepreneurial ecosystems through the University's LaunchBox and Invent Penn State business incubators. She also founded the Lehigh Valley LaunchBox Ladies Council, which engages, empowers and supports women entrepreneurs by providing resources, mentoring and networking opportunities.
But perhaps one of her most noteworthy undertakings around social justice is her decade-old creation of Critical Conversation in Urban Education (CCUE) — an initiative she founded while serving as the associate dean of academic affairs at Drexel University's School of Education and director of the University's Assisted School Initiative in West Philadelphia's Promise Zone. CCUE's 10th anniversary was celebrated last week at a virtual summit hosted by Drexel University's School of Education with an in-person, invitation-only reception at the Natural Science Museum.
Sparked, in part, by civil rights icon and Congressman John Lewis' belief that we must "get in good trouble … to redeem the soul of America," CCUE was built to question the educational systems that structure and shape lives. In doing so, it helps to explore, reimagine and create newer, more equitable approaches to pre-K through 12th grade education in urban settings — approaches that are rooted in social justice and inclusion and drive critical dialogue and actionable insights.
"I'm a firm believer that education is life-changing," said Richardson. "All students should have the chance to benefit from high-quality education and the inspiration that follows. But unfortunately, I often hear that children who are not reading at a third-grade level by the fourth grade will continue to fall farther behind across all academic subjects and are far more likely to become a high school drop out."
"The truth is," Richardson said, "students with third grade literacy gaps can and often do catch up and improve their skills — especially if they are taught to do so. CCUE drives us to ask: What interventions can and should schools take to address those gaps; what can parents do to help; and how do we connect a student with needs to communities that care?"
Richardson shared more of her insights at the summit and admitted her motivation: "While I am humbled by the acknowledgement of my vision and foundational groundwork around CCUE, my drive was rooted in opportunity — the chance to bring people together who share a collective desire to positively impact the communities that surround us."
Early in the process, Richardson recognized the university had limited relationships with the very people that they wanted to help — and that needed to change.
"Regardless of how much you want to address a problem and serve people in need, it will be impossible to do so without establishing relationships, and bi-directional communication," she said.
Richardson said Drexel's leadership within the School of Education fully supported her efforts to build those relationships through CCUE and bring their faculty into the conversation — and the field where they could help build trust.
During the keynote, Richardson also admitted that she did not accept the position at Drexel knowing that she would do any of the things the event was celebrating. She simply leaned into this new and uncharted territory with a level of curiosity and commitment that ultimately helped transform education in the urban landscape.
Admiration for Richardson's work and stories of impact were shared throughout the event — most notably at the reception where Sope Lartey, an undergraduate student at Drexel University's Westphal College of Media Arts & Design, presented a poem about the CCUE founder. Though she hadn't met Richardson prior, she was fully inspired by her Drexel legacy:
An Ode to Dr. Richardson
Where does the story start from?
How do we begin?
Every moment of the tale has been a blessing
With soaring milestones along the way
A drop of water fell from the sky
And landed in Lehigh Valley
it glowed defiantly
Reflecting the lustrous light of untainted hope
Little specks of Ghanaian gold that glistened in the morning
A joyous laughter rang through as it passed
Slowly and surely,
the drop became a stream of water,
Stretching and pouring itself for decades
It raised lost drops out of the parched grounds that it touched
And as it flowed into tiny puddles,
Connecting them into one another
as it flowed through Drexel University,
Humming a sweet song of serenity,
watering flowers of justice,
misting excellence on the buds of young minds.
Now, our stream is a rippling river
Pulsing through the rocky paths of Pennsylvania,
It looks much different now.
Twenty years has given life to trees and troughs,
Cedars of nobility pay homage to the river's strength
Lush plants sing praises as the winds blow through them
We look down into the water
And we see the lovely woman who had been singing all this time,
With her back to us, she waves and sighs, looking sublime
there are gold beads around her neck,
A colorful wrapper adorns her frame.
As we gather to honor her,
We are grateful for a leadership that chose to refresh and never scorch
That never broke into pieces,
But carried with gentle waves
Philadelphia, a home of brothers and sisters,
Stops by today to ponder upon a leader that never shoved nor swallowed,
but trickled beside us, never leaving anyone behind.
Alas, the woman in the river is reflecting,
Going off to another stead
But there is still a calling for more people to rise.
With confidence, we take over the work that has been done,
eager to plant new fruits like the ones that we had been given.
And the river is stretching again, making room for all of us,
to bring new drops of ourselves and cover the world
Richardson noted that her initial concept around critical conversations took hold — and continued to evolve — thanks to many, including Drexel's faculty, staff and community members who believed that these historic and systemic inequities needed to be addressed. She added that there is still much to do to close the gap — especially when addressing disparities in funding and resources.
"Truly critical conversations about urban education provide opportunities for 20/20 vision and a sharper lens for how we live, work and play differently across communities," she said. "It makes me smile to know that I was able to lay the blueprint for the CCUE lecture series and see that those who continue on the committee are doing what Congressman Lewis asked of us — to 'get in good trouble.' That work is helping to redeem the soul of America — or in this case, urban education in Philadelphia."
In her closing statement at the summit, Richardson asked of the more than 450 educators and community partners who registered for the event: "Please commit to engage in 'good trouble'! Please tell our students that their reading aptitude (or lack thereof) in the third grade should not determine if they give up on school or themselves. It should not be a sentence for life. And just as important — please, please, please — do not allow schools to continue with the same instructional models, standards and methods of teaching if they are not working effectively."
"Yes, it is hard work to make these adjustments," Richardson added. "But children want to learn to read, and they deserve teachers and caring adults who are willing to work hard on their behalf.  We need to continue these critical conversations and accept nothing less than their success, because the future needs all of us."