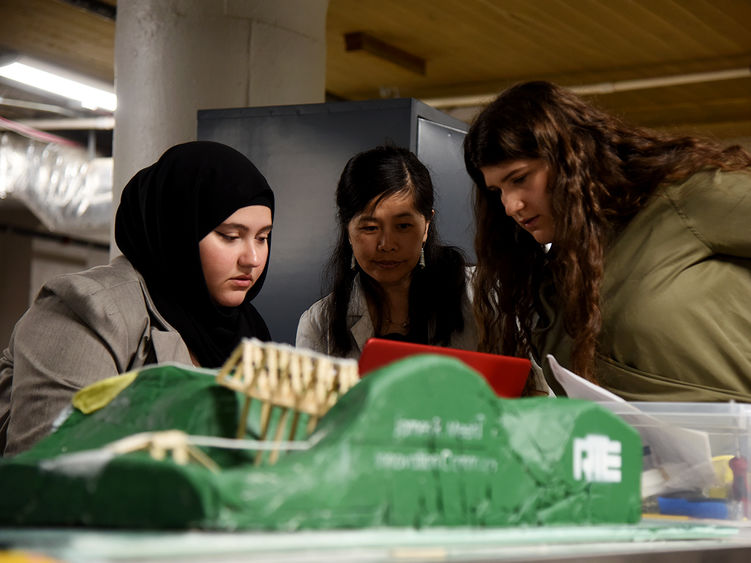 ALTOONA, Pa. — The final round of Penn State Altoona's fourth Women in Engineering Design Competition took place on April 15 and 16. This year's theme was "Horseshoe Curve," held in collaboration with the Altoona Railroaders Memorial Museum.
Eight first- and second-year students from four Penn State campuses participated in the program, hosted by Penn State Altoona's Rail Transportation Engineering (RTE) program.
The competition had three rounds. The first was an online quiz that included questions about all aspects of engineering and its impact on society, economics and politics, along with questions about the Horseshoe Curve, a national historic railroad landmark in Altoona. Winners of the quiz moved on to the second round, the research design portion, in which they studied the major engineering aspects, design and construction of the Horseshoe Curve. Those winners then advanced to the final round, tasked with designing the track alignment for the area before the Horseshoe Curve was built. Four teams presented to and fielded questions from a judge's panel that included faculty from Penn State Altoona, railroad industry representatives, and RTE students.
This competition exposes and broadens women engineering students' perspectives and interests in engineering and challenges critical engineering skills. Prizes included a total of $6,500 in scholarship money. Norfolk Southern and Penn State sponsored the competition. The James R. Meehl Innovation Commons at Penn State Behrend assisted in making the 3D-printed plastic molds for use in the final competition.
"The Women in Engineering Design Competition has now become a signature event of the RTE program at Penn State Altoona," said Shihui Shen, professor of rail transportation engineering at Penn State Altoona. "By showcasing the exciting and highly interdisciplinary field of railroad engineering, we aim to inspire and encourage more women to pursue careers in this challenging and rewarding field."
Winning teams are:
First Prize ($3,000): Lillie Mohn and Jenicy Strong from Penn State Berks.
Second Prize ($2,000): Jasmin Khan and Sabiha Kermalli from Penn State Lehigh Valley.
Third Prize ($1,500): Lauren Stich and Myah Massiah from Penn State Altoona.