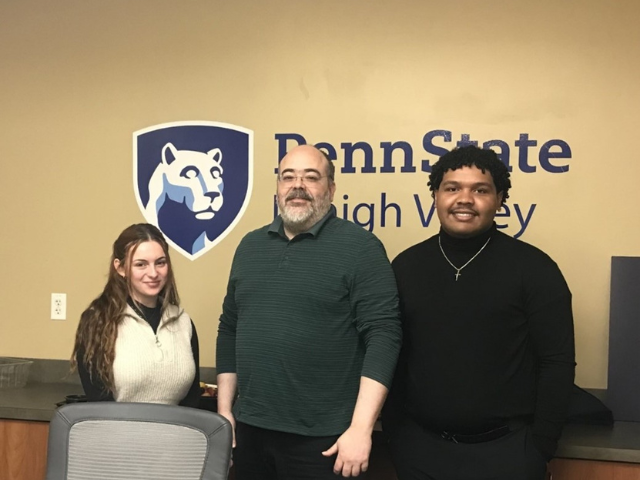 CENTER VALLEY, Pa. — Two Penn State Lehigh Valley students were awarded JEDI (Justice, Equity, Diversity, and Inclusion) Fellowships for the 2022-23 academic year and received top recognition for their undergraduate research projects in the areas of disability and racial injustice. 
Growing up with two cousins with autism spectrum disorder (ASD) inspired Gianna Gomes to explore research that could improve the lives of children with the disorder, she said.
"I saw firsthand the challenges that families with ASD children face," said Gomes, a fourth-year student majoring in rehabilitation and human services (RHS). "I wanted to do research that could have an impact."
Gomes presented her project and won first place in both the Penn State Lehigh Valley Undergraduate Research Symposium and the regional Penn State symposium at Penn State York in the business and social science category.
Her project explored how family resilience plays a moderating role in lessening adverse experiences among children with ASD, particularly as it relates to socioeconomic status. "My research adds support to policies that make families stronger," Gomes said. She also won a SEN grant for her research in the Fall 2022 semester. 
Her JEDI Fellowship entitled Gomes to work with three faculty mentors. "I was pleasantly surprised by all the resources that were made available to me," said Gomes.
One of her mentors, Andjela Kaur, a Penn State Lehigh Valley faculty member, is a leading scholar in disability studies. Teri Kistler, the coordinator of the RHS program, provided additional support.  
Gomes also worked with faculty members who had expertise in statistics. "I got to do analysis on the National Survey of Children's Health (NSCH), the biggest dataset on children's health in the country, and gain exposure to advanced statistical techniques," she said.
Fernando Gaton Bido, a fourth-year student majoring in psychology, was also inspired by personal experiences to seek out a JEDI research fellowship, he said. Bido's employment as a health care professional gave him a front-row seat to harmful interactions in the hospital workplace. 
"I saw it up close," said Bido. "Slights are often based on racist attitudes. It hurts individuals, and it impedes the organization's ability to provide the best healthcare. It is worse for the lowest level employees as they are the most vulnerable to mistreatment. This is unacceptable to me." 
The JEDI Fellowship gave Bido an opportunity to systematically study patient and healthcare interactions with David Livert, a Penn State Lehigh Valley faculty member who has pioneered interactional research in various industrial settings, including in professional kitchens. 
"I was able to provide a lens into what goes on behind the scenes in one area of the health care industry," said Bido. "This is an important step toward organizational change and betterment." 
Bido traveled to Boston in early March to present his research at the prestigious Eastern Psychological Association conference, which was attended by more than 2,000 people. He also presented his results at the Penn State Lehigh Valley Undergraduate Research Symposium in April of this year.
Livert and Bidon both said they plan to work with their mentors and continue their research during the summer with the goal of eventually publishing their findings.
The Penn State Lehigh Valley Collaborative for Undergraduate Research in Justice, Equity, Diversity, and Inclusion is currently accepting applicants for the 2023-24 JEDI Fellowships.