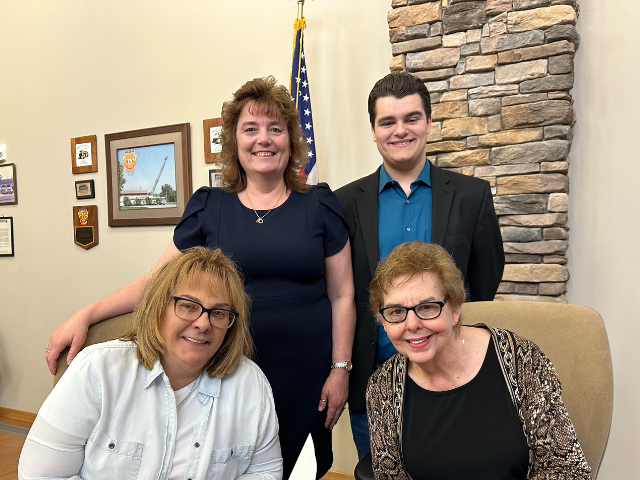 CENTER VALLEY, Pa. — FBI numbers indicate that between 400,000 and 600,000 children in the United States are reported missing every year. Tragically, thousands are never seen again. With these statistics in mind, a Lehigh Valley-based nonprofit led by a Penn State Lehigh Valley (PSU-LV) student is doing its part to address this issue and protect our communities' most precious resource.
Grant Heimbecker, a second-year corporate communication major at PSU-LV, was named executive director of Community Partners 4 Kids (CP4K) in 2022, shortly after he turned 18. The goal of Community Partners 4 Kids (CP4K) is to help parents and law enforcement maximize their most valuable commodity — time.
"Pennsylvania ranks fourth in the nation with human trafficking prosecutions — that's how much goes on in the state of Pennsylvania. When a child is abducted, every second counts," Heimbecker said.
CP4K provides free child ID kits that include the essential child identification information law enforcement needs to get the critical search process started as quickly as possible. The kits are free for parents and typically distributed at community events in and around the Lehigh Valley. In addition to the ID kits, CP4K creates a 128-page booklet full of helpful child safety information distributed in more than 10,000 locations throughout the Lehigh Valley and Reading.
"As far as we know, we're the only organization in this part of the state that provides this service," Heimbecker said. "The closest thing to what we do is the old Pennsylvania State Police (PSP) child fingerprinting program. PSP has endorsed our program, as well as several local police departments."
Heimbecker originally planned to major in business at Lehigh Valley but said he was less than enthusiastic about the program's math requirements. He changed his mind and switched his major to corporate communication after meeting with an academic adviser.
"She said, 'Here is a business-related degree you don't need as many math credits for.' The more I learned about the major, the more I fell in love with it. I love writing and the art of conversation, and my degree will still be business-related. I was hooked right off the bat," he said. "I will no doubt look back at that meeting with my adviser as a pivotal moment in my life. If she hadn't said something, I would have moved forward with my original plan, and eventually become bogged down in trying to fulfill what are, to me, very difficult requirements."
The writing and communication skills Heimbecker is acquiring at PSU-LV serve him well in his role with CP4K.
"I'm very well-suited to the writing and presenting side of things," he said. "I intend to remain involved with CP4Kids for many years to come. My plan is to move out of wearing every hat, and instead focus more on handling communications for the organization. Things such as speaking events, press releases, and other forms of communication, both internal and external — things that PSU-LV is setting me up to handle. I think corporate communication is the perfect degree field for me, since it aligns so well with my anticipated role with CP4Kids. All in all, this major sets me up very well going forward."
Heimbecker juggles the demands as executive director with the responsibilities of a full course load at PSU-LV.
"I'm blessed to have a good board and a good network. I have folks I can call on if something comes up. It's important to have a good network so you have people you can rely on," he said.
For more information on CP4K, visit cp4kids.com.