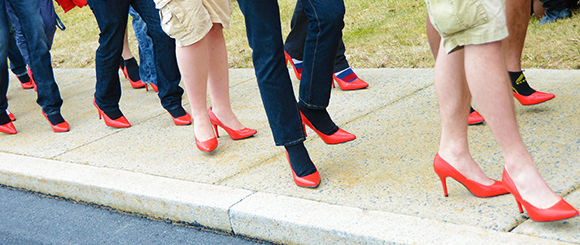 CENTER VALLEY, Pa. — Penn State Lehigh Valley will host its third "Walk A Mile in Her Shoes" march at noon on Monday, April 24.
Male faculty, staff, alumni and students will don 4-inch red heels for a symbolic walk around campus to take a stand against sexual violence. Participants will begin the walk at the Sports Court and will finish at the campus' Nittany Lion shrine.
Interested male faculty, staff and students can register for the event in room 214 or 218. All are welcome to attend the event and support participants as they walk for the cause. Donations will be accepted. Profits will be going to Valley Against Sex Trafficking (VAST). Anyone who donates will receive a RISE bracelet. Also, all march participants will get a free event t-shirt.
All participants and attendees will be able to enjoy Swedish-Fish flavored Rita's Italian Ice after the event, donated by Rita's of Hellertown.
RISE is the student club organizing this event. The mission of RISE is to unite and empower Penn State students to rise up against sexual violence, abuse, trafficking and exploitation in our community, through awareness prevention, action and aftercare.
"Walk A Mile in Her Shoes" is an international men's march to stop rape, sexual assault and gender violence, created by Frank Baird in 2001. It is an opportunity for men to come together to raise awareness of, and peacefully protest against, rape and sexual violence.
The event is being organized and sponsored by the Office of Student Affairs in collaboration with RISE and funded by the student activity fee. The event is also supported by the Lehigh Valley campus' Commission for Women.
Contact
Dennille Schuler
Public Relations Specialist
Penn State Lehigh Valley