Ceremony held during New Student Welcome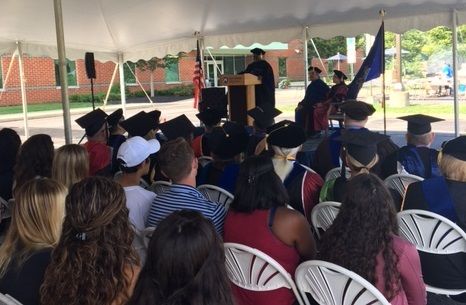 The new academic year officially began on Aug. 17 at Penn State Lehigh Valley's fall convocation ceremony.
More than 350 incoming first-year students and new transfer students were in attendance, along with faculty and staff of the Lehigh Valley campus. This marks the largest group of incoming students in five years.
Convocation opened with the procession of campus faculty and staff. Senior faculty member Barbara Cantalupo, professor of English, led the procession.
Convocation speakers included Tina Q. Richardson, chancellor of Penn State Lehigh Valley; Kenneth Thigpen, director of academic affairs; Roger Egolf, associate professor of chemistry and chair of the Penn State Lehigh Valley Faculty Senate; Criss Braynen, president of the student government association; and Denise Ogden, professor of marketing and winner of the George W. Atherton Award for Excellence in Teaching.
When Braynen spoke, she advised students to get involved.
"I can tell you that the best decision I've ever made was getting involved… whether this is your first year here or you're transferring here from another school, or even if you are coming back to school after however many years of being out, this is a new chapter of your life and you have the power to make the most out of it."
During Ogden's energizing remarks, she shared her personal story of how she grew up poor and there was no expectation of her to go to college, yet here she is a college professor.
"Education has always been the answer; the answer to getting me out of poverty; the answer to exposing me to people different than I," said Ogden. "I encourage you to make a goal for yourselves to graduate even though it will be hard work."
Ogden told students to not let obstacles prevent them from their dreams. She shared her personal ordeal of being diagnosed with stomach cancer while finishing her doctorate. Now she is 16 years cancer-free and an award-winning college professor.
New Student Welcome was a day-long event for all new first-year, transfer and adult students. The event included information sessions, academic workshops and presentation. Tyrone Russell, coordinator of racial and ethnic justice with the Community Action Committee of the Lehigh Valley, spoke about inclusion; and by Arel Moodie, entrepreneur, author and speaker, engaged students by encouraging them to make the most of the college experience.
Contact
Dennille Schuler
Public Relations Specialist
Penn State Lehigh Valley