Kassie Hilgert, CEO and president of ArtsQuest and a 1997 alumna, was the featured speaker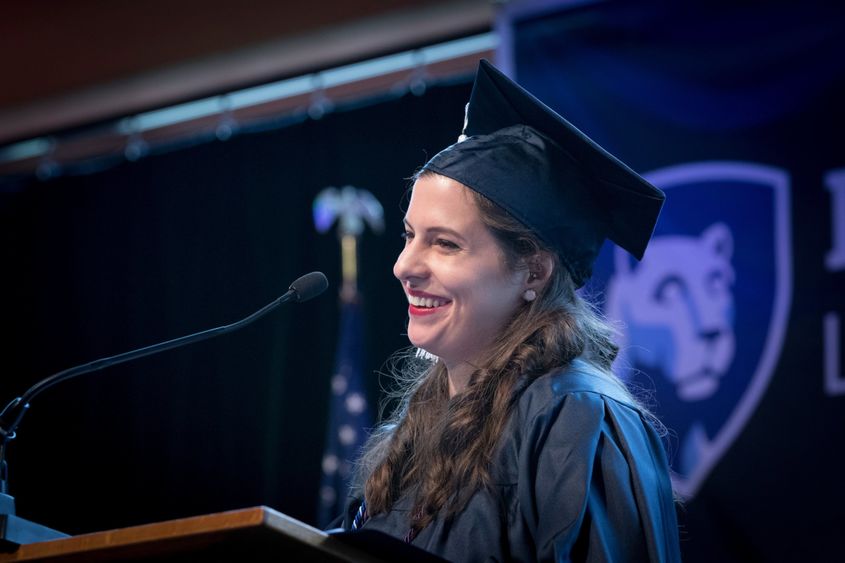 CENTER VALLEY, Pa. — Penn State Lehigh Valley held its annual commencement ceremony on Saturday, May 5, at ArtsQuest Center at SteelStacks in Bethlehem. The campus awarded associate and bachelor's degrees to 115 students.
The featured speaker for the event was Kassie Hilgert, CEO and president of ArtsQuest and a 1997 Penn State alumna.
Hilgert opened her remarks by reading an editorial that criticized her generation with similar comments that are used today to criticize the current generation. She said she did this as way to show the graduates that they will hear negativity in their life and they should plan to ignore it. Hilgert continued by sharing experiences from her career and also gave six points of advice for the graduates.
"You will all lead someday, so take time to learn from the leaders you admire and the leaders you don't. Leadership doesn't come with title," said Hilgert.
She talked about the concept of grit, the meaning of the word, and characteristics displaying grit; stressing how important these are to being successful. Hilgert reminded graduates that they will spend more time with their co-workers than with their loved ones in a world where work-life lines are blurry, so she advised to "go find your tribe." And at the end of the day, she told graduates to be humble and remember what Sir Isaac Newtown said: "If I have seen further it is by standing on the shoulders of giants." 
Hilgert's full commencement address can be viewed on YouTube.
Other remarks were given by Tina Q. Richardson, chancellor of Penn State Lehigh Valley; Elise Yardley, 2018 student marshal; and Roger Egolf, associate professor of chemistry and chair of Penn State Lehigh Valley Faculty Senate, who introduced Hilgert.
Yardley was selected as the student marshal for the class of 2018. Yardley graduated with a bachelor of arts degree in corporate communication, with a minor in business administration. Her speech encouraged graduates to find passion in every day.
"As we start the next stage of our lives, I hope you carry these four years with you wherever you go. Remember all the amazing experiences, and everything you have learned. And always remember … We Are!" said Yardley at the end of her speech.
Yardley's full student marshal speech can be viewed on YouTube.
After the presentation of the candidates and conferring of degrees, the graduates were inducted into the Penn State Alumni Association by Larry Trubilla, president of the Penn State Lehigh Valley Alumni Association.
To purchase photographs from commencement, visit https://tinyurl.com/PSU-LV2018. Photos will be available to purchase online by Friday, May 11. The ceremony was livestreamed on YouTube for family and friends who could not make it to ArtsQuest on May 5.
Contact
Dennille Schuler
Public Relations Specialist
Penn State Lehigh Valley