Wes Schlauch drew standing ovation at Penn State Lehigh Valley commencement ceremony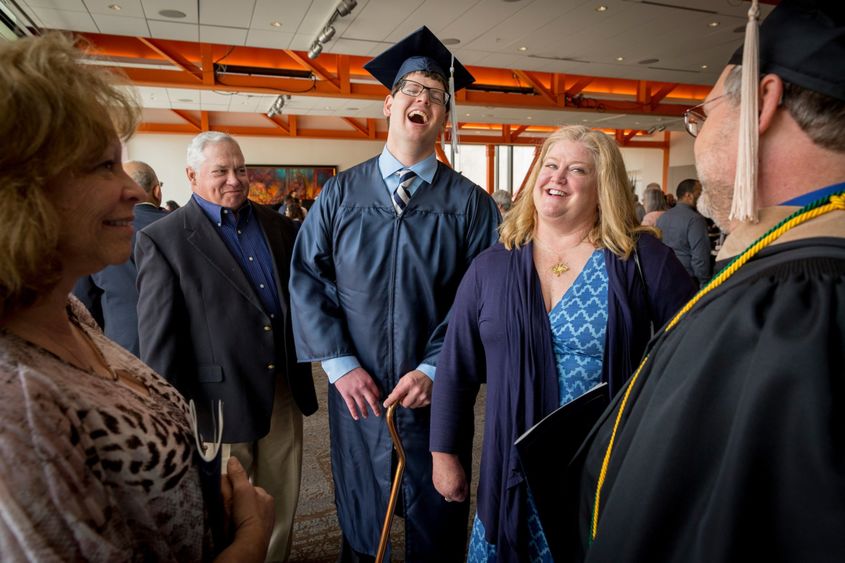 CENTER VALLEY, Pa. — Richard "Wes" Schlauch graduated with a degree in corporate communication on May 5 with 114 of his classmates from Penn State Lehigh Valley (PSU-LV) at ArtsQuest Center at SteelStacks in Bethlehem. Schlauch processed in with fellow graduates, walked up the stage to get his diploma and walked out of the Musikfest Café with his classmates during the recessional. These achievements on their own are noteworthy, but they are even more impressive because Schlauch suffered a stroke in 2010 when he was 16 years old, six days after he had an accident playing hockey while attending The Hill School in Pottstown.
"It makes it harder to do everything," said Schlauch of the aftermath of his stroke. "I was on a ventilator. I had to relearn how to breathe; how to do everything."
He was first taken to St. Luke's Hospital, then was transported by ambulance to the Hospital of the University of Pennsylvania for surgery, before being transferred post-op to the Children's Hospital of Philadelphia for 55 days. Schlauch was then admitted to Good Shepherd Rehabilitation Pediatric Unit for 10 months of rehabilitation. He had multiple therapies, which have been ongoing since his discharge, including physical therapy, occupational therapy, speech, aqua therapy and equine therapy.
Schlauch, who lives in Breinigsville with his parents, continued his high school education through homebound instruction from Parkland School District both while in the hospital and after he returned home. He then returned to The Hill School for a year and graduated from high school in 2012.
Schlauch said he debated his next step as he did not think college was for him.
"I knew Penn State Lehigh Valley had a great reputation and it was close to home," said Schlauch. "My sister went here and recommended it to me, but I was worried I wouldn't like college."
Schlauch and his sister, Maggie, wound up attending the Lehigh Valley campus together for one year before she graduated in 2013.
At Maggie's graduation, I remember talking to Dr. Williams, the previous chancellor, about Wes and she said, 'Don't worry, Mrs. Schlauch, we got this; we will make sure he graduates from Penn State Lehigh Valley.' Even though she retired, I knew that this place had his back," said Meg Schlauch, Wes and Maggie's mom. Wes also has another older sister, Betsy.
He chose to major in corporate communication because he said he wanted to work on being a good communicator. Schlauch interned twice with State Rep. Gary Day learning the ins and outs of the business side of Facebook and the power of social media.
"I like the environment at Penn State Lehigh Valley. I like its size; that it's one building where everybody knows everybody," said Schlauch. "So many people here have helped me from Linda Rumfield and Danyell Fondl to Dr. Gutgold and Mike Krajsa; from Dr. Hudak and Beth Michalec to my adviser Bob Wolfe, who always told me the right thing to do."
Schlauch said his parents have been crucial in his success at PSU-LV, with his dad driving him to campus every day and his mom serving as his biggest cheerleader.
His presence on campus the last 6 years has been a positive one, with many faculty and staff already missing his smiling face and sense of humor around campus on the Monday after graduation.
"Wes has never been one to use his disability as an excuse. He has shown others that this is something you can do, like if I can do it, then so can you. So many professors have come up to me and said how much Wes has brought a fresh face to a diverse student. I really appreciate that there have been so many kind professors at PSU-LV that have taken him under their wing.  He has become more outgoing and has grown so much since coming here," said Meg Schlauch.
During his time at PSU-LV, Schlauch was a recipient of the Penn State Lehigh Valley Advisory Board of Trustees Scholarship.  At the PSU-LV Student Awards Ceremony held at the Lehigh Valley campus in April, Schlauch was awarded the Heart of the Lion Award, which is presented to a Penn State Lehigh Valley student who has overcome notable obstacles of any kind, and has demonstrated grit, gumption and sheer determination.
"Wes reminds me of the power of the human spirit. In all the years I've known him, I have not once seen him in a bad mood. I think that much of his can-do spirit and great personality come from his family. His mother in particular is a vivacious and positive woman. I once heard a speaker say 'show me a parent who cares, and I'll show you a student who learns.' That's the Schlauch family — they are tight-knit, positive and gritty. Wes exemplifies that, too," said Nichola Gutgold, professor of communication arts and sciences at Penn State Lehigh Valley.
As Schlauch's name was read on May 5, and he walked up the stage to get his diploma from Chancellor Tina Q. Richardson, the attendees at commencement stood up to cheer him on. He was overcome with emotion and gave the crowd a wave. The emotion in the Musikfest Café was palpable and celebratory.
"I'm an emotional person and knew I'd be crying like a baby when I saw him in his cap and gown processing in for commencement. This journey has been my family's journey with him. Originally it was kind of a dream to get him to college because of his medical history, but for him to graduate is nothing short of a miracle," said Meg Schlauch. "The Lehigh Valley campus has become very meaningful to him. There were so many things he could do there that he wouldn't have been able to do at a bigger campus. I want people to remember that we need advocates out there for people like Wes. Even if you aren't related to them, try to advocate for others. They can touch your life even when you are doing them the favor. I think Wes has shown this to the people of PSU-LV."
When looking ahead to the future, Schlauch said he is excited, but a little nervous because he knows leaving PSU-LV is a big change for him. He is searching for a job in public relations.
When asked about his advice to his fellow graduates, Schlauch smiled and said, "Just keep your head up, keep smiling and don't take things too seriously. Don't be so hard on yourself."
Contact
Dennille Schuler
Public Relations Specialist
Penn State Lehigh Valley