LaunchBox Ladies event drew a crowd of more than 100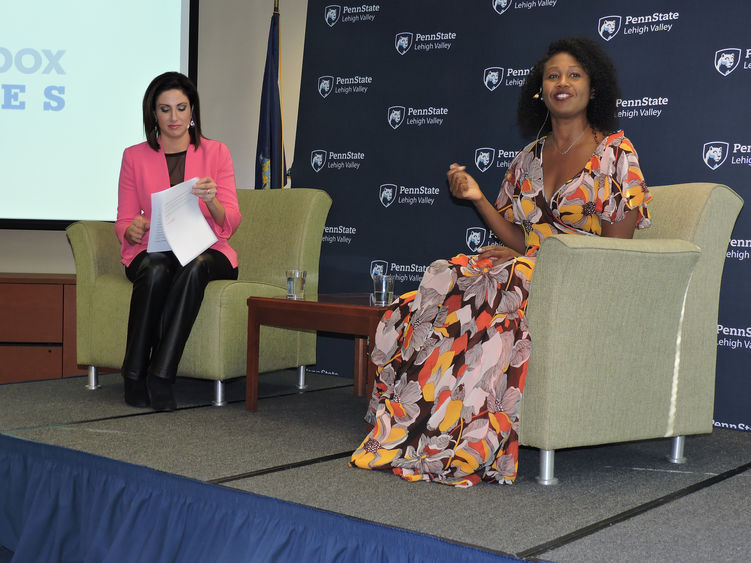 CENTER VALLEY, Pa. — "We all have a superpower — find it and use it as a way to get in the door. Sometimes you have to say yes to yourself first. You have to invest in yourself first before others will invest in you," said Tanya Wright, actress, author and content-driven entrepreneur at the inaugural "LaunchBox Ladies: From Passion to Profit" event held on Nov. 15 at Penn State Lehigh Valley.
More than 100 community members, students, faculty and staff came to hear Wright speak at the event hosted by Lehigh Valley LaunchBox (LVLB). She is best known for her roles as Crystal Burset on the Netflix series "Orange is the New Black," and as Deputy Kenya Jones on HBO's "True Blood." She is the author of "Butterfly Rising," "I Found God in My Hair," and founder of the hair-care line HAIRiette. She is currently building a philanthropic distribution line of hair-care products and became a micro-grant recipient of Lehigh Valley LaunchBox earlier this year.
Wright was interviewed by Ashley Russo, three-time Emmy award-winning executive producer, president of ASR Media Productions, and host of The PEAK TV and St. Luke's HealthNow. The full 2018 schedule of upcoming LaunchBox Ladies will be announced later this year.
Contact
Dennille Schuler
Public Relations Specialist
Penn State Lehigh Valley