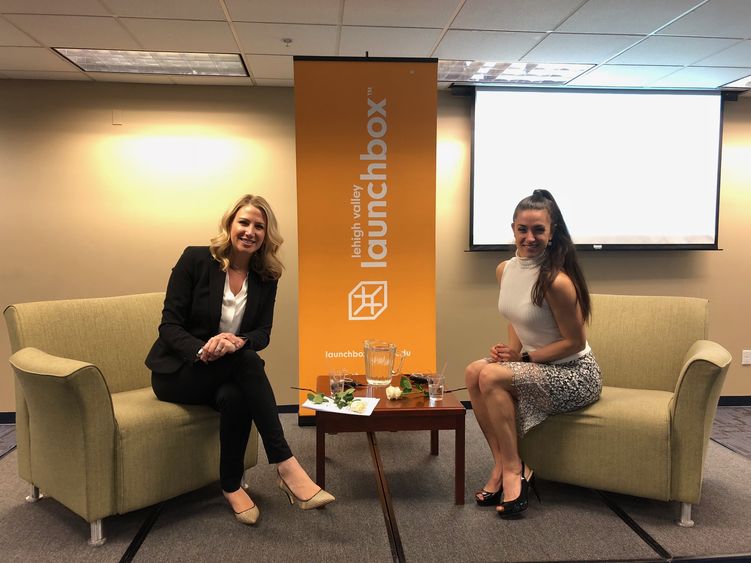 "My advice is: Have a goal and chase your goal endlessly ... It's good to be a perfectionist, but it's also good to not be so extreme that you have blinders on and miss out on the other aspects of your life."
— Paige Lilly, founder of Fresh View Fitness, at the "LaunchBox Ladies: From Passion to Profit" event held on Feb. 14 at Penn State Lehigh Valley
More than 50 community members, students, faculty and staff came to hear Lilly speak at the event hosted by Lehigh Valley LaunchBox (LVLB).
Lilly is a professional International Federation for Bodybuilding Bikini Athlete and ranked one of the top bodybuilding athletes in the nation. She is also the founder of Fresh View Fitness, which offers nutritional consulting, customized meal plans, and body-shaping rotational workout routines for both the fitness competitor and noncompetitor. After a serious illness during training, Lilly found her passion for fitness and nutrition. Outside of competing, her passion is helping noncompetitors live a healthy lifestyle using nutrition and fitness for overall well-being. Her goals are to align with schools and youth groups in order to begin a wellness education at an early age.
Lilly was interviewed by Liz Keptner. An Emmy award-winning broadcast journalist, Keptner has interviewed countless newsmakers including former U.S. President Barack Obama, former astronaut and U.S. Senator John Glenn and Chef Emeril Lagasse. She hosted local and national programs, provided voiceovers for numerous commercials and is now director of Penn State Lehigh Valley's Multimedia Innovation Center. She also teaches Effective Speech, News Practicum and Intercultural Community Building.
This event was sponsored in part by the Penn State Lehigh Valley Student Business Society.
Upcoming LaunchBox Ladies events include:
Wednesday, March 14
Speakers – Gabrielle and Brittney Flank, founders, Frosting Company
Interviewer – Catherine Bailey, Rea.Deeming Beauty, Inc.
For more information, visit the Lehigh Valley LaunchBox website, email [email protected] or email Valerie Peters at [email protected].
Contact
Dennille Schuler
Public Relations Specialist
Penn State Lehigh Valley