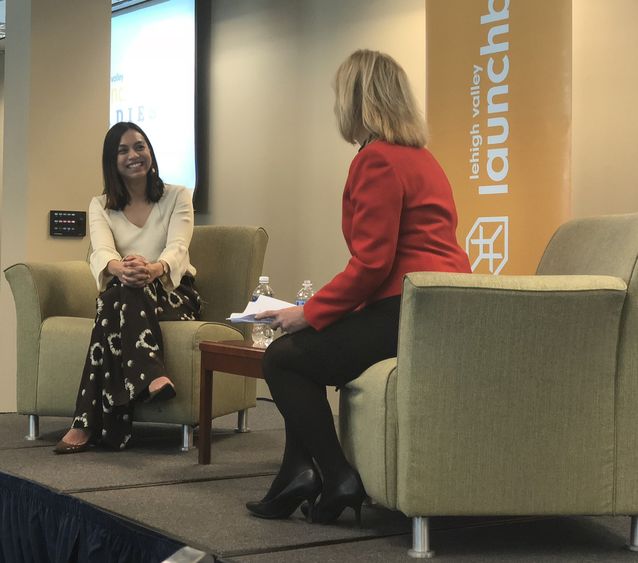 "My message is always about hope. If you have a hobby or an idea, hang on to that and turn it into something you are proud of. It doesn't have to be all about making money. You can take your hobby or idea and you can create hope with it," said Khine Alkhal, founder and owner of Khineder Creations, international speaker and philanthropist, at the "LaunchBox Ladies: From Passion to Profit" event held on Jan. 18 at Penn State Lehigh Valley. More than 100 community members, students, faculty and staff came to hear Alkhal speak at the event hosted by Lehigh Valley LaunchBox.
While traveling the world as a humanitarian worker, Alkhal was exposed to devastating human, drug and sex trafficking and wanted to empower the struggling women that she met. In 2016, she opened Khineder Creations in Emmaus, which features chemical-free bath and beauty products made from traditional Burmese recipes and locally sourced organic produce. A portion of all her proceeds provide struggling mothers and survivors of abuse with an income that offers independence. She appears as a speaker and panelist at international conferences and symposiums on sustainable solutions for irregular migration and reintegration of migrant workers' families in developing countries.
Alkhal was interviewed by Nichola Gutgold, professor of communication arts and sciences at Penn State Lehigh Valley, and an internationally recognized scholar on the rhetoric of women in nontraditional fields. This event is sponsored in part by the Penn State Lehigh Valley Student Business Society.
Upcoming LaunchBox Ladies events include:
Wednesday, Feb. 14
Speaker – Paige Lilly, founder, Fresh View Fitness
Interviewer – Liz Keptner, director, Penn State Lehigh Valley Multimedia Innovation Center
Wednesday, March 14
Speakers – Gabrielle and Brittney Flank, founders, Frosting Company
Interviewer – Catherine Bailey, Rea.Deeming Beauty, Inc.
For more information, visit the Lehigh Valley LaunchBox website, email [email protected] or email Valerie Peters at [email protected].