Attendees learned the importance of ethical reasoning in media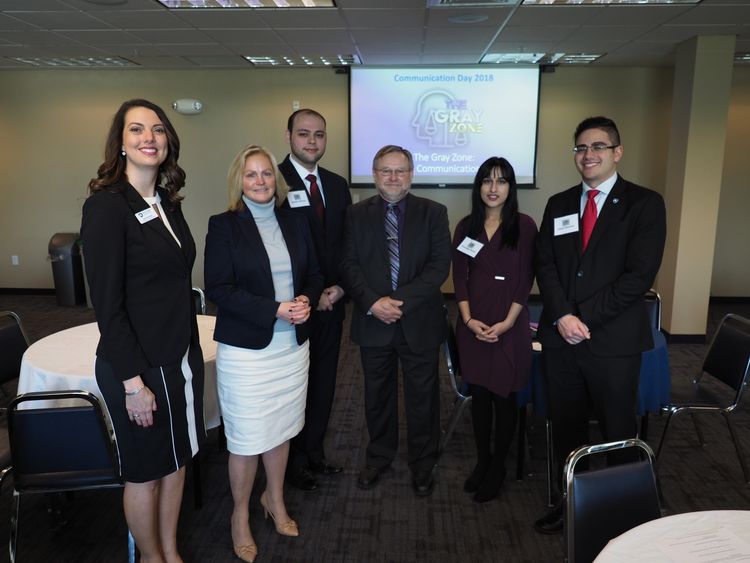 CENTER VALLEY, Pa. — The Penn State Lehigh Valley Communication Society hosted its second annual Communication Day conference on Feb. 27 at the Lehigh Valley campus. The theme of the conference was "The Gray Zone: Ethics and Communication Today." Communication Day was open to all students, faculty and staff, and included guests from Lehigh Carbon Community College, Northampton Community College and Warren County Community College.
Beth Michalec, instructor of corporate communication and Communication Society adviser at Penn State Lehigh Valley, arranged four speakers from various companies to come speak to students and provide insight on their career path.
"The purpose of Communication Day is to expose students to communication-related career opportunities, and network with current professionals across the industry to provide early professional development," said Michalec.
Students listened to a presentation from Bill Coletti, author of Critical Moments, CEO and founder of Kith Consulting at Communication Day 2018 in room 203 at the Lehigh Valley campus.
The featured speakers included:
— Lisa Packer, founder of Principal Root Strategies, director-at-large and past ethics chair of the PRSA Philadelphia chapter, who provided a variety of scenarios and explored the realm of ethics by hosting a group discussion panel for students. Packer encouraged students to share their perspective and explain their reasoning with others.
— Bill Coletti, author of Critical Moments, CEO and founder of Kith Consulting, who explained the difference of brand identity and reputation to students. Coletti also discussed past scenarios that involved crisis and risk management in the field of public relations.
— Joe Kita, author and senior editor of Men's Health Magazine and the event's keynote speaker, who opened with a narrative that reflected upon his career path and the multiple opportunities he encountered in the field of journalism. He stressed how research manipulation distorts authenticity in media, and emphasized how the source of information is subjected to bias. Kita followed up with an interactive session that clarified the importance of authenticity.
— Dan Fremuth, director of public relations of the Lehigh Valley Phantoms and PPL center, who explained to students that the motivation of the Lehigh Valley Phantom's numerous marketing campaigns is to give back to the community. Fremuth emphasized the importance of managing brand identity through entertainment on social media.
Douglas Hochstetler, interim director of academic affairs at Penn State Lehigh Valley attended and spoke during the welcome and opening remarks segment, encouraging students to be mindful of current events and if they see something, say something.
Jada Johnson, a second-year communication student at Northampton Community College attended Communication Day.
"Everyone was very welcoming and I enjoyed the interactive sessions with students from Penn State Lehigh Valley," said Johnson. "There are so many things to take into consideration when it comes to marketing, public relations and more. I am definitely interested in transferring to Penn State Lehigh Valley in the future because of this event."
Communication Day was planned by Penn State Lehigh Valley's Communication Society and its event committee, including Penn State Lehigh Valley students Rachel Bennett, Alyssa Bragg, Savannah Malesky, Kalista Mitrisin, Daniel Omron, Paula Pintor, Ashley Rutter, Naseeba Saeed, Gabe Sleiman, Jensen Vieczorek, Luke Williams and Penn State Lehigh Valley Instructor Beth Michalec.
Contact
Dennille Schuler
Public Relations Specialist
Penn State Lehigh Valley