Lehigh Valley H.S. Basketball Hall of Fame inducted Rich Fatzinger at Via All-Star banquet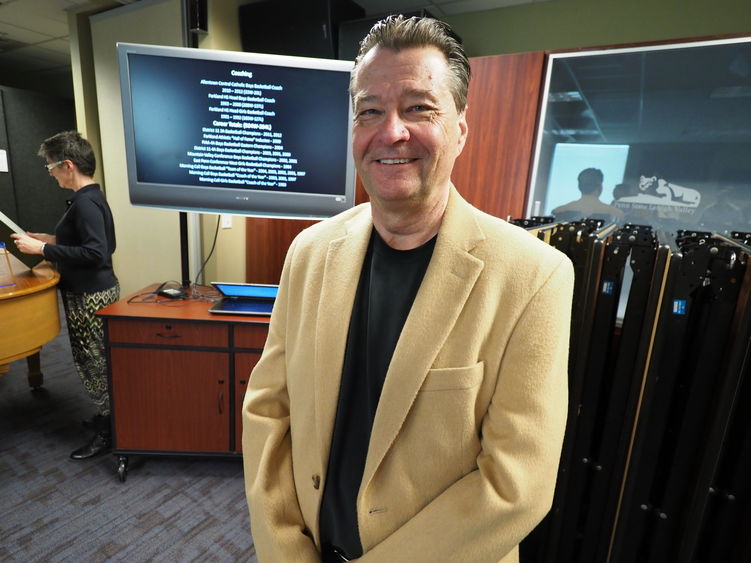 The Lehigh Valley High School Basketball Hall of Fame inducted the 2018 honoree at the Via All-Star Banquet on March 28. The inductees included Rich Fatzinger, athletic director at Penn State Lehigh Valley.
Former NFL Player Herschel Walker served as the keynote speaker at the event.
The Hall of Fame was established in 1978 and honors individuals who have made outstanding contributions to high school basketball in the Lehigh Valley.  A complete listing of inductees can be found on Via's website.  
The Via All-Star Awards Banquet recognizes members of the Via All-Star teams, Players of the Year, Teams of the Year, awards scholarships for student-athletes and inducts members into the Lehigh Valley High School Basketball Hall of Fame. 
The Via All-Star Basketball Classic raises funds for Via's services for children and adults with disabilities. Via has been serving our community since 1952. 
"We are so fortunate to have Rich be a part of our team here at Penn State Lehigh Valley," said Tom Dubreuil, director of student affairs at Penn State Lehigh Valley. "I was thrilled to be at the banquet last week to celebrate his achievement. You could see and feel his pride for his family and all the athletes he has coached over the years."
Fatzinger is in his eighth year as athletic director of Penn State Lehigh Valley. He is revered in the local high school sports scene primarily for his successful 35-year career coaching boys and girls basketball; directing athletic programs at Parkland High School; and for spending two years coaching at Allentown Central Catholic.
From 1981 to 1992, Fatzinger was the head girls' basketball coach at Parkland High School collecting a win-loss record of 183 and 127, and being named the 1983 Morning Call Girls Basketball "Coach of the Year." From 1993 to 2008, Fatzinger took over the boys' basketball program at Parkland, registering 288 wins and 147 losses. His teams were awarded the Morning Call Boys Basketball "Team of the Year" in 2004, 2003, 2002, 2001, and 1997. For his efforts, Fatzinger was named Morning Call Boys Basketball "Coach of the Year" in 2003, 2001, and 1997. His teams, including Allentown Central Catholic, won two conference championships and five District 11 championships, including being the PIAA 4A Boys Basketball Eastern Champions in 2004. For his success, Fatzinger was inducted in the Parkland Athletic "Hall of Fame" in 2009. 
Following his retirement from Parkland, Fatzinger started working part time coordinating athletic and fitness offerings for the Penn State Lehigh Valley shortly after its move to Center Valley in 2009. When Fatzinger started, the campus only offered three intercollegiate sports (golf, tennis and cross country). Beginning in 2010, Fatzinger was promoted to full-time athletic director and has been instrumental in expanding the intercollegiate offerings by adding women's volleyball, and men's and women's basketball. The programs quickly became successful winning two Penn State University Athletic Conference (PSUAC) championships in golf, qualifying for playoffs in women's volleyball, and in men's and women's basketball. During his tenure, the number of student-athletes has grown tremendously from seven athletes in 2009 to 70 athletes in 2018. Recently, Fatzinger is in the process of adding men's and women's soccer programs to take field in full intercollegiate status this fall 2018. 
In addition to his administrative responsibilities at the campus, Fatzinger served as president of the PSUAC from 2015-17, and is currently the chair for men's basketball, golf, and competition and ethics committees for the PSUAC, along with being a member of the PSUAC women's basketball committee. 
Fatzinger earned a master of education from Temple University, as well as a bachelor of science in education from Kutztown University, and his certificate in supervision and curriculum from Lehigh University. 
Contact
Dennille Schuler
Public Relations Specialist
Penn State Lehigh Valley