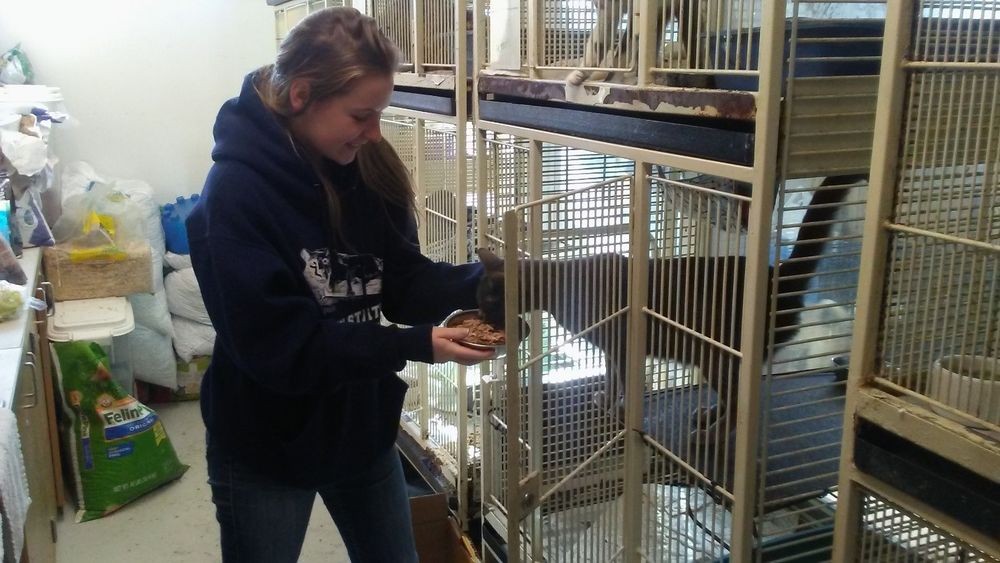 Members of Lambda Pi Eta (LPE), an honor society of the National Communication Association, held their semiannual day of service on March 26 at the Last Chance Ranch, a public volunteer and nonprofit organization dedicated to rescuing and rehabilitating animals, in Quakertown, Pennsylvania. The day of service is recognized as an ongoing tradition by LPE Club Adviser Kasey Hudak, assistant professor of corporate communication at Penn State Lehigh Valley.
"Lambda Pi Eta is an honor society for students with high scholastic achievements," said Hudak. "I feel students should give back to the community because they have already achieved great successes in the classroom."
Jensen Vieczorek, LPE president and senior corporate communication student at the campus, tended to the animals by cleaning their cages, distributing their food and administering treats.
"Though it is my first time as president, I do understand our mission to give back to the community," said Vieczorek. "I'm a huge animal lover and I would absolutely volunteer for this great organization again on my own time."
Members were also given a tour by Stephanie Lorenz, barn and projects manager of the Last Chance Ranch.
"We were given over 20 animals before Hurricane Irma hit Florida," said Lorenz. "We now have only three left [due to fostering and adoption], and it is a blessing to know that they're in good hands now."
For more information about the Last Chance Ranch, volunteer opportunities, adoption, and more, visit their website.
LPE is the National Communication Association's official honor society at four-year colleges and universities. For more information, visit natcom.org.
Penn State Lehigh Valley's Student Government Association (SGA) also held a week of service last week. They held a week long drive for Last Chance Ranch where they collected blankets, paper towels, dog and cat toys, etc. SGA students finished off the week by going to Last Chance Ranch on March 30 to drop off the donations and spent a few hours volunteering at the ranch.
Contact
Dennille Schuler
Public Relations Specialist
Penn State Lehigh Valley