Three short-term study abroad programs give local students global educational experiences over spring break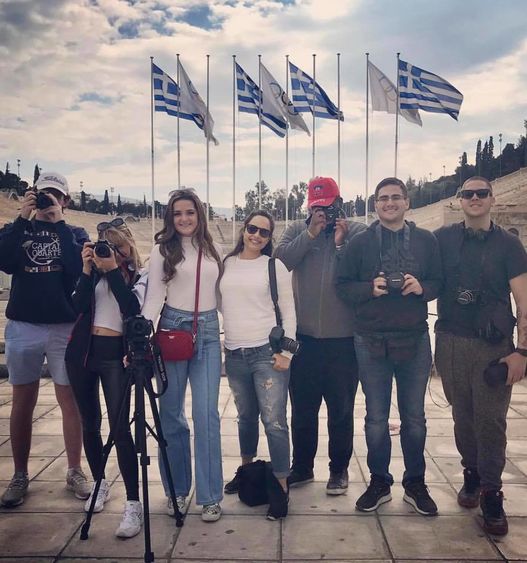 CENTER VALLEY, Pa. — Global experiences are viewed as an important part of a college student's journey at Penn State Lehigh Valley (PSU-LV). Thirty-five PSU-LV students had global educational experiences during spring break earlier this month. Along with their professors and instructors, these students got to see new parts of the world and expand their learning and understanding of course material during a short-term study abroad program.
Greece: A study in intercultural and crisis communication
Nine PSU-LV students traveled to Athens and Santorini, Greece, from March 1-8 to work with students from Athens University and explore ancient civilizations. This short-term study abroad program was coordinated by Kasey Hudak, assistant professor of corporate communication; Beth Michalec, lecturer in corporate communication; and Liz Keptner, director of the Multimedia Innovation Center, all from Penn State Lehigh Valley.
Two students went as part of the course Risk & Crisis in Corporate Communication (CC 404). They got to visit local and global brands, an international university and government agencies. Students then wrote a resulting case study on global crisis management and will deliver a presentation.
Walter Roland was one of these students. A senior majoring in corporate communication, Roland enjoyed touring the historic sights while in Athens and the beauty of Santorini.
"My favorite part about the trip was the exposure to a different culture. The Greeks not only welcome tourists to their country but treat them like family. The sincerity and genuine nature of these compassionate people is unmatched," Roland said. 
Seven students went on the trip as part of the course Intercultural Communication (CAS 471). They engaged in cultural diversity through a collaborative learning opportunity with Greek students. PSU-LV students were paired with students from Athens University of Economics and Business on a video production project that deepened their understanding of American and Greek culture. These students will finish their semester by completing a collaborative multimedia project in digital storytelling.
"Traveling abroad makes us more tolerant and understanding of other cultures. It also helps us to get rid of any egocentrism that we might harbor as we learn to appreciate other cultures and learn that our way is not the only way," said Ana Ortega-Lambert, a senior majoring in art administration. "During our trip, we got to talk with students from Athens University, and I was amazed to learn how even though we are so far apart we were able to have a great time and find so many commonalities."
Puerto Rico: Observing sustainability challenges firsthand
Eighteen PSU-LV students traveled to Puerto Rico from March 3-9 to analyze nature-society problems across a range of geographic contexts, especially ones that affect islands, to work together and develop possible solutions from different academic subjects, including geography (GEOG 30N) and management (MANG 301), for addressing contemporary sustainability challenges. This short-term study abroad program was coordinated by Ana Serrano, lecturer in Spanish; Drew Anderson, part-time instructor in meteorology; and Maung K. Min, director of business programs, all from Penn State Lehigh Valley. Serrano and Min went on the trip. The students were part of the course Spanish 197: Special Topics, which studied sustainability-related programs in Puerto Rico.
The students visited Seven Seas Beach where they saw how Hurricane Maria affected the local wildlife and beaches. Then, they toured the Universidad de Puerto Rico Rio Piedras campus (UPRRP) and learned about the sustainability efforts being made by the university and the Puerto Rican government; students also participated in a joint information sharing session with local students that was hosted by UPRRP. The next day, students hiked in El Yunque National Park. They visited Old San Juan and the Castillo San Felipe Del Morro. The group ended their week by snorkeling the La Cordillera Nature Reserve Reefs at Lobos and Icacos Cays. 
"I really enjoy historical monuments, so learning about the history of the Castillo San Felipe Del Morro was definitely a highlight for me. I also really enjoy swimming and aquariums, so snorkeling put two in one for me because I got to see so many kinds of fish while in the water," said Harshal Patel, a senior majoring in information sciences and technology. "Also visiting the University of Puerto Rico really gave me a different perspective on how people in Puerto Rico reacted during and after Hurricane Maria. While talking to some of the students, I learned that many people weren't aware of the disasters that were caused by the hurricane because they did not have power to check the news on their TVs. Everyone outside of the island were more aware and worried for those on the island than they were for each other."
Germany: Exploring art since 1940
Eight PSU-LV honors students from Art History: Art Since 1940 (ARTH 326) traveled to Germany from Feb. 28 to March 6 to test working theories and try to foster a better comprehension of what cultural and situational influences may have been important in the development of the artists and art in Germany. The students traveled with Liz Flaherty, instructor in art history, program coordinator for arts administration ,and the honors coordinator; and Todd Retzlaff, assistant professor in mathematics, both from Penn State Lehigh Valley.
"Berlin has a tremendous number of museums and places of interest. We visited museums about art, history, communication, anatomy and more. We went to an opera called "The Magic Flute" and saw a grand show called "Vivid." I learned so much about street art and graffiti from a guided tour of the city. We even got a tutorial and chance to create our own spray-paint art," said Vinay Singh, a first-year Schreyer Scholar majoring in biology.
"My favorite part of the trip was visiting the Holocaust Memorial. There are thousands of concrete slabs that you can walk through. Some are larger than 15 feet. It was a deep reminder of how far humanity has come with tolerance and acceptance."
Now that students have returned they will utilize their newfound knowledge in a research project that will address important art historical information, but also a presentation where they will reflect upon their experiences abroad and discuss how the experience informed them as a learner and individual.
Contact
Dennille Schuler
Public Relations Specialist
Penn State Lehigh Valley