Business alumna gained cross-generational friendships and most powerful alumni network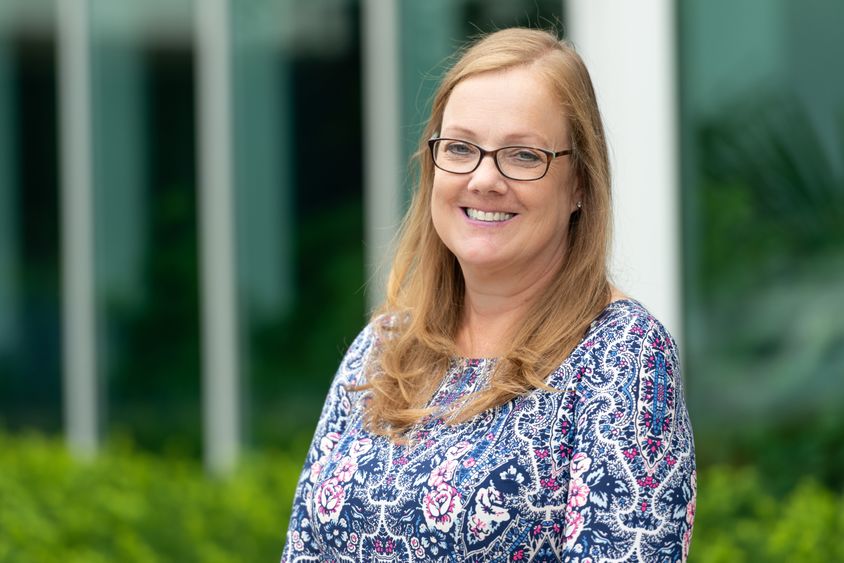 CENTER VALLEY, Pa. — When Lois Pettigrew returned to college to finish her degree she was nervous — "terrified returning to college as an older adult," as she put it. 
"Penn State Lehigh Valley has a traditional feel and a young student population. At first, students were hesitant to interact with me, but that hesitation faded quickly. I was invited to study groups and welcomed on project teams. I have made friendships that will last long after graduation," Pettigrew said.
Pettigrew graduated in 2019 with a bachelor of science in business having attended Penn State Lehigh Valley on and off for six years while working full time at Wells Fargo in Allentown.
She was able to attend class during her lunch break or after hours, even doing a handful of online classes — although Pettigrew admits preferring traditional, in-class learning.
"The entire staff supported me throughout my journey. My professors, guidance counselors, the registrar's office and career strategy office provided guidance to ensure that I was successful as a student," Pettigrew said.
As a treasury management sales analyst for a multinational financial services company, Pettigrew helps manage and optimize Wells Fargo customers' cash flow and mitigates the company's operational, financial and reputational risk. The company's vision is to satisfy customers' financial needs and help them succeed financially.
"I have a better appreciation for the complexities that businesses face. I now have a more strategic approach with my work and career."

— Lois Pettigrew, adult learner and Penn State business alumna
"Success in my role comes from a commitment to teamwork, creating positive and professional partnerships, proactive follow up and detailed follow through with exceptional organizational skills," Pettigrew said.
The business courses at Penn State Lehigh Valley gave Pettigrew a chance to see the bigger picture of how each function within an organization works together.
"I have a better appreciation for the complexities that businesses face," Pettigrew said. "I now have a more strategic approach with my work and career."
But Pettigrew isn't the only one who benefited from her time at Penn State.
"Lois is a seasoned professional with an almost perfect GPA. She served as an exceptional role model for her fellow students," said Maung Min, assistant teaching professor of business and director of business programs at Penn State Lehigh Valley.
Beyond the degree, Pettigrew also gained access to the most powerful alumni network in the country.
"I am very proud to be a Penn State alum. Shortly after graduation, I was on vacation wearing a Penn State shirt in Acadia National Park and was stopped by other alumni who saw the familiar logo. We had a wonderful conversation and shared our Penn State stories. Being a Penn Stater is already opening up new opportunities to be active in the community," Pettigrew said.
When asked what surprised her about her experience, she noted the positive energy emanating from the campus community.
"We typically only hear or pay attention to the negative news about the younger generation. Being able to interact with these groups helped me appreciate their intelligence, passion and drive. I have a renewed sense of hope for our future!" Pettigrew said.
Contact
Dennille Schuler
Public Relations Specialist
Penn State Lehigh Valley