The event invited the public to take a stand against sexual violence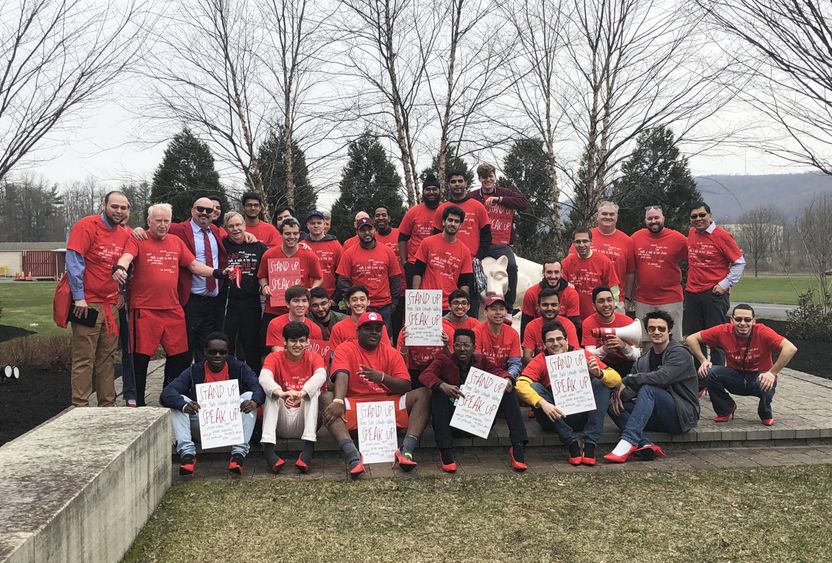 CENTER VALLEY, Pa. — More than 50 male students, faculty, staff and alumni participated in the fourth annual "Walk a Mile in Her Shoes" march on Apr. 12 at Penn State Lehigh Valley. The march was an opportunity for men to come together to raise awareness of and peacefully protest against sexual violence. The event was open to the public and all who participated were given a free t-shirt and the option to donate to Valley Against Sex Trafficking (VAST). Those who donated were given a Rise In Response to Sexual Exploitation (RISE) bracelet.
"This is an important issue in society," said Pam Fleck, assistant director of student affairs at Penn State Lehigh Valley. "To have this many students participate in this march brings me great joy."
All male participants donned red 4-inch high heels and began their march at the Sports Court at the Lehigh Valley campus and finished at the Nittany Lion shrine. After the march, Barbara Bauer, a representative of VAST, spoke to the attendees. She shared statistics of human trafficking and a message of hope for the future.
"More than 50 percent of the people in sex trafficking are under the age of 18," said Bauer. "In addition, 35 percent of those who have been inducted into sex trafficking were by family members … this event is a reminder of hope for these victims."
Gustavo Solis, a junior economics student at Penn State Lehigh Valley participated in the march.
"This is about supporting women and their endeavors to take a stand for their rights," said Solis. "I believe all women should live their life without fear of persecution, which is why I am here today."
The mission of RISE is to unite and empower Penn State students to rise up against sexual violence, abuse, trafficking, and exploitation in our community, through awareness prevention, action and aftercare.
Walk a Mile in Her Shoes is an international men's march to stop rape, sexual assault and gender violence, a movement that was created by Frank Baird in 2001. Valley Against Sex Trafficking is a non-profit organization dedicated to ending human trafficking and sexual exploitation.
The event was organized and sponsored by the Penn State Lehigh Valley Office of Student Affairs, in collaboration with student club RISE and the Penn State Lehigh Valley campus' Commission for Women.
Contact
Dennille Schuler
Public Relations Specialist
Penn State Lehigh Valley