Event provided a behind-the-scenes look at the entertainment industry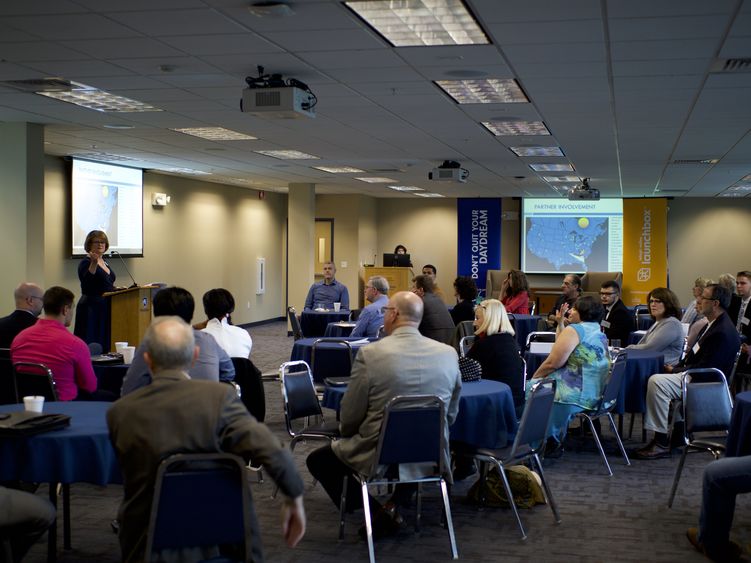 CENTER VALLEY, Pa. — The VIP All-Access Business of Entertainment Symposium proved to be full of "edutainment" (education + entertainment) on the business aspects of the unpredictable entertainment industry, including Broadway and cinema. The event was held Oct. 12 at the Penn State Lehigh Valley campus and hosted by the Council for Retail and Sales, a division of the Lehigh Valley LaunchBox. Students from various colleges and people from the area, as well as six states, attended the event.
Susie Krajsa, president of Broadway Across America (BAA), provided a behind-the-scenes look at how the subscription part of BAA operates. The musical "Hamilton" led to the "Hamilton Effect," as Krajsa explained that subscriptions to BAA rise considerably when "Hamilton" is part of a season's lineup. 
Angela Shelton, movie actor, director and producer, spoke about her feature film, "Heart, Baby!", which brings light to an untold, historical true story. The film is premiering in New York City on Nov. 16. 
Pat Addiss, a theater producer who is currently producing the off-Broadway hit, "Desperate Measures," was interviewed by Liz Keptner, the director of the Multimedia Innovation Center at Penn State Lehigh Valley. Addiss spoke about the struggles and successes of being a producer.
Jack Maxwell, host and professional actor, made the audience laugh and cry when he shared the story of how a poor kid from Boston became an actor. Despite having had a chemotherapy treatment a few days before, Maxwell was full of energy and finished to a standing ovation. 
Three breakout sessions were conducted by Frank Megna, director, actor and writer from Los Angeles, who spoke about how directors work with the "suits" or business people. Lauren Yarger, a critic who reviews Broadway and off-Broadway theater in New York and a professional theater in Connecticut, discussed the changes in the profession. Bryan Tuk, an entertainment industry attorney, spoke about copyright laws and how important it is for entertainment professionals to hire a lawyer.
The event was sponsored by the Council for Retail and Sales (CRS), which is located at Penn State Lehigh Valley in Center Valley. The CRS is part of Penn State Lehigh Valley's Innovation Center and works in conjunction with the Lehigh Valley LaunchBox. CRS works with the retail and sales communities to stimulate interest in retail and sales careers. The council is a leading authority on issues and solutions that face the retailing and sales industries. In addition to professional education, CRS connects students to entry-level retail and sales opportunities.