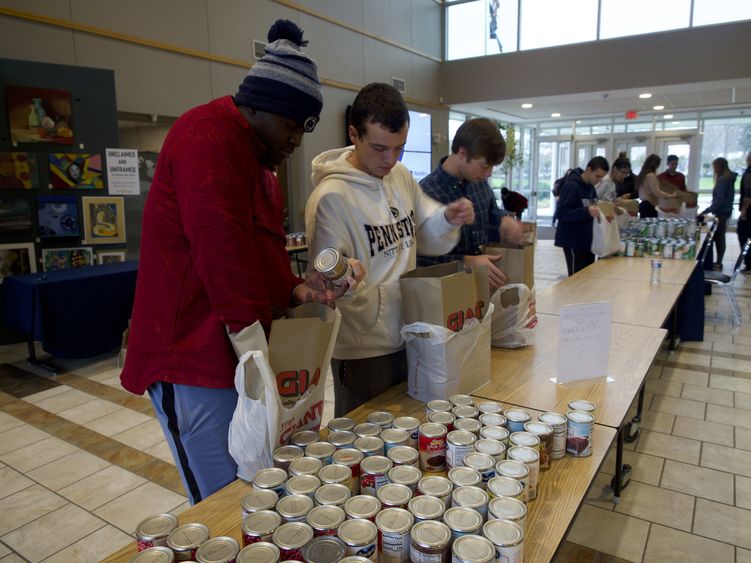 CENTER VALLEY, Pa. — The Penn State Lehigh Valley Office of Student Life held its annual Thanksgiving food drive for residents of the Sixth Street Shelter in Allentown, with the campus community gathering on Nov. 15 to pack and distribute food to provide a Thanksgiving meal to 48 families living at the shelter. This community service project is a collaborative effort between students, faculty and staff, and has been a tradition for several years.
"We are thankful for this chance to help our local community and it truly is a team effort! This year we ended up with a lot of extra canned goods and stuffing. When we dropped those items off at the shelter, they were thrilled," said Pam Fleck, assistant director of student affairs at Penn State Lehigh Valley.
The Thanksgiving Food drive accepted donations for the past few weeks. The goal was to raise more than $1,000 in monetary donations from faculty and staff to purchase turkey, rolls, potatoes and desserts. The Penn State Lehigh Valley Campus Engagement Committee joined the cause with a monetary donation used towards the food items. The Giant Food store in Coopersburg offered discounts and gift cards to help offset the cost of the perishable items.
Non-perishables, including canned vegetables and cranberry sauce, boxed stuffing and gravy were donated by more than 20 student clubs and organizations.
"Our students really came out this year, including students who aren't a part of any club or organization. They went above and beyond our expectations," said Patrick Cassidy, coordinator of students life at Penn State Lehigh Valley. "The entire campus came together for this food drive."
Each of the donated items were packed in a grocery bag, and, due to an overflow in donations, each family will have a little extra on their plate for Thanksgiving and afterwards.
Contact
Dennille Schuler
Public Relations Specialist
Penn State Lehigh Valley