Successful female entrepreneurs shared their journeys and actionable advice to other startup founders and innovators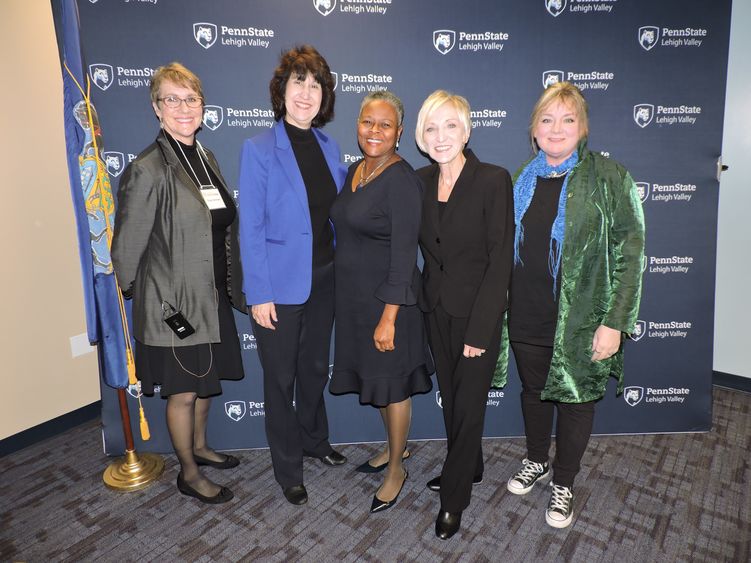 CENTER VALLEY, Pa. — More than 40 community members, students, faculty and staff came to hear the panelists speak at the event hosted by Lehigh Valley LaunchBox. "The Business of Art" was the theme for the November "LaunchBox Ladies: From Passion to Profit" event held Nov. 14 at the Penn State Lehigh Valley campus.
"When raising money you have to understand that people don't have your same passion, but you can educate them about your passion to help give you a shot to secure funding."
—Sharon Glassman, a writer and producer, served as president of the Civic Theatre of Allentown for more than 35 years. She is a founding member of the Pennsylvania Shakespeare Festival of the Arts, taught at Muhlenberg College and Emmaus High School, and was president of the Allentown Arts Commission for 15 years.
"Take classes. Expand your horizons. Travel, if possible. Learn another language. Go to the library."
—Ann Elizabeth Schlegel, a native of Allentown, is primarily an oil and acrylic painter who has received numerous accolades including the Arts Ovation Award for outstanding achievement in the visual arts with special recognition by the Pennsylvania State Senate and House of Representatives.
"Never become complacent. Always find a way around an obstacle. You have to believe you can do anything. And stay in touch with people— talk to people, be friendly, be proactive."
—Diane Wittry, is an internationally acclaimed conductor, author, and speaker who leads the Allentown Symphony Orchestra and specializes in conducting American music abroad. She is known in the United States for her innovative and creative programming and was recently named one of the "Top 30 Professional Musicians" by Musical America.
The panelists were interviewed by Tracey Damiani from Lehigh Valley SCORE, one of 350 national chapters that provides free mentoring services and education for small-business owners. Damiani also is an artist herself; as a performer, she has appeared in more than 500 shows from musicals to her own one-woman play, and she taught voice and acting for 25 years. This event was sponsored in part by the Penn State Lehigh Valley Student Business Society.
Upcoming LaunchBox Ladies events include:
Thursday, April 11: Featuring Debbie Salas-Lopez from Lehigh Valley Health Network and Kathryn Worrilow from LifeAire. Doors open at 11:30 a.m.; pProgram starts at noon.
Lehigh Valley LaunchBox is a signature program of the Invent Penn State initiative. For more information, visit the Lehigh Valley LaunchBox website, email [email protected] or email Elaine Thode at [email protected].