The Art in Technology was the theme for the October 'LaunchBox Ladies: From Passion to Profit'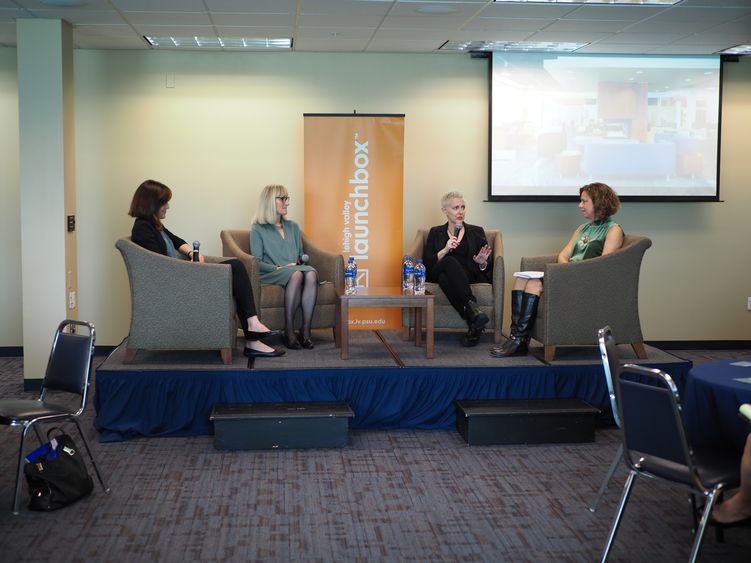 "You can have the numbers, everything in place, but if your gut says no, then it's a no."
— Donna Mugavero, owner of Sheer Brick Studio, after serving as art director and senior designer for ad agencies, a newspaper and a corporation for several years.
"Obsession has to be there to be successful. You constantly see architecture. My family thinks I'm obsessed. We go on vacation and all I do is look at buildings."
— Christa Duelberg-Kraftician, principal at Spillman Farmer Architects, came to America from her native Germany and advanced to become Spillman Farmer's first female associate in the firm's 91-year history.
"You have to work hard to get attention for your work. You can have all the masterpieces in the world, but if no one sees them, then what's it for?"
— Kiana Honarmand, visual artist from Iran whose work addresses issues related to her cultural identity, the treatment of women in society, censorship, surveillance, and the Western perception of the Middle East.
Lehigh Valley LaunchBox hosted a panel on Oct. 10 titled "LaunchBox Ladies: From Passion to Profit," a program focused on the unique challenges and victories of female entrepreneurs. More than 90 community members, students, faculty and staff came to hear the panelists speak on the theme "The Art in Technology." The panelists were interviewed by Ann Lalik, who designs and creates wearable art objects that chronicle her life as a woman in modern society using precious and nonprecious metals, plastics and found objects. She also serves as gallery director and arts coordinator at Penn State Lehigh Valley. This event was sponsored in part by the Penn State Lehigh Valley Student Business Society.
Upcoming LaunchBox Ladies events include:
The Business of Art
Wednesday, Nov. 14
4:30 to 6 p.m.
Speakers – Diane Wittry, an internationally acclaimed conductor; Sharon Glassman, a writer and producer, who served as president of the Civic Theatre of Allentown for more than 35 years; Ann Schlegel, an oil and acrylic painter; and Evelyn Taylor Bonner, a ceramic artist and arts marketer.
Lehigh Valley LaunchBox is a signature program of the Invent Penn State initiative. For more information, visit the Lehigh Valley LaunchBox website, email [email protected], or email Valerie Peters at [email protected].
Contact
Dennille Schuler
Public Relations Specialist
Penn State Lehigh Valley