Penn State Lehigh Valley hosted the unique program for rising juniors and seniors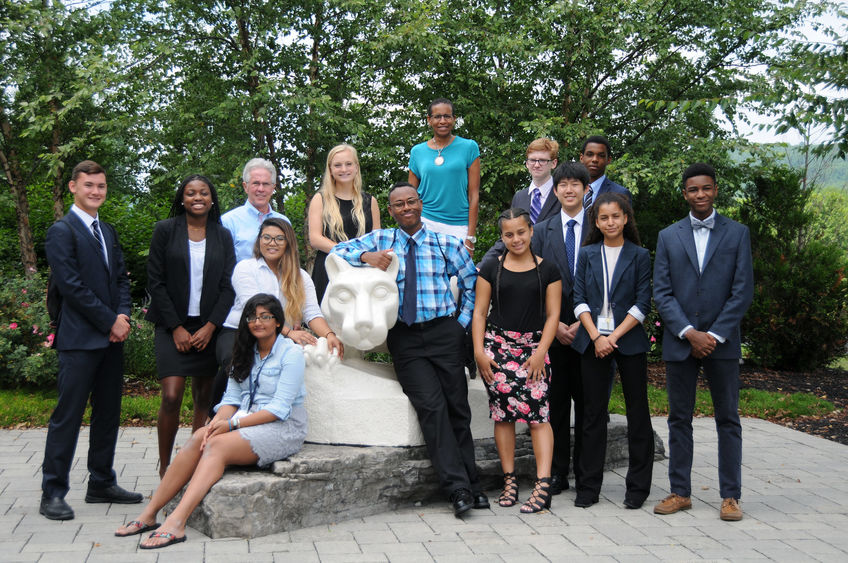 CENTER VALLEY, Pa. — Adam Li had no plans to do any camps or programs this summer before starting his senior year at Freedom High School — until his guidance counselor told him about a new and unique opportunity at Penn State Lehigh Valley called the Teen Entrepreneurship Summer Challenge.
"My guidance counselor knew I enjoyed working on electronics and programming," said Li. "The summer challenge sounded interesting, so I applied."
Li, of Bethlehem, was one of 12 students who completed the Teen Entrepreneurship Summer Challenge, which is part of Lehigh Valley LaunchBox and the Invent Penn State initiative.  
Penn State Lehigh Valley hosted the challenge for rising high school juniors and seniors. The majority of the students were from the Lehigh Valley, while one student was from Philadelphia and two were from New Jersey. It ran from July 24 to Aug. 5 at the Lehigh Valley campus and the co-working space of Lehigh Valley LaunchBox in downtown Allentown.
Over two weeks, students were exposed to programming and to successful entrepreneurs in an effort to instill an entrepreneurial mindset. It gave students the opportunity to develop different perspectives, implement business ideas, connect to future employers, build a personal brand, learn how to apply for LaunchBox micro grants, enhance technology skills, explore STEM educational programming, and connect to Penn State people and students.  
"This experience was intense, but fun. All of the speakers were interesting and I gained different things from each one," said Li. "The summer challenge confirmed for me that I want to be an entrepreneur and it inspired me to work on my own projects."
Joy Reed, campus events coordinator, served as the program director. Denise Ogden, professor of marketing at Penn State Lehigh Valley, developed the curriculum for the summer challenge.
"We were excited to launch a program that encourages young entrepreneurs to recognize opportunities," Ogden said. "I am amazed at the generosity of local leaders in donating their time and wisdom to help this program. I saw firsthand how it was a transformational experience for these students."
The event culminated in a pitch competition on Aug. 4 at the Lehigh Valley campus where students presented their ideas for a new business in front of a panel of judges, including Steven Markowitz from Allen Organ; Sara Stump from Suburban Testing Labs; Stephen Walker, education entrepreneurship specialist from LCCC's Business Enterprise Center; and Christa Duelberg-Kraftician from Spillman-Farmer Architects.
The winning team was comprised of Nick Miller, Sommer Heyman and Hugh Brolly. The students first identified a problem: that parents are concerned for their children's safety when they are not there. Their solution was to invent a product to ease their distress. SafetyPak is a backpack reinvented that consists of safety items such as a GPS, tracking system, first aid kit, umbrella, home and police calling buttons, and other travel-sized amenities.
Kendelle Conrad, of Emmaus, said developing an idea to pitch and presenting the business plan as a team was a valuable experience.
"I plan to major in business management when I go to college and this gave me an experience in entrepreneurism that will help me in the future," said Conrad. "All of the entrepreneurs who shared their personal story, especially Billy Kounoupis, taught me to go for my dreams and never give up."
Summer Challenge field trips included:
Lehigh County Court House
Tek Park and FiberOptic.com
Martin Guitar Factory
City Center Lehigh Valley in downtown Allentown
Fab Lab, Northampton Community College
Artistic Toys Manufacturing Inc.
"In The Heights" play at Muhlenberg College
University Park, Penn State University
During their time, the students interacted with more than 30 business leaders, including:
Mike Gausling, managing partner, Originate Ventures
Tina Hamilton, president, myHR Partner Inc.
Steve Boerner, president/founder, Hatch House Ventures
Phyllis Alexander, civil rights activist/National Coalition Building Institute board member
Rob Herring, owner, Herring Systems
Suzanne K. Stianche, national sales manager, Discover Lehigh Valley
Carlos Ojeda, founder/president, CoolSpeak
Maureen Rinkunas, platform director, Dreamit
Chris Labonge, president, Adtell Inc. & FiberOptic.com
Bill Hacker, president/CEO, Arbor Insurance Group
Jim Socci, president, Artistic Toy
Billy Kounoupis, owner, Billy's Downtown Diner
Jane Heft, vice president/director of project design and corporate branding, City Center
Keith Wiegand, industrial engineering and time management, Bosch Rexroth
Jeffrey Boerner, manager, Northampton Community College's Fab Lab
While reflecting on his experience, Li said he hopes other teenagers consider doing the summer challenge.
"If you enjoy being creative, this experience is for you," he said. "I learned a lot about entrepreneurship and also about the exciting things going on in the Lehigh Valley."
The Teen Entrepreneurship Summer Challenge received support from a variety of corporate partners, including Bosch Rexroth, PepsiCo, Just Born Inc. and FiberOptic.com.
Contact
Dennille Schuler
Public Relations Specialist
Penn State Lehigh Valley