Six events brought together alumni, students, faculty, staff and community members to celebrate PSU-LV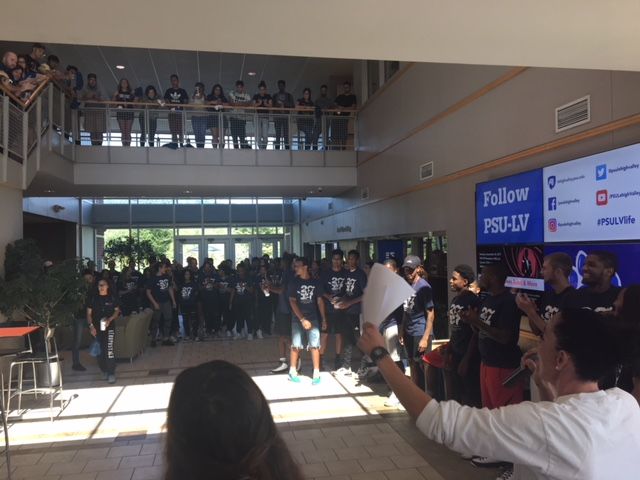 CENTER VALLEY, Pa. — Penn State Lehigh Valley hosted its first-ever WE ARE Lehigh Valley Homecoming Week at the campus and at locations around the Lehigh Valley during the week of Sept. 19.
The weeklong celebration included fun, family-friendly events for the Penn State community. The week kicked off with a Welcome Back Wine and Cheese reception on Sept. 19 at the Lehigh Valley campus where alumni had the chance to reconnect with faculty and staff and new friends were welcomed on campus for the first time.
Sports fans cheered on the Penn State Lehigh Valley women's volleyball team that same night as they beat Penn State Wilkes-Barre 3-0.
About 250 Penn Staters descended on the PPL Center in Allentown on Sept. 20 for a hockey exhibition game between the  Philadelphia Flyers and the New York Islanders, which the Flyers won 3-2 in overtime. The game was the site for the Collective Impact Scholarship Fundraiser kick off to benefit students attending Penn State Lehigh Valley and Lehigh Carbon Community College (LCCC). Penn Staters got to enjoy the game from the alumni's lower section seating or from suites that offered unique experiences to select guests such as riding on the "Fanboni," watching warmups from the bench and dropping the game puck. The suite experience was sponsored by City Center Allentown; PPL Center; Quadratus Construction Management Inc.; HPS Schönox; Victaulic Company; White and Williams LLP; PBS39; Just Born Inc.; and Adams Outdoor Advertising - Lehigh Valley.
A Pep Rally celebrating all of the Penn State Lehigh Valley athletic programs was held in Centre Hall on Sept. 21 just before the soccer game at the Lehigh Valley campus field that afternoon. About 100 fans came out to cheer on the newly formed soccer team as they battled Central Penn in a losing effort.
About 130 people enjoyed an outdoor movie and popcorn under the stars Sept. 22 on the campus soccer field. The first 50 people to arrive for the screening of Disney's live-action "Beauty and the Beast" received their own Penn State chair.
Homecoming week concluded Sept. 23 at Miller Symphony Hall, where Penn State Lehigh Valley hosted an exclusive VIP reception before "The Music of James Bond." A large crowd of Penn Staters attended the event, which featured hors d'oeuvres from Karen Hunter Catering, drinks, pictures with the Nittany Lion, networking with Penn Staters, a silent auction and great seats for the show. Proceeds benefited the Penn State Lehigh Valley Scholarship Fund. The reception was sponsored by the Penn State Lehigh Valley Alumni Society; the Lehigh Valley Chapter of the Penn State Alumni Association; Howard Kulp Architects, PC; Arbor Insurance Group Inc.; Terraform Engineering, LLC; Allen Valley Dental; and Thomas P. Newell, CFP of Merrill Lynch.
"Our campus provided something for everyone last week. It was wonderful to see so many people displaying their Penn State pride in the Lehigh Valley and support the Lehigh Valley campus at our events," said Tina Q. Richardson, chancellor of Penn State Lehigh Valley. "We look forward to future Homecoming events and continuing to showcase our campus to the local community!"
Contact
Dennille Schuler
Public Relations Specialist
Penn State Lehigh Valley