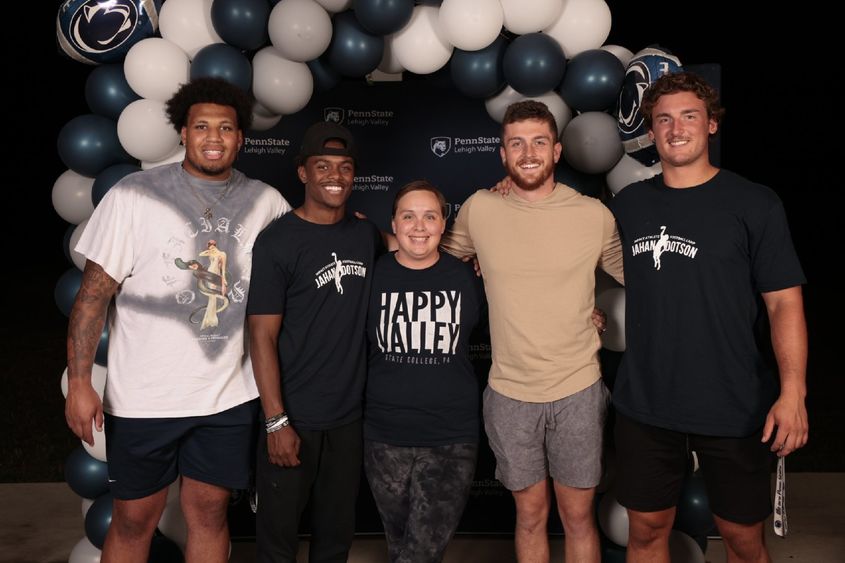 CENTER VALLEY, Pa. – Former Penn State football star and current NFL wide receiver Jahan Dotson made a triumphant return to the Lehigh Valley last weekend to headline two special events.
On Saturday, July 16, Dotson hosted "A Night of Football with Jahan Dotson" at the Charles Chrin Community Center in Palmer Township. Sponsored by Lehigh Valley Health Network (LVHN) and Penn State Lehigh Valley, the free youth camp was open to kids grades 6 through 9, and also featured current Penn State quarterback Sean Clifford, offensive lineman Nick Dawkins and defensive end Jake Wilson.
More than 250 kids registered for the camp, which in addition to Dotson and the other players, included numerous local coaches volunteering their time. An LVHN "Impact Athlete," Dotson was taken in the first round of this year's NFL Draft by the Washington Commanders.
Following the camp, Dotson and the other players headed over to the Clubhouse Grille in Bethlehem for an event sponsored by the Penn State Lehigh Valley Alumni Society in partnership with LVHN Orthopedic Institute.
There, PSU-LV alumni, staff and other attendees had the opportunity to take photos with the players, as well as receive a signed photo of Dotson. Among those attending was PSU-LV Chancellor Tina Q. Richardson, who sported a Dotson Commanders jersey.
A former star athlete at Nazareth Area High School, Dotson told the crowd he was honored to participate in the events.
"Honestly, thank you all so much for putting this together," Dotson said. "Giving back to this community that has given me so much is something I've always wanted to do."
Fellow Lehigh Valley natives Dawkins and Wilson echoed those sentiments.
"It's a real blessing to be here," Dawkins said.
"Thanks for giving me a chance to give back to the valley and give kids a chance to dream," Wilson added.
The one non-local of the group, Clifford received some mock boos from the crowd when he mentioned his hometown of Cincinnati. But the jeers quickly dissipated once he demonstrated his Penn State pride.
"This has just been a fantastic experience and I really appreciate everyone here," said Clifford, who will soon begin his sixth and final season with the Nittany Lions.
After graduating from Nazareth, Dotson went on to one of the most storied careers in Penn State football history. The program's all-time leader in punt return average, he's tied for second all-time in career receptions and receiving touchdowns, and is fourth all-time in receiving yards. Dotson's also one of only 10 Nittany Lions with more than 2,000 career receiving yards, and had 11 100-yard receiving games, ranking second all-time in that category.
Wilson also starred at Nazareth, while Dawkins was a standout at Parkland High School.
Moving forward, Penn State Lehigh Valley intends to continue its Impact partnership with LVHN as a means of giving back to the greater community.