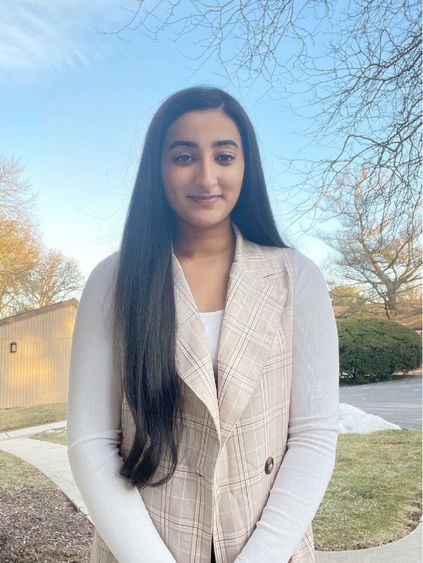 CENTER VALLEY, Pa. — For Sahira Mughal, nursing was a calling she simply had to answer.
A 2020 graduate of Penn State Lehigh Valley's Biobehavioral Health (BBH) program, Mughal is well on her way to achieving her dream of becoming a registered nurse as a student enrolled in St. Luke's University Health Network's School of Nursing.
She's enjoying the program, and credits her bachelor's degree for giving her a leg up on her coursework.
"My biobehavioral health degree from Penn State Lehigh Valley has proven to be very beneficial to my future career," said Mughal, 22, of South Whitehall. "A biobehavioral degree works as a foundation for future degrees, but even if someone does not want to pursue further degrees, a solid background in this major can provide you with the skills you need to begin a lucrative and exciting career."
Mughal was also working as surgery coordinator for St. Luke's OB/GYN clinic until recently deciding to focus full-time on her schooling. While in that position, she was responsible for a number of important daily duties, from processing, organizing and preparing incoming and outgoing patients for various medical procedures, to getting authorization from medical insurance providers, to coordinating with providers.
Now fully immersed in her nursing education, Mughal has intentions of one day pursuing her doctorate.
"The protocol and regulations we are taught along with the clinicals and patient care has broadened my understanding of how a hospital operates and the duties required of a nurse. And it's given me the necessary experience to further my education," she said.
That education began in earnest at PSU-LV, which Mughal said she fell in love with during her very first campus visit.
"From the initial tour to the new student welcome, I noticed an entirely different dynamic between the students and faculty than at other colleges," she said. "At the other campuses I visited, the students were addressed as groups, and the faculty simply followed the procedures set forth by the school and did the bare minimum. PSU-LV has a much lower student-to-faculty ratio, which makes communication more personal. I didn't have to guess what I needed to do."
After reviewing the list of majors offered at the campus, Mughal determined biobehavioral health aligned best with her goals.
"After meeting with my adviser, I learned that the major gives you an in-depth understanding of the natural world, from a biological standpoint as well as a research standpoint," she said. "This major and the required courses alongside it also help you learn how to conduct research, problem solve, organize and think critically."
The program also led her to an internship with a dermatologist at St. Luke's. And it provided her with faculty mentors who remain friends to this day.
"As I further my education, I still come back to get advice and guidance from my professors, who still make time for me even without any obligation to do so," Mughal said. "Today, I see the program I am currently in leading me to reach the goals I set for myself when I started my program at PSU-LV. Personally, I have found that graduating with a biobehavioral health degree opens doors to many different opportunities."