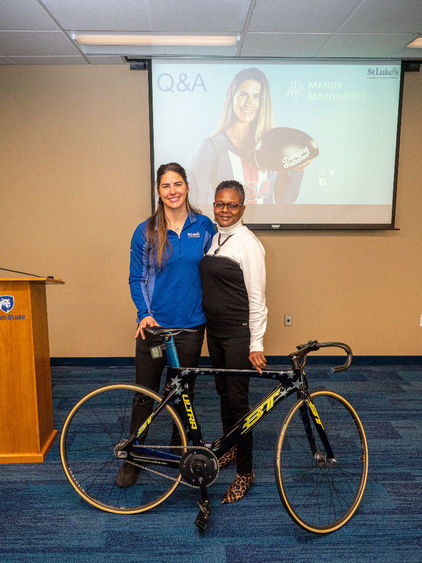 CENTER VALLEY, Pa. – Penn State Lehigh Valley (PSU-LV) alumna and USA Cycling National Team member Mandy Marquardt returned to the campus Monday, March 14, to share her inspirational journey.
The champion cyclist and Olympic hopeful presented the talk, "The Detour: Navigating Life, Sport and Type 1 Diabetes," to students, faculty and staff. Prior to that, she was given a guided tour of the new campus expansion by Chancellor Tina Q. Richardson.
An Allentown resident and master of business administration student at Penn State World Campus, Marquardt currently is a full-time professional track sprint cyclist for Team Novo Nordisk, the world's first all-diabetes professional cycling team. And, as a member of the USA Cycling National Team, she has raced internationally at the Pan-American Championships, UCI World Cups and UCI World Championships. A 22-time U.S. National Champion, she now holds three American records in the Women's Standing 500m TT, 1km TT and the Team Sprint.
Marquardt noted it was her first campus visit since before the start of the COVID-19 pandemic. She graduated from PSU-LV in 2014 with a bachelor's degree in business management and marketing, and formerly served as head coach of the campus Cycling Club and a member of the Alumni Society board. Eventually, she had to give up those duties when her cycling career became a full-time job.
"I had four great years here -- why wouldn't I come back? It's great to see the expansion, and to see so many wonderful resources being put into the campus for students," said Marquardt, who serves as an ambassador for St. Luke's University Health Network, TrueSport and the Taylor Hooton Foundation.
For the visit, Marquardt brought along her track bike, the parts for which cost north of $15,000. She also shared a couple videos, insights from her six-days-a-week training regimen, and plenty of career highlights, including serving as an alternate at last summer's Tokyo Olympics. Because of restrictions imposed by the pandemic, she didn't get to travel to Japan.
"To qualify and be selected for the next Olympic Games in Paris – competing with the best in the world and reaching the pinnacle of my athletic career -- keeps me motivated. It's an honor to travel the world and meet incredible people, which is another great part of sport," said Marquardt, who in July will compete at the USA Cycling Junior & Elite Track National Championships at Valley Preferred Cycling Center in Breinigsville.
Marquardt was 10 when she first fell in love with cycling at the Brian Piccolo Velodrome near her former home in south Florida. Less than a year later, she won three medals in cycling, including two gold medals at the 2003 U.S. Junior Women's 10-12 Road National Championships.
However, all of that youthful success nearly came to a halt when Marquardt was diagnosed with Type 1 diabetes at age 16. Though she was told she would never again compete at a high level on account of her condition, Marquardt persevered through the ups and downs, and today is thriving thanks to proper Type 1 diabetes management and a strong support system.
Because of her success, Marquardt now commits herself to promoting a healthy lifestyle and serving as a role model and advocate for children and people in general living with diabetes.
"At the beginning of my diagnosis, I didn't really know any athletes with Type 1 diabetes, and that was challenging not having a community of support to look up to," said Marquardt, who wears a continuous glucose monitor on her arm. "There's definitely still a stigma around diabetes, but through my journey and the work with Team Novo Nordisk and St. Luke's University Health Network, I'm able to inspire and share with others what may be possible living with a chronic condition like Type 1 diabetes."
"To me, it's important to provide education to people, while sharing my story. It's really great to come back to campus and share my journey since graduation," she added. "This place has made a real impact on me."
For more information on Marquardt, visit www.mandymarquardt.com.