The Nittany Lion and Penn State Lehigh Valley leadership hand-delivered acceptance letter and announce scholarship award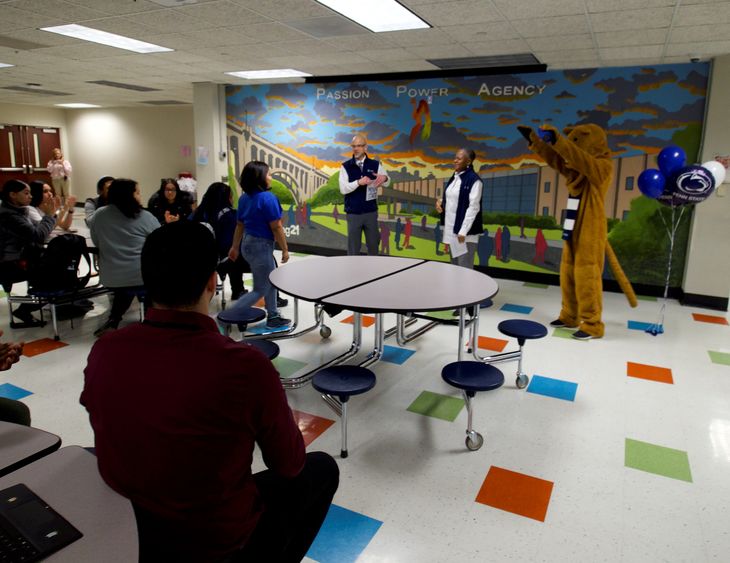 Penn State Lehigh Valley officials and the Nittany Lion surprised High School Senior Marilyn Reyes with a hand-delivered acceptance letter and announced her scholarship award on Feb. 8 at Building 21 during the school's Town Hall meeting.
Jose Rosado Jr., founding school leader of Building 21, welcomed Tina Q. Richardson, chancellor, Penn State Lehigh Valley; Douglas R. Hochstetler, interim academic affairs director, Penn State Lehigh Valley; and the Nittany Lion.
"Marilyn has been on our radar for almost a year. She attended our Teen Entrepreneur Challenge last summer where she developed her entrepreneurial spirit. We know she's a go-getter, and cannot wait to see what she does next," said Richardson, before presenting Reyes with Penn State Lehigh Valley gift bag and vest.
Reyes, of Allentown, Pennsylvania, is the first student from Building 21 who was accepted and has committed to a Penn State campus. The event celebrated Reyes' accomplishment with her Building 21 classmates, teachers and her family members. The senior class at Building 21 will be the first graduates from the school. Five additional students from Building 21 were recently accepted to Penn State and also were recognized at the event, alongside Reyes. They include Rye Alvarez, Tylor DeRemer, Jaylin Frierson, Tainayah Jackson and Daniel Rosario.
"I first became aware of Penn State when I attended the Teen Entrepreneur Challenge at Penn State Lehigh Valley last year. I got to visit main campus during it and got to see how Penn State is very committed to its students," said Reyes. "I chose Penn State Lehigh Valley because then I can start college while living at home and then continue on to main campus after two years. It's the best option for me. Today meant a lot to me, it shows Penn State cares about their students."
"Marilyn, like many of our students, has faced challenges and found avenues to persevere. What makes Marilyn's accomplishment so special to Building 21 is that Marilyn has committed to her dream school to pursue her dream career. A career she didn't know existed before entering Building 21. She discovered this passion in a new Urban Agriculture course we began to offer two years ago. In addition, she pursued it further with the love and support from not only her family, but also mentors she met in her internship and pathway studios," said Telsa Comunale, assistant school leader, Building 21. "Marilyn's story is a true example of how the work we do goes beyond our classroom walls. She took the opportunities in front of her and has created a pathway of success. We are so proud of her."
Students can still apply to Penn State throughout their senior year. The deadline for a student to accept their offer of admission to the University is May 1.
Contact
Dennille Schuler
Public Relations Specialist
Penn State Lehigh Valley