Lehigh Valley team wins first place in STEM category at Regional Undergraduate Research Symposium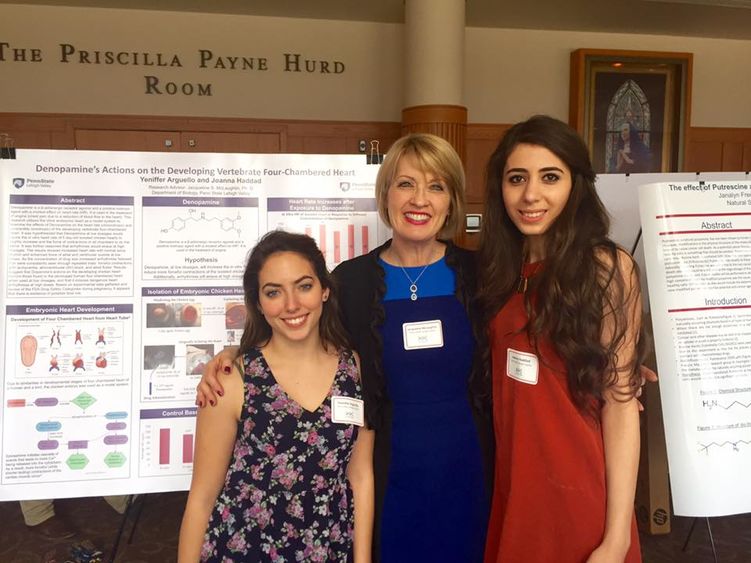 After completing a BIO 240W Function and Development of Organisms lab involving chick embryos last year, lab partners Yeniffer Arguello and Joanna Haddad were inspired by their professor, Jacqueline McLaughlin, to take the lab's topic to the next level.
Under the mentorship of McLaughlin, Arguello and Haddad evaluated how the hearts of five-day-old chick embryos reacted to Denopamine, a drug currently used to treat angina, a condition that causes chest pain due to reduced blood flow to the heart. Denopamine acts like epinephrine, commonly known as adrenaline.
"We used the chick embryo because its heart develops similarly to the human heart," said Arguello, a junior biology major. "We hypothesized that even at low concentrations of Denopamine, we would see an increase in heart rate and, at higher concentrations, irregular heartbeats or arrhythmias would occur."
Arguello and Haddad saw an initial increase of heart rate after the lowest concentration was applied. They witnessed arrhythmias once the higher concentrations of Denopamine were placed on the heart. Their hypothesis was supported and they found that this drug had an adverse effect on the five-day-old chick embryos.
"Joanna and I thought the findings to be significant because this drug is currently being used by humans and may be used by pregnant women. We hypothesize that it may have adverse effects on their developing babies as well. Not only that, but Denopamine mimics epinephrine (adrenaline), so we also postulated that placing a pregnant woman in a stressful situation that releases large amounts of adrenaline may also be detrimental to their developing babies," said Arguello.
After Arguello and Haddad, a sophomore biochemistry major, presented their research project, titled "Denopamine's Actions on the Developing Vertebrate Four-Chambered Heart," at the Penn State Lehigh Valley Undergraduate Research Symposium, they advanced to the sixth annual Regional Undergraduate Research Symposium, where seven Commonwealth Campuses came together to showcase high-quality undergraduate student-faculty collaborative research. They won first place for the STEM category.
They later presented their research at the first Lehigh Valley Annual Cell and Molecular Biology Society Meeting at DeSales University.
"These experiences made me realize the impact research could have on my academics and my future," said Haddad. "Professor McLaughlin changed my thoughts about how success can be obtained through research. The way she talks about research is very powerful."
Haddad moved to the United States three years ago from Lebanon. At that time, she only spoke French and Arabic. She learned English while going to William Allen High School. Haddad decided to attend the Lehigh Valley campus because of the small class sizes and the opportunity for one-on-one interaction with professors, which she experienced with McLaughlin during this research project.
"Professor McLaughlin pushes us to be the best we can be. We are grateful to have her as a mentor," said Arguello. "This experience pushed me out of my comfort zone. I am no longer afraid to speak in front of people about my research, or anything I am passionate about."
"I work to encourage the use of research as the integral component of science education in my biology laboratories," said McLaughlin, associate professor of biology at Penn State Lehigh Valley. "Yeni and Joanna asked their own research questions, developed testable hypotheses based on information gathered from relevant scientific literature, devised and carried out a controlled experiment and presented data in a professional scientific manner. Through these experiences they have learned to think, and do, authentic scientific research. They have also been transformed into the critical thinkers who have the potential to tackle medical issues confronting our society."
This summer both students had experiences that further deepened their passion for science. Arguello took the prestigious Rehabilitative and Regenerative Medicine for Minority Health and Health Disparities Advanced Training Course from June 6-10 at the University of Pittsburgh. After spending her first two years at Penn State Lehigh Valley, Arguello is now finishing her degree at DeSales University.
Haddad worked as an emergency medical technician this summer for Cetronia Ambulance Corps. She also attended the CHANCE Costa Rica program, which she called a life-changing experience. The CHANCE program empowers students to take on conservation issues confronting our planet. CHANCE presently has 45 partners around the world and is still under the direction of its founding director and Haddad's mentor, McLaughlin. Haddad returned to Penn State Lehigh Valley this fall where she will serve as a math and chemistry tutor to classmates.
Contact
Dennille Schuler
Public Relations Specialist
Penn State Lehigh Valley