Students celebrated for athletic and student life achievements during the Finally Finished Fest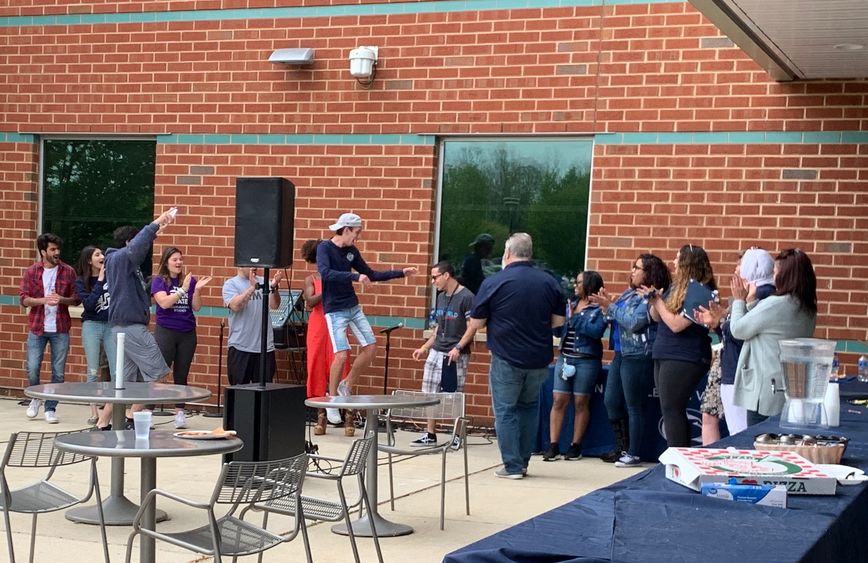 More than 100 students, faculty and staff of Penn State Lehigh Valley (PSU-LV) celebrated the end of the spring 2019 semester with the Finally Finished Fest on April 25 at the Lehigh Valley campus. The fest featured a large inflatable slide, a photo booth and a performance by Back Track, an a capella group from New York City.
The fest served as a celebration of the end of academic year and as the venue for the presentation of the Student Life Awards and Athletic Awards.
Students, faculty and staff were invited to nominate winners in each Student Life Award category.
This year's Student Life Award winners included:
Adviser of the Year: Tara Koller
Student Organization advisers are all volunteers dedicated to helping students accomplishing their goals. Some advisers go above and beyond the call of duty and this award recognizes their efforts. "Our adviser of the year has been a catalyst in helping the Community Heroes club grow in numbers and opportunities on and off campus over the past three years. Her own service experiences during her college years made such an impression in her own life that she wanted to ensure our students could learn from similar chances to help others. Our winner is highly dedicated, organized, resourceful and always positive," said Pam Fleck, assistant director of Student Affairs.
Program of the Year: Walk a mile in her shoes
Student Organization Program of the Year recognizes an event or program planned by a student organization. Campus organizations provide positive experience for their peers. "As our male students "Walk a mile in her shoes," campus supporters cheer them on. As the event ends, we gather as a community to listen and learn about those caught up in gender and sexualized violence. We learn how we can help and why our awareness and support matters. This event brings an important subject in our society to the forefront of our attention every year and reminds us that one person can make a difference," Fleck said.
Organization of the Year: Arts and Arts Administration Club; Global Student Organization
This year, the decision was made to present Organization of the Year award to two groups who have shown dedication and creativity related to the mission of their club on campus. The first club was initiated last year from the interest and commitment from a group of Arts and Arts Administration students who wanted to make a difference on campus and grow and learn outside of the classroom.
The second organization recognized as Club of the Year is the Global Student Organization. More than 30 students attended weekly meetings to share their cultural backgrounds and interests to plan ways to better educate the campus community while having a fun experience.
Emerging Leader Award: Olivia Howe
The Emerging Leader of the Year award recognized a student who has taken on leadership responsibilities and given back to the Penn State Lehigh Valley community. This individual must have exemplary grades and demonstrate a passion for Penn State. "The student selected to receive the award this year is hard working, dedicated, fun loving and kind. She balances a heavy school workload with her out of class involvement and helping out at her former high school. She is a member of the Communication Society and Lion Ambassadors. As an officer in the Esports Club this year, Olivia helped the club run a successful fundraiser that brought in hundreds of dollars. She possesses many qualities of an Emerging Leader and we look forward to seeing what she will do on campus next year," Fleck said.
Spirit of Service: Jenny Tran
The Spirit of Service of the Year award recognizes a student who has demonstrated engagement in on and off campus service activities above and beyond the typical student; this person shows their dedication on a regular basis to helping others and fulfilling a mission of service through their volunteer involvement. "The recipient of this year's Spirit of Service award is someone who always has service on her mind. Each time Jenny is on campus she is visiting us offering suggestions for volunteering, new ideas for the club and ways to engage more students," Fleck said.
Dedicated Student: Justin Valentin
The Dedicated Student of the Year award recognizes a full-time Penn State Lehigh Valley student who has continually demonstrated their dedication to Penn State Lehigh Valley through involvement on campus and ability to encourage their peers to be involved. This individual has shown on several occasions a commitment to and passion for Penn State. "This year's dedicated student is finishing up his second year at our campus. In the past two years, Justin has shown on numerous occasions why he deserves the dedicated student award.  From his involvement with THON to the Global Student Organization to participation in campus events, his dedication is apparent. Each and every day he shows up ready to be helpful and involved," Fleck said.
Leader of the Year: Maitri Patel
The Student Leader of the Year award recognizes a full-time Penn State Lehigh Valley student who has taken on leadership responsibilities and given back to the Penn State Lehigh Valley community. This individual must have exemplary grades and demonstrate a passion for Penn State. "This year's Leader of the Year is finishing up her third year on campus. Each year Maitri's impact has been felt through her strong work ethic, dedication to her clubs and her enthusiasm and encouragement to her fellow students. Maitri is president Lion Ambassadors and is an active member of Campus Acitivities Board. Our Leader of the Year is responsible, reliable and always finds the positive in both people and any challenge she faces," Fleck said.
True Blue Award: Marie Giacobbe
The True Blue Award is a new award presented by the Office of Student Affairs to a student who has shown their love and dedication to both PSU-LV and Penn State. "Marie is smart, hardworking, dedicated, driven and always encouraging to her peers. Marie has been involved in SGA all four years serving as vice president this year. She has been a president and vice president of Blue and White Society and the student representative to the Alumni Advisory Board, and a five-year participate in Penn State's Capital Day. She is a member of the Communication Society and Lambda Pi Eta Honor Society. She has gone above and beyond. We are calling this new award the True Blue award, we are honored to present this first time award to someone who is above and beyond a true blue Penn Stater," Fleck said.
This year's Athletics Award winners included:
PSUAC All-Academic Honorees (Students Who Achieved a GPA of 3.0 or Higher)
Men's Golf: Thomas Baker, Joseph Czajka, Evan Fahs, Tyler Ringenberger, Liam Ross, Brian Zinman
Women's Volleyball: Karalyn Binder, Arielle Brown, Hannah Bush, Katherine Guzman, Namjot Kang, Ravneet Kaur, Annaliz Mejia, Ebony Sanders, Karina Velez
Women's Soccer: Jennifer Bosques, Sofia Alquirih, Brooke Brumbach, Taran Campion, Margaret Hessling, Hagar Mohamed, Sahira Mughal, Nancy Perez, Coline Reinhardt, Ann Reyes
Men's Soccer: Chadi Haydar, Matthew Holderith, Marwan Khouri, Nick Miller, Brian Nguyen, Stephen Pires, Trevor Rockwell, Majed Salama, CJ Semet, Elijah Silfies, Bryce Smith, Mason Smith, Ares Vega, Patrick Vega, Aaron Wagner
Women's Basketball: Ebony Sanders, Makayla Brown-Paul, Rebecca Fuehrer, Jah'nel Oliver, Ally Quinn
Men's Basketball: Jeremiah Jenkins, Brandon Purrone, Maihan Ramin
John Fritz Sportsmanship Award Honorees
This student-athlete demonstrates good sportsmanship in that he or she displays ethical, appropriate, polite and fair behavior while participating in athletic events and as a member of their team.  He or She exemplifies the Penn State Values of integrity, responsibility, excellence, respect, discovery and community.
Men's Golf: Evan Fahs
Women's Volleyball: Karalyn Binder
Women's Soccer: Jennifer Bosques
Men's Soccer: Brian Nguyen
Women's Basketball: Makayla Brown-Paul
Men's Basketball: Lewis Hargett
PSUAC All-Conference Honorees (Picked from the conference opponents based on athletic performance)
Golf: Evan Fahs, Brian Zinman
Women's Volleyball: Ebony Sanders (1st Team All-Conference)
Men's Soccer: CJ Semet (2nd Team All-Conference), Matt Miller (Honorable Mention All-Conference) Bobby Shoemaker (Honorable Mention All-Conference)
Women's Basketball: Ebony Sanders (1st Team All-Conference), Kion Andrews (1st Team All-Conference)
Men's Basketball: Jeremiah Jenkins (1st Team All-Conference)
PSUAC Specialty Awards (Picked by conference opponents as the best performer in that category)
Women's Basketball: Kion Andrews (PSUAC East Rookie of the Year), Jah'nel Oliver (East Defensive Player of the Year), Ebony Sanders (1,000 career point milestone), Lorie Khalil (Coach of the Year)
Men's Basketball: Jeremiah Jenkins (PSUAC East Player of the Year, 1,000-career-point milestone)
USCAA All-American & All-Academic (These are national awards & the highest recognition you can receive for athletic & academic performance)
Women's Basketball: Ebony Sanders (USCAA 1st Team All-American & National All-Academic Team -goes to student athlete with 3.5 or higher GPA), Jah'nel Oliver (USCAA National Tournament All-Tournament Team)
Men's Basketball: Jeremiah Jenkins (USCAA 2nd Team All-American)
Male & Female Athletic of the Year
Jeremiah Jenkins (Men's Basketball) & Ebony Sanders (Women's Basketball and Volleyball)
Contact
Dennille Schuler
Public Relations Specialist
Penn State Lehigh Valley