Bill Spence, PPL Corp. CEO and a Penn State alumnus, was the featured speaker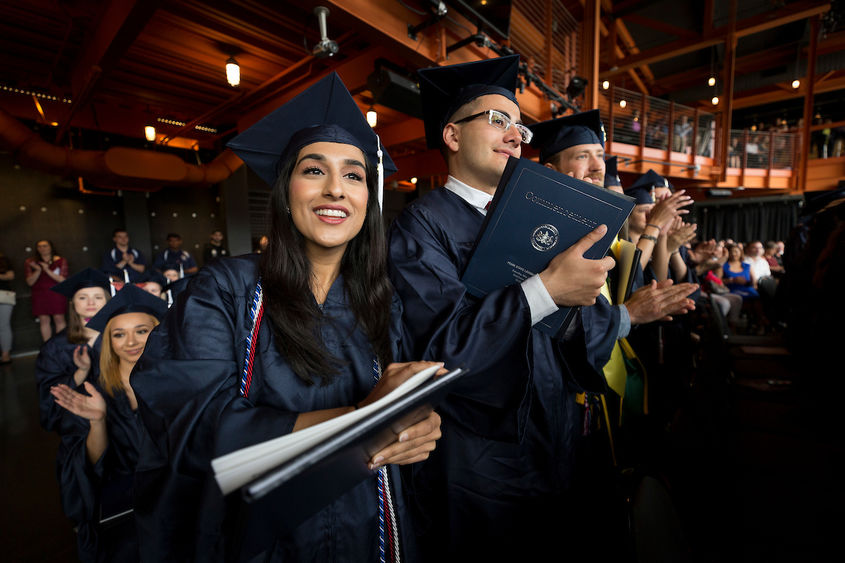 CENTER VALLEY, Pa. — Penn State Lehigh Valley held its annual commencement ceremony on Saturday, May 4, at ArtsQuest Center at SteelStacks in Bethlehem. The campus awarded associate and bachelor's degrees to 111 students.
The featured speaker for the event was Bill Spence, CEO of Allentown-based PPL Corp. and a Penn State alumnus.
Spence celebrated the graduates and reminded them that college is no cake-walk, but they did it.
"You have your entire life before you — a blank canvas on which to paint an amazing journey. Embrace every minute of it. Work hard. Give back. Learn from your mistakes, but never dwell on your regrets. See the world and remember the words We are ... Penn State!" Spence said.
Spence also reminded graduates to strive to do well by doing good for others, see the world through someone else's eyes, be kind and empathetic, recognize the power of "we," and help society see the value of every person. Spence's full commencement address can be viewed at this YouTube webpage.
Other remarks were given by Tina Q. Richardson, chancellor of Penn State Lehigh Valley; Samuel Azzalina, 2019 student marshal; and Mark Gruskin, associate professor of finance and accounting and chair of the Penn State Lehigh Valley Faculty Senate, who introduced the featured speaker, Bill Spence.
Azzalina was selected as the student marshal for the class of 2019. He graduated with a bachelor of science degree in business administration with a concentration in management and marketing.
"Keep smiling because we are leaders, we are innovators, we are the future, and most importantly, we are Penn State!" Azzalina said to his fellow graduates. Azzalina's full student marshal speech can be viewed at this YouTube webpage.
After the presentation of the candidates and conferring of degrees, the graduates were inducted into the Penn State Alumni Association by Larry Trubilla, president of the Penn State Lehigh Valley Alumni Association.
To purchase photographs from commencement, visit the Dan Z. Johnson Photography website. Photos will be available to purchase online by Friday, May 10. The ceremony was live streamed for family and friends who could not make it to ArtsQuest on May 4.
Contact
Dennille Schuler
Public Relations Specialist
Penn State Lehigh Valley