Sting Soccer Club served as the title sponsor for 2019 tournament at Northampton Country Club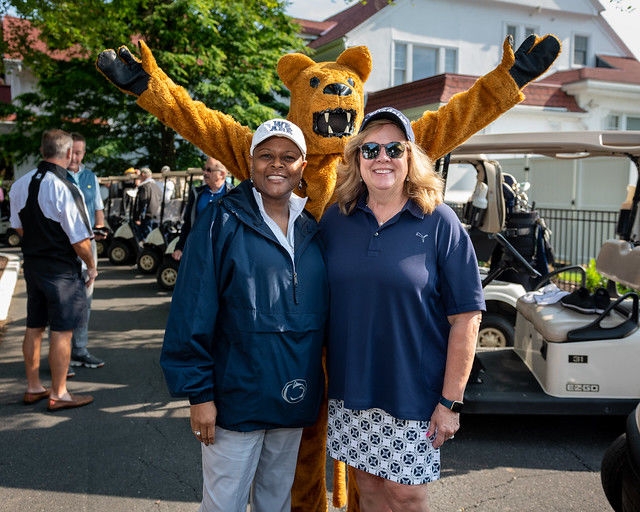 Penn State Lehigh Valley (PSU-LV) hosted its seventh annual Penn State Lehigh Valley Howard Kulp Golf Tournament on June 3, at Northampton Country Club in Easton. Eighty-five golfers participated in support of Penn State Lehigh Valley Athletics. The event raised approximately $20,000 to support the six athletic programs at the campus.
At the dinner following the golf scramble, Rich Fatzinger, athletic director of Penn State Lehigh Valley, served as emcee. Tina Q. Richardson, chancellor of Penn State Lehigh Valley, spoke about the success of Penn State Lehigh Valley's 90 student-athletes since funds from the tournament will benefit the athletic programs.  
"I am proud to say our student-athletes are as dedicated in the classroom as they are on the field and on the court. This year 47 of our student-athletes received PSUAC All-Academic Honors, which means they achieved a GPA of 3.0 or higher. And we had an overall student-athlete GPA of 3.11. This is an accomplishment we are very proud of," Richardson said.
The lead sponsors of the 2019 tournament included Sting Soccer Club, which served as the Nittany Title Sponsor of the tournament, and St. Luke's Orthopedic Care, which served as the Lion Package Sponsor. Denise and Bill Spence served as the Dinner Sponsor. Alvin H. Butz, Inc. served as the On Course Refreshment Sponsor. Fitzpatrick Lentz & Bubba, P.C. served as the Golf Cart Sponsor. Boyle Construction and The Salvaggio Family Foundation served as the Contest Package Sponsors. For a full list of sponsors and corporate foursomes, visit the PSU-LV Howard Kulp Golf Tournament webpage.
The tournament co-chairs for 2019 were Denise Spence and Michael McShane (class of 2017).
Spence is a philanthropist, community advocate and enthusiastic golfer. She currently serves as vice chair of the Northampton Community College Foundation Board, as a board member of the Children's Home of Easton, and as an adviser to the Delaware Museum of Natural History. Spence was co-chair of the 100th anniversary 2017-18 campaign of the United Way of the Greater Lehigh Valley with her husband, Bill Spence, who is a Penn State alumnus. She earned a bachelor of computer science degree from Millersville University of Pennsylvania.
McShane is an entrepreneur and senior director of development, marketing and recruitment for Miller-Keystone Blood Center. He earned a bachelor of science degree in business administration with a concentration in management and marketing from Penn State Lehigh Valley. McShane served as student marshal at Penn State Lehigh Valley's 2017 commencement ceremony. McShane serves on the Penn State Lehigh Valley Alumni Society Board, the Lehigh Valley Health Network Board of Associates, the Greater Lehigh Valley Chamber of Commerce Nonprofit and Business Partners Board, and the St. Joseph the Worker Board of Limited Jurisdiction.
Both co-chairs spoke at the dinner.
The day began with breakfast and registration, followed by the shotgun start. The foursomes played a scramble format with Yocco's hot dogs and other refreshments offered on the course. Upon completing the round of golf, a cocktail hour was held followed by dinner and the awards program, which included a silent auction and raffle prizes.
Howard Kulp, a longtime donor, past PSU-LV Advisory Board chair, and who the tournament is named after, announced the winning golfers.  
First place for Flight I went to Mike Butz, Steve Butz, Mike Duffy and Mike Guro. First place for Flight II went to Jason Schleicher, Fred DeLong, Jay Robinson and Mark Buskirk. 
Zach Tedesco won Men's Longest Drive (white tees). Richard Phifer won Men's Longest Drive (gold tees). Denise O'Neill won Women's Longest Drive. Greg Hogarsh won Closest to the Pin at Hole 13. No one won the Pot-O-Gold. Dave Bender won the Putting Contest.
For photos from the event, visit the PSU-LV Howard Kulp 2019 Golf Tournament Flickr photo album.
Contact
Dennille Schuler
Public Relations Specialist
Penn State Lehigh Valley