Three Lehigh Valley LaunchBox grant recipients shared their journeys and actionable advice on June 6. Don't miss the next LaunchBox Ladies event on Sept. 26!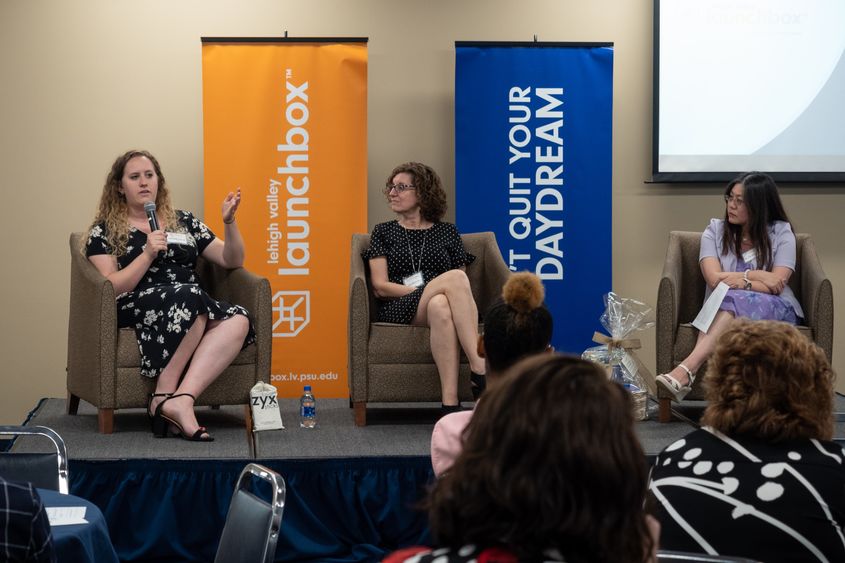 "When I realized it was difficult to compete with the big retailers, I focused on innovations and secured multiple patents. My advice would be to be resourceful in order to survive and be successful."
-Tai-Yin Huang, founder and owner of Andromeda LED Lighting LLC and professor of physics at Penn State Lehigh Valley.
"Listen to your customers and keep an open mind. You never know where your business will take you."
- Lisa Petrocelli, co-founder of Your Words Your Story LLC, a memoir-creation business.
"Things are figureoutable. Do things before you're ready and be open to learning."
-Shannon Varcoe, founder of TroubleMaker LLC, a children's education company. Her first product, ZYX Sticks, is a wooden building set and learning tool used to create abstract structures without instructions.
About 50 community members, students, faculty and staff came to hear the panelists speak at the event hosted by Lehigh Valley LaunchBox (LVLB). "Toasting Entrepreneurial Success" was the theme for the June "LaunchBox Ladies: From Passion to Profit" event held June 6 at the Penn State Lehigh Valley campus. The panelists were interviewed by Teri Haddad, business development director at Penn State Lehigh Valley.
Upcoming LaunchBox Ladies events include:
Thursday, Sept. 26
"Women in Sports and Beyond"
Doors open at 11:30 a.m.
Program starts at noon.
Lehigh Valley LaunchBox is a signature program of the Invent Penn State initiative. In addition to the LaunchBox Ladies speaker series, LaunchBox provides co-working space, accelerator programs, microgrants, legal and IP advice and mentorship to help early-stage entrepreneurs de-risk and accelerate their businesses. For more information, visit the Lehigh Valley LaunchBox website, email [email protected] or email Pam Kiser at [email protected].
Contact
Dennille Schuler
Public Relations Specialist
Penn State Lehigh Valley