Global Entrepreneurship Week is celebrated at the Lehigh Valley campus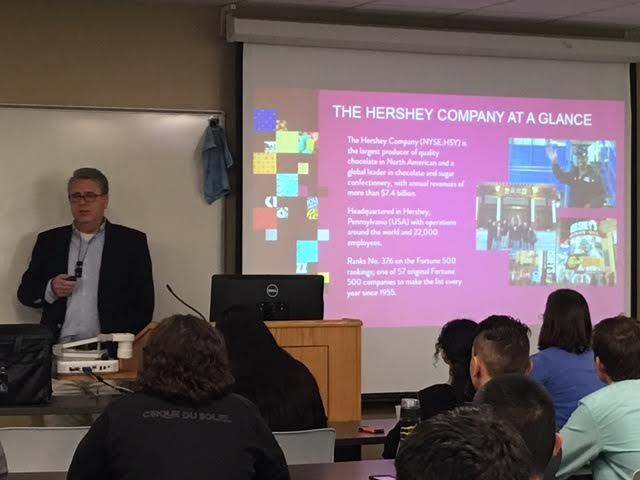 Penn State Lehigh Valley and Lehigh Valley LaunchBox welcomed entrepreneurs to celebrate Global Entrepreneurship Week (GEW) at the Lehigh Valley campus. Becky Guman, business development associate at Penn State Lehigh Valley, invited the four keynote speakers to present throughout GEW 2016, which ran Nov. 14 through 17.
Shannon Varcoe, founder of Troublemaker LLC., presented "Woman in Entrepreneurship" to the Penn State Lehigh Valley campus community on Nov. 14. Her presentation centered on her own business endeavor, ZYX Sticks, and the advances and struggles she has faced.  ZYX Sticks are wooden building sticks that promote spatial learning and open ended play for kids of all ages. They have no color, no instructions and are intended to be a creation of the imagination. 
Jeff Beckman, director of corporate communications at the Hershey Company, presented "Corporate Communications at Hershey" to faculty, staff and students on Nov. 16.  Beckman shared a brief over of corporate communications with the house brands of Hershey.  Those in attendance learned about Hershey's new corporate initiative in the "Simple Commitment to Goodness" campaign.
Ana Lingeris, senior manager of communications at the Hershey Company presented alongside Beckman. Lingeris discussed her position and role at the Hershey Company. Her presentation focused on how Hershey responded to the Kit Kat thief from October and brand marketing. The Kit Kat thief is the story of a student from Kansas State University who lost his Kit Kat bar when someone broke into his car and took it. The thief had left a note stating they only wanted the Kit Kat. Student Hunter Jobbins took to social media about the break in sharing the note and tagging Hershey. Hershey responded by filling Jobbins' car with over 1,500 Kit Kat bars.
Chris Kauzmann, innovations program manager at Lehigh University presented "Problem Solving and Idea Generation" on Nov. 17.  His presentation discussed how entrepreneurs need to have variety, freedom, balance and flexibility to succeed. He stated that ideas are generated on the needs of the entrepreneurs and their followers.
"Lehigh Valley LaunchBox was excited to host four different speakers across Global Entrepreneurship Week. We aimed to bring in speakers who could relate to our students and also motivate and encourage them to begin thinking with an entrepreneurial mindset," said Guman. "Shannon and Chris, two entrepreneurs and recent college graduates, were able to connect with students about how they can turn their ideas into real life solutions, while Jeff and Anna conveyed how critical innovative thinking is for a global company. We were thrilled to have such passionate and successful individuals participate in our GEW sessions here at Penn State Lehigh Valley."
The Global Entrepreneurship Week at Penn State Lehigh Valley allowed for students interested in starting their own company to gather more information on entrepreneurship. 
Contact
Dennille Schuler
Public Relations Specialist
Penn State Lehigh Valley