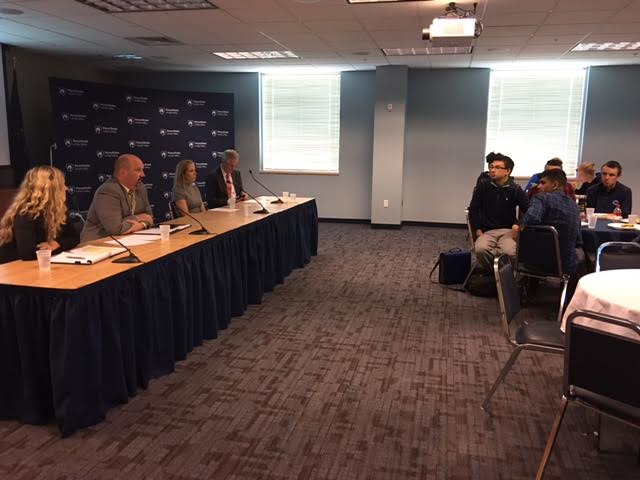 CENTER VALLEY, Pa. — The Penn State Lehigh Valley Blue and White Society and the Business Society collaborated on the first annual Career Café on Nov. 15. Students, faculty and staff who attended the session learned how to sell themselves using resumes. The Career Café consisted of multiple panelists who offered advice on self-marketing and professional resume construction.
Panelists included Jessica Dow, career services coordinator; Chris Landino, director of academic advising and career services; Becky Gunman, business development associate; and Michael Krajsa, faculty liaison to Lehigh Valley LaunchBox and instructor in marketing. All are from Penn State Lehigh Valley. Each panelist shared recommendations regarding information on a resume.
"A resume is a starting point to get you in the door for an interview. Each resume should be tailored to the needs of the job description," said Landino. "Sell yourself as a package to each company. Your cover letter, resume and LinkedIn profile should always connect to one another. It's about a self-marketing, and your resume should market your abilities."
"It's perfectly acceptable to have more than one resume, in fact we recommend having multiple resumes for each company you apply to. Your relevancy and word selection to the job have the power to get you noticed by a company," said Dow. "Showcase and highlight key things about oneself instead of having your life's work on display."
The panelists closed by reminding attendees to network with their friends and family because they are part of the sphere of influence when applying for jobs or seeking opportunities. Attendees were also told they should remember to come prepared and have creativity and passion when pursuing a job.
Contact
Dennille Schuler
Public Relations Specialist
Penn State Lehigh Valley