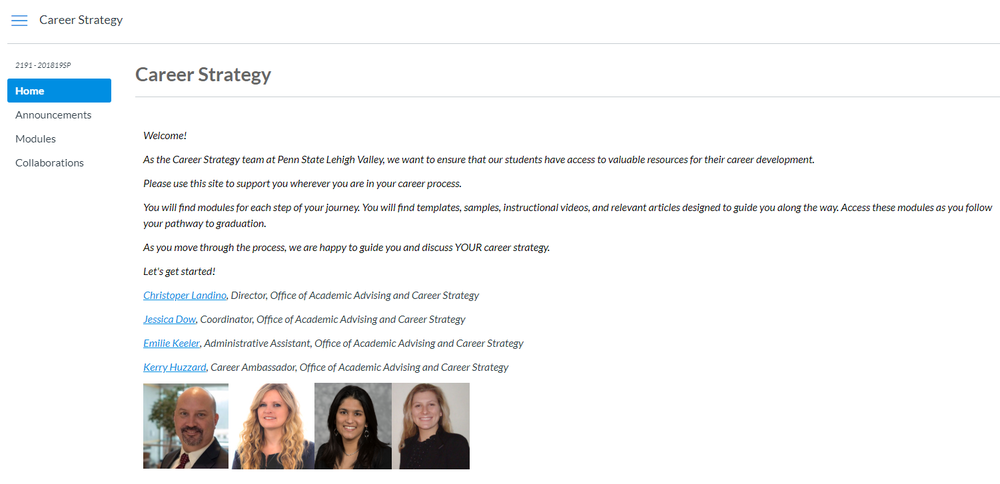 CENTER VALLEY, Pa. — Penn State Lehigh Valley's Office of Career Services has been re-branded to the Office of Career Strategy, and one of their initiatives included the launch of Canvas Pride.
This new online resource was launched in August 2018 and is listed as a noncredit course on Canvas. It is available to all currently registered students, giving them access to career-related resources and content. A variety of different resources are available such as resume writing, interviewing tips and a LinkedIn workshop. Each module offers templates and articles from external resources to aid students in their career process.
"The Career Services delivery model is changing in today's world. Career education and connection to career resources cannot be limited to our office hours," said Christopher Landino, director of the Office of Academic Advising and Career Strategy. "Students need 24/7 access and a creating a Canvas Pride accomplishes this goal. We are averaging 675 student views a week, which we think is extraordinary."
Since the launching of the Canvas Pride, Jessica Dow, career strategist in the Office of Academic Advising and Career Strategy, said it has led to more meaningful and productive meetings with students.
Dow said she hopes the restructuring and rebranding will encourage students to engage earlier with Career Strategy and provide students with essential resources needed in their career development.
To help students in their career development, Senior Chat Sessions were offered in the fall and spring to inform students about the benefits of using LinkedIn to make connections with other professionals, and to find jobs, internships and more. Students were given the opportunity to ask questions about LinkedIn's features and how they could use them to improve their profiles to catch the attention of potential employers.
"We want our students to have the ability to determine their next steps and utilize the appropriate tools to succeed on their career journey," said Dow. "Our role has expanded from counselor to consultant, and our students are feeling empowered."
Another initiative in the re-branding was hiring Kerry Huzzard as a career ambassador. Huzzard is a Penn State Lehigh Valley senior majoring in health policy and administration. She provides support to assist students with resumes and cover letters, LinkedIn profiles, internship and job search strategies and mock interviews. Career ambassadors also help the Office of Career Strategy execute workshops and events.
"The most enjoyable part of being a career ambassador is helping students better prepare themselves academically and professionally," Huzzard said. "It is an amazing opportunity to get involved in student life and gives the Office of Career Strategy a student's perspective and opinion."
Upcoming Career Strategy events
Wednesday, Sept. 18
Fall Career Days, University Park
For more information, visit Fall Career Days website.
Tuesday, Oct. 8
PSU Eastern Region Career Expo, Wilkes-Barre
Sign up for a seat on the bus for both dates in Suite 103. $5 cash deposit required for the bus for each career fair. Seating is limited.
Contact
Dennille Schuler
Public Relations Specialist
Penn State Lehigh Valley