Special presentation held at Pathway to College and Career Readiness program graduation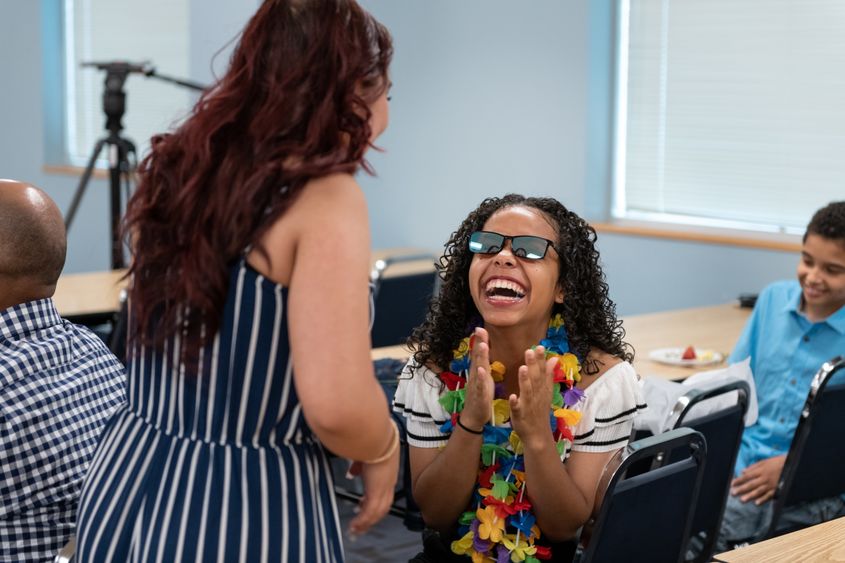 Penn State Lehigh Valley (PSU-LV) and Pilestone Color Blind officials presented seven students and local community members with a free pair of color-blind correcting glasses on June 17 at the Lehigh Valley campus during the Penn State Lehigh Valley Pathway to College and Career Readiness (PCCR) closing ceremony.
Goshuami "Gigi" Valoy-Tineo, Dieruff High School graduate, shared the issues she faces as a young color-blind person during her informative speech assignment in Speech Communication 100. The course instructor, Sandy Kile who is a lecturer in communication arts and sciences at Penn State Lehigh Valley, and Gigi's classmates wanted to find a way to help her. Kile reached out to Ben Zhuang, CEO of Pilestone Color Blind who agreed to donate glasses to students in need. Zhuang came to present the specially ordered glasses to Gigi and other local students on June 17 as Gigi and her 20 classmates celebrate the end of PCCR program.
"It's amazing all of the people and the effort that went into make this happen for me. I plan to wear my glasses all the time for now, I want to know what I've been missing!" Valoy-Tineo said. "Through PCCR, I gained academic knowledge, great friends and college credit."
Valoy-Tineo will attend Gannon University in the fall and plans to major in psychology.
"While these glasses are life-changing for Gigi, the whole experience taught all of these students about the power of the 'the ask' and about reaching out and grabbing what you want out of life," Kile said.
As a surprise at the end of the ceremony, PCCR Program Coordinator Sean Kelly presented each student with a Google Chrome book which were donated by the Lehigh Valley Workforce Investment Board.
Penn State Lehigh Valley PCCR is a comprehensive program that addresses the academic needs and employment skills development of low-income, in-school high school students. The program works with about 30 high school seniors a year who attend Dieruff, Liberty or Freedom high schools, with funding provided by Career Force and the Lehigh Valley Workforce Board. Penn State Lehigh Valley has run PCCR since 2013 and has graduated more than 100 students from the program.
Kelly from Penn State Lehigh Valley served as the PCCR program coordinator. Michael Garrison, Sandy Kile, and Susan Hughes served as instructors. Natalie Stewart served as a career adviser. Stephanie Berry served as a counselor, and Trish Balestrini served as a program assistant.
Contact
Dennille Schuler
Public Relations Specialist
Penn State Lehigh Valley