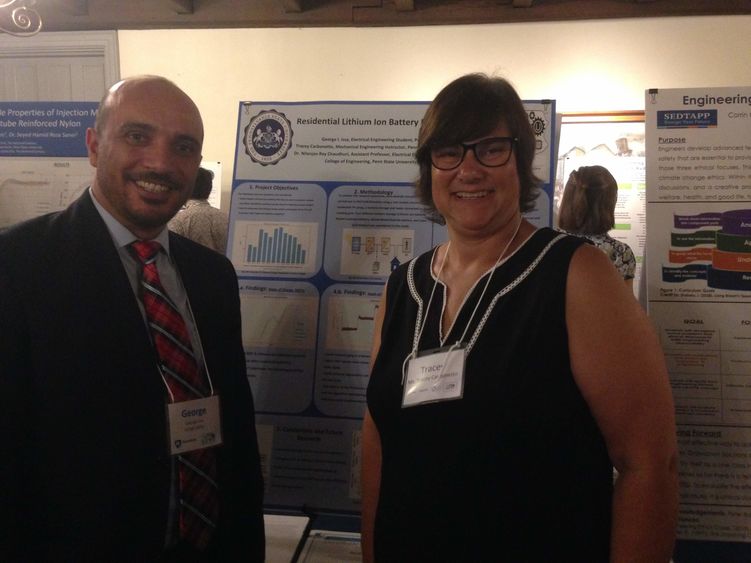 Tracey Carbonetto is beginning her fifth year as a full-time faculty member at Penn State Lehigh Valley. Carbonetto teaches the first-year engineering course, physics and engineering mechanics. She has served on the Undergraduate Research Symposium Committee for the past three years to which she has mentored 15 student researchers. Carbonetto is serving for a second year as the chair of the American Society of Mechanical Engineers, Northeast PA section, an organization that has more than 700 members. She received her bachelor's and master's degrees in engineering from Lehigh University, as well as an MBA from Holy Family University in Philadelphia. Prior to teaching, Carbonetto worked as a principal engineer in the metal and piping industry.
What was the highlight of your summer so far? 
This summer I was fortunate to have three great engineering students who were part of a unique undergraduate research project sponsored by the Penn State Office for Undergraduate Research Experiences. These students spent eight weeks engaged in research under my mentorship as well as support from a faculty member from University Park. The students had the opportunity to spend two one-week sessions up at State College where they collaborated with students from all campuses, faculty members and graduate students. The students participated in all sorts of workshops including resume writing, presentation skills seminar and even an outdoor ropes course to develop leadership and teamwork skills.  
How did this opportunity come about?
The Lehigh Valley campus was invited to participate in this Multi-Campus Research Experience for Undergraduates (MCREU) three summers ago. When I heard about the opportunity, I immediately proposed this to the awesome students at Lehigh Valley. I had one student participate the first summer, two the next and three this summer. I hope that I can continue to be part of this excellent opportunity.
What are your three favorite things from this experience so far?
I really enjoyed working with the faculty at University Park; not only were they mentoring my students but teaching me about their specialties which I found fascinating. I also enjoyed hearing about my students' time at University Park. They loved it and are working hard to ensure that their experience in the next few years is a great one.  And of course, the research was outstanding. I had the opportunity to hear my students present their research and findings at the historic Nittany Lion Inn at the end of the program. George Issa studied lithium-ion battery storage for a residential application; his research was aimed at making solar energy even more of a feasible alternative for our homes. Ryan Cassidy continued on with energy efficiency in his studies of combined heat and power (CHP), a system that he will be proposing to our community as we plan the expansion. Saira Hussain's medical research allowed her to work with graduate students designing and building surgical training tools that allow a surgeon to perfect her skills prior to performing procedures on humans.
What do you hope the student learns from this?
I hope the students learn about their potential. There was some hesitation at the start with the students not sure they were capable of this level of research. They have certainly proved themselves wrong and are all so glad they decided to participate. I believe the students gained confidence and motivation from this experience.  I know that they have learned to love the study of engineering as much as I do.
Contact
Dennille Schuler
Public Relations Specialist
Penn State Lehigh Valley