Penn State Lehigh Valley Student Veteran Organization held event for campus community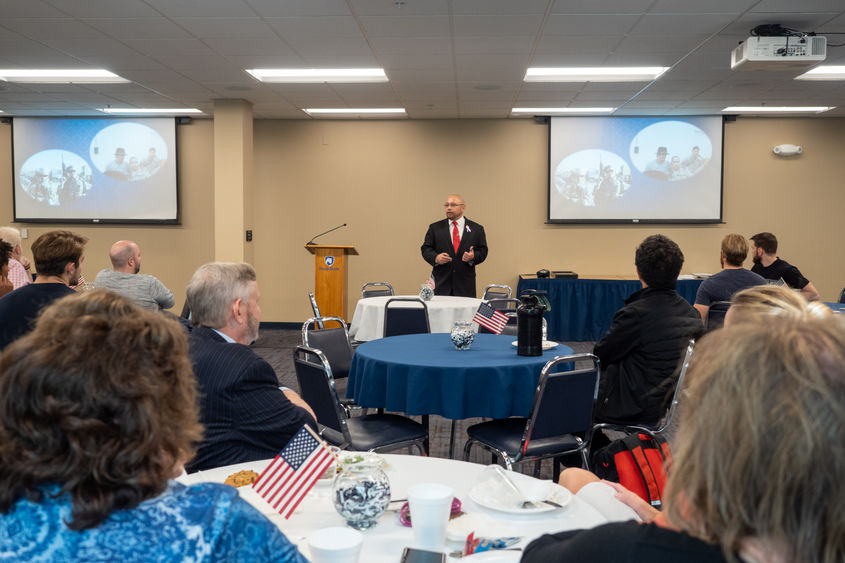 CENTER VALLEY, Pa. — A Veterans Day celebration was held at Penn State Lehigh Valley (PSU-LV) on Nov. 11. More than 50 students, faculty, staff and veterans from the community came to the event, which was hosted by the Penn State Lehigh Valley Student Veteran Organization. The PSU-LV Student Veteran Organization recently became an official chapter of the Student Veterans of America.
Jeff McConnell, a PSU-LV student and Army veteran, served as emcee of the event. McConnell, who also serves as president of the PSU-LV Student Veteran Organization, led the national anthem and a moment of silence.
McConnell and three other student veterans spoke about their experiences in the military and how it shaped the people they are today.
Chris Fill, a first-year student majoring in psychology, shared his six-year experience in the U.S. Marine Corps.
"When you get out, it ends and you're a civilian again," Fill said. "The person you become is forever changed by the military service you've experienced. I owe everything I am to the U.S. Marines. I don't recognize who I was beforehand."
While the mission was clear while he served, Fill said he had to find a new mission now that he is out.
"My new mission is now school," Fill said. "Everything else is secondary. I am focused on earning a 4.0."
Emma Shubzda was the only female student veteran to share her experience. Shubzda served as a sailor in the U.S. Navy.
"Being female in a male dominant field was a struggle, but you can come through it," Shubzda said. "I needed to prove I had the same skills and knowledge. I gave it my all and my division respected me. I am proud that I served in the U.S. Navy." 
The last student to speak was Darrin Littlefield, who served in the U.S. Air Force.
The event provided the Lehigh Valley campus community the opportunity to honor those who have dedicated their lives to service, listen to their experiences, and get to know some of the student veterans on campus. The event was supported by Student Initiated Fee funding.
For Giving Tuesday 2019, the campus will be raising funds in support of a new adult learner/veterans lounge. The campaign is being supported by a $2,500 challenge gift from Howard Kulp (class of 1973) and Shane McGee (class of 1997), co-chairs of the Penn State Lehigh Valley Development Committee. Once Penn State alumni and friends raise $2,500 for Penn State Lehigh Valley on Giving Tuesday, scheduled this year for Dec. 3, Kulp and McGee will contribute $2,500 to increase the amount raised to $5,000. Visit Penn State Lehigh Valley's Facebook page to stay up to date with the challenge.