Installation of 'Spotted Lanternfly: Zones of Syncopation (SFZ)' to run Dec. 2-3 at Lehigh Valley campus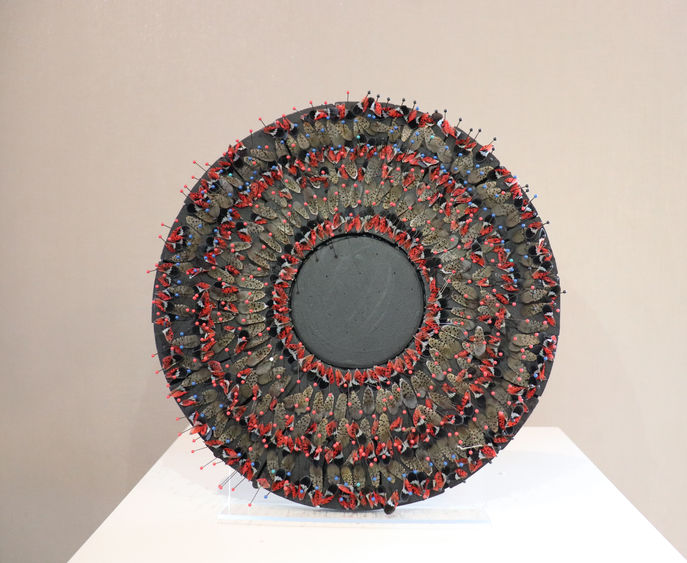 CENTER VALLEY, Pa. — Penn State Lehigh Valley, in partnership with visiting artist Elsabé Dixon, will present the "Spotted Lanternfly: Zones of Syncopation" (SFZ) installation as part of the University's Campus Arts Initiative. The exhibit will run Dec. 2-3, with the art to continue to be on display throughout 2020 in various locations.
The installation reception will be held from 4-6 p.m. on Monday, Dec. 2, in Centre Hall at Penn State Lehigh Valley. The community is invited to attend and meet the artist and community partners involved. The exhibit and reception are free and open to the public. Light refreshments will be provided.
"This public art project, which started back in April, has been a rewarding undertaking — from the enthusiasm and feedback of the Lehigh Valley community to the more distant partners that we didn't anticipate, along with the sheer number of wings that have been collected and pinned," said Ann Lalik, gallery director and arts coordinator at Penn State Lehigh Valley. "We are so excited to reach our goal of completing the 8', 5', 3', 2' and 1' diameter circles that boast thousands upon thousands of wings!"
Lalik and Liz Flaherty, associate teaching professor of art history, coordinator of arts administration, and co-coordinator of the honors program at Penn State Lehigh Valley, served as co-leaders of the SFZ project committee.
The Lehigh Valley campus partnered with Dixon to create environmentally proactive art about the invasive spotted lanternfly through Penn State's Campus Arts Initiative. The SFZ project explores the infestation of the spotted lanternfly. Collection of the wings in quarantine zones were a community project that area schools and organizations helped to harvest. This provided opportunities for people who are not artistically inclined to be involved in the art-making process alongside Dixon. Wing-pinning activities occurred both on and off campus, allowing smaller parts to be assembled from the inside out, like how a mandala is constructed. 
For more information on the installation and the project, contact [email protected] or visit the Campus Arts website. 
Contact
Dennille Schuler
Public Relations Specialist
Penn State Lehigh Valley