Visual art project highlighting spotted lanternfly planned to engage Lehigh Valley community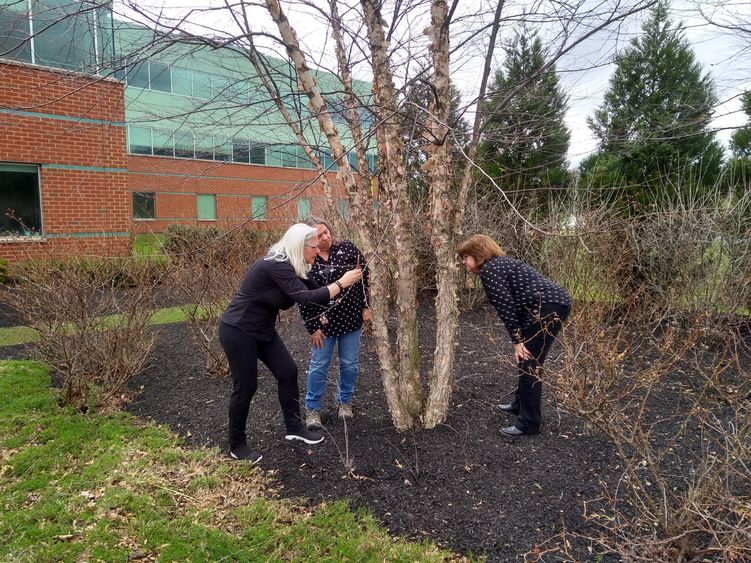 CENTER VALLEY, Pa. — Penn State Lehigh Valley has partnered with visiting artist Elsabé Dixon to create environmentally proactive art about the invasive spotted lanternfly through Penn State's Campus Arts Initiative.
The project, titled "Spotted Lanternfly Zones of Syncopation" (SFZ), will explore the infestation of the spotted lanternfly. This multi-layered and cross-disciplinary public art project will be led by Dixon in partnership with Penn State Lehigh Valley art and science faculty and staff during the fall 2019 semester. The project will be installed at the Lehigh Valley campus to bring awareness to the invasive nature of this predatory insect that has been terrorizing southeastern Pennsylvania since it first appeared in Berks county in 2014.
The SFZ project will address the impact of the spotted lanternfly, including the disruption of the insect life cycle and the local environment. The work of art will be a large data map installation made entirely of adult spotted lanternfly wings at the end of their life cycle.
Collection of the wings in quarantine zones will be a community project that area schools and organizations will help to harvest. This will provide opportunities for people who are not artistically inclined to be involved in the art-making process alongside Dixon. Wing-pinning activities will occur on and off campus, allowing smaller parts to be assembled from the inside out, similar to how a mandala is constructed. 
Dixon presented her initial plans to the SFZ project committee and campus community on June 17, during which time she also shared her approach to art and examples of her previous work.
"I hope this project raises awareness for what is beyond this insect, such as global markets and the damage to global markets. I want to bring together people from all walks of life to work on this," said Dixon, a conceptual artist known for working with live organisms, such as silk worms and insects. "The installation is meant to be remembered and can possibly be moved around the Lehigh Valley."
Along with working with the campus community, Dixon and the SFZ project committee will work with local arts and environmental organizations, such as Penn State Extension, as partners on this large-scale project.
"Our main interest is to use this opportunity to engage the entire campus and the broader Lehigh Valley community in a significant art experience," said Ann Lalik, gallery director and arts coordinator at Penn State Lehigh Valley, who is serving as co-leader of the SFZ project committee. "By inviting our science faculty to share research on the spotted lanternfly and create a project around this theme, we hope to create a culture of interdisciplinary study and wonder."
This project supports the goals of the arts administration degree program at Penn State Lehigh Valley, which is focused on how to support, foster and organize artistic initiatives and organizations. 
"Students' educational experiences in event organization, strategic planning and fundraising all contribute to their ability to engage in these initiatives with a well-rounded view on what is needed to create robust artistic experiences," said Liz Flaherty, associate teaching professor of art history, coordinator of arts administration, and co-coordinator of the honors program at Penn State Lehigh Valley, who is serving as co-leader of the SFZ project committee.
"This is why it's so exciting that Penn State Lehigh Valley was awarded the grant through Penn State's Campus Arts Initiative," Flaherty added. "Students in art administration can support the artist in the development of this important community-based, environmentally impactful art."   
The Campus Arts Initiative is a project of Penn State's Strategic Planning Seed Grant program. The initiative has commissioned eight site-specific visual art works for high-impact locations across the Commonwealth Campuses between 2018 and 2020. Each project will result from a collaboration between selected artists and the partnered host sites. These temporary artworks will be present on each site, on loan for up to one year.
The selected partners include the Center for Performing Arts at Penn State at University Park, the Center for Sexual and Gender Diversity at University Park, Penn State Abington, Penn State Beaver, the Penn State College of Engineering at University Park, Penn State Behrend, Penn State Lehigh Valley, and the Penn State Materials Research Institute at University Park.
For more information on Penn State Lehigh Valley's project, contact [email protected] or visit the Penn State Lehigh Valley Campus Arts Initiative website. For more information on the Campus Arts Initiative, contact Tamryn McDermott, campus arts associate, at 814-865-0775 or [email protected].
Contact
Dennille Schuler
Public Relations Specialist
Penn State Lehigh Valley