Live conversation will review the artistic process and include an immersive tour of each exhibit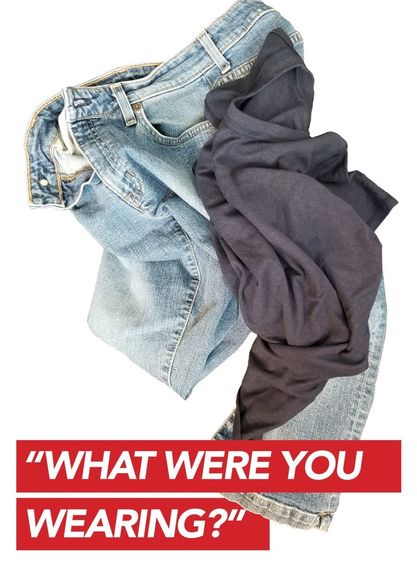 Arts Project ONLINE is a web event series featuring visual artists as they discuss their recent exhibit at Penn State Lehigh Valley. Each exhibit will be explored through the mind of the artist and through the lens of Google Expedition. Through these live conversations, the audience will share in the artistic process with a virtual, immersive tour of the exhibit. A great opportunity for anyone who is looking for ways to bring their work to life while being physically distant.
All Arts Project ONLINE events will be hosted via Zoom. All are free and open to the public.
Register to receive a reminder about the event and to receive the recording locations.
The next event will be held from noon to 1 p.m. on Thursday, Sept. 3 via Zoom. Register at the Arts Project Online Registration Link
Featured Exhibition is "What Were You Wearing? Survivor Art Installation." This exhibit was on display in the Community Gallery from October to December 2019.
This installation originated at the University of Arkansas in 2013. Created by Jen Brockman and Mary Wyandt-Hiebert, the project was inspired by Mary Simmerling's poem, "What I Was Wearing." Join us as Wyandt-Hiebert and Brockman share their insight and objectives in establishing this powerful exhibit while viewing a virtual guided tour of the installation at Penn State Lehigh Valley.
Panelists:
Jen Brockman, director of Sexual Assault Prevention and Education Center, University of Kansas.
Mary Wyandt- Hiebert, director of STAR Central and adviser of RESPECT, University of Arkansas
Marissa Ketcham, campus nurse, health services and counseling, Penn State Lehigh Valley who helped organize this exhibit.
Elise Schaffer, arts and access always program administrator for the Lehigh Valley Arts Council. She received a bachelor of arts in arts administration from Penn State Lehigh Valley.
Moderated by Ann Lalik, gallery director and arts coordinator at Penn State Lehigh Valley.
Penn State Lehigh Valley students, led by recent Graduate and Arts Administration Major Elise Schaffer, and Junior Psychology Major Thomas Mikhail, were involved in the selection and creation of the exhibit. Mikhail is also in the Schreyer Honors Program.
"I am excited to share what we did at Penn State Lehigh Valley with the women who created the exhibition, Jen Brockman and Dr. Mary Wyandt-Hiebert, and to expand our reach beyond the campus through the virtual format."

-- Elise Schaffer, arts and access always program administrator for the Lehigh Valley Arts Council
They focused on finding stories that would resonate with the students on campus. The students focused on all aspects of the creation of the exhibit based on the creator's stories.
"I went along with whatever the plan was and just kept showing up whether that be to help narrow the stories, to coat hanger duty at Goodwill, and lastly being part of the PBS39 interview experience," Mikhail said.
Contact Ann Lalik for any additional information at 610-285-5261 or [email protected].
Contact
Dennille Schuler
Public Relations Specialist
Penn State Lehigh Valley